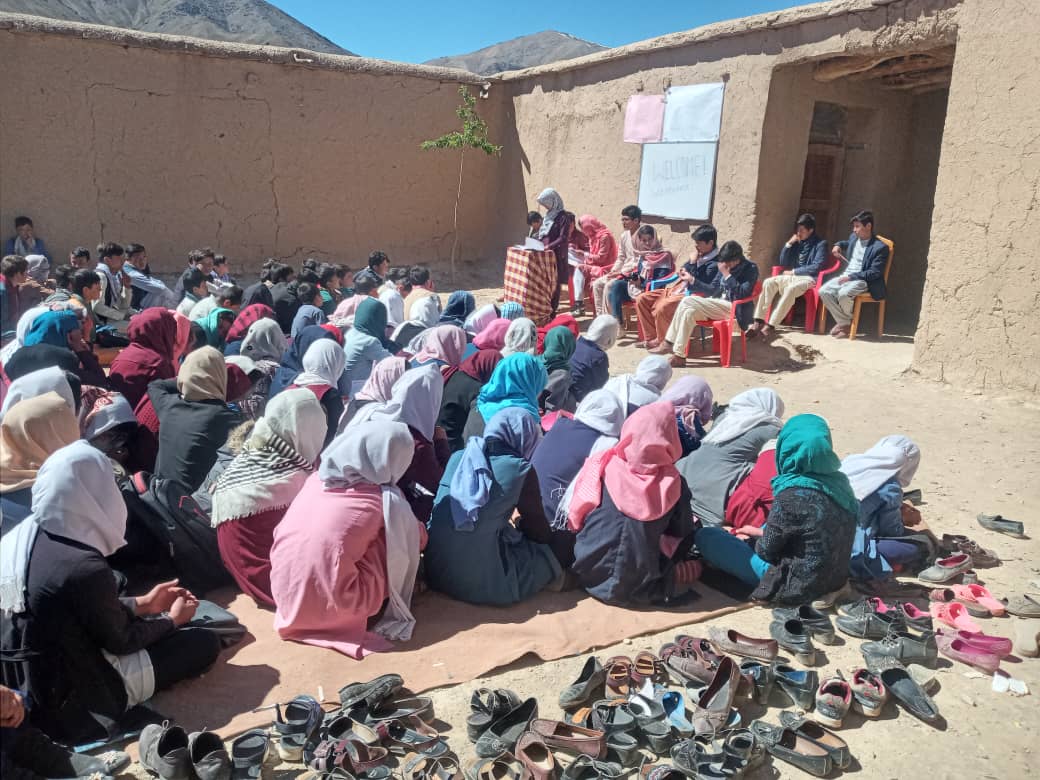 In Afghanistan, fewer than one in three women is literate. 3.7 million children remain out of school, among them are 2.2 million school-aged girls. Female education suffered badly during the five years of Taliban rule. In 1997 the repressive regime banned girls' public education and women's work in public places.  Although the rule of the Taliban ended almost two decades ago, its impact is still felt in the country. A World Inequality Database in Education (WIDE) report last year classified the country as being in the bottom ten for girls' education. 
Several factors restrict girls' access to schooling. Some are rooted in conservative traditions and the attitudes of the community in this deeply patriarchal society, which does not value the education of girls. Early marriage often prevents girls from completing their education because the Ministry of Education forbids married girls from attending government-run schools. There is also a shortage of competent teachers in the country; and in particular, a lack of female teachers. This impacts on girls because it is forbidden for them to have male teachers beyond grade IV. 
The Jesuit Refugee Service (JRS) in Afghanistan is addressing this need by training female teachers. It has run education courses in the country for some time and a new programme has been developed in response to the requests of former students. The 'Each One Teach Some' (EOTS) programme was set up to train female graduates of the two-year Access programme in Guzara District, Herat Province. After building  a solid foundation in English, JRS provided the young women with two additional years of training in Advanced-level English and Leadership (Training Leaders for Tomorrow – TLT – programme).
22 Access graduates were selected for the EOTS-TLT volunteer programme to teach basic English to five or six children in their neighbourhood in the first year, going on to teach up to 30 children in the scattered villages of Guzara District by the second year.
"The programme provided me an opportunity to build social relationships and commit to serving my own community. It also contributed to my all-round development and boosted my self-confidence"  said Ziba, an EOTS volunteer in Herat.
Because of the need for quality education all over Afghanistan, JRS replicated the Guzara programme in remote rural areas of Herat, Bamiyan and Daikundi provinces. It has been a significant step in reaching out to disadvantaged students, especially girls, thus helping to reduce the large gender disparity and rural-urban divide in access to education. Some trained volunteers also teach in government schools, where there is a shortage of teachers.
Over the years, several hundred volunteers have formed youth groups to address local social issues in their communities in remote locations. These groups are also engaged in promoting Peace and Reconciliation.
Two women who were trained in the programme went on to set up their own NGOs in Herat and Daikundi provinces, that connect with young girls primarily in remote rural locations. Zakia Frogh, who went on to start a local NGO, supported by JRS in Herat says
 "The EOTS-TLT programme helped me enhance my skills, communicate confidently and act effectively for the community well-being. What I am today is primarily the outcome of the JRS programme."
These women are helping other young girls to overcome the barriers to education in Afghanistan, which will contribute in a small but significant way to changing attitudes about female education in the country.