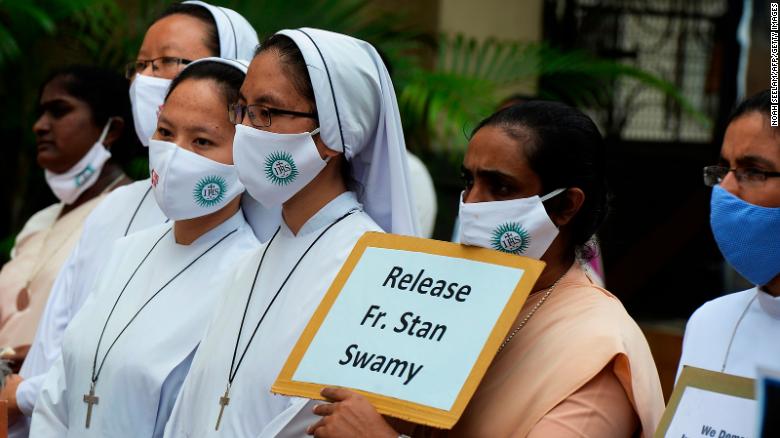 Fr Stan Swamy SJ, the Indian Jesuit who spent his life working for the rights of marginalised ethnic groups died in hospital of Covid-19 complications on 5th July. He spent the last months of his life in prison, where he was awaiting trial, having been arrested on 8th Oct 2020 by India's National investigation Agency for alleged links to an armed Maoist group.
Several attempts were made to have Fr Swamy released on bail on medical grounds, as the 84-year-old had advanced Parkinson's disease and had hearing and mobility difficulties, which were exacerbated by his spell in an overcrowded prison.
The Jesuit Centre for Faith and Justice, Irish Jesuits International and the Irish Jesuit Province joined with the international Jesuit network campaigning for his release. However, despite our best efforts he was only released on a temporary basis to a hospital after he contracted Covid-19.
Legacy Lives on in Jesuit Community
Tributes have been paid to Fr Swamy from the Jesuit community and from Indian and international human rights defenders.
In a statement on July 5th, the Jesuit Provincial of India, Stanislaus D'Souza SJ spoke of his community's "deep sense of anguish, pain and hope" on learning of the death of Fr Swamy. He said that the Society of Jesus "recommits itself to take forward the legacy of Fr Stan in its mission of justice and reconciliation".
The international Jesuit community has previously expressed its solidarity with the BK16, the other political prisoners who were arrested in addition to Fr Swamy and will continue to advocate for their release.
United Nations Response
"We are deeply saddened and disturbed by the death of 84-year-old Father Stan Swamy," Liz Throssell, a spokeswoman for the Office of the UN High Commissioner for Human Rights, told reporters in Geneva.
"We stress, once again, the high commissioner's call on the government of India to ensure that no one is detained for exercising their fundamental rights to freedom of expression, of peaceful assembly and of association," the spokeswoman said.
Fr Swamy's imprisonment had come to the attention of human rights agencies within the United Nations within the past year, and on November 3rd, 2020, the UN Vice-Chair of the Working Group on Arbitrary Detention, the Special Rapporteur on the situation of human rights defenders, and the Special Rapporteur on minority issues released a statement raising concerns over his arbitrary detention and harassment.
"Without wishing to prejudge the accuracy of the information received, we would like to express serious concern as to the arrest of Mr Swamy, which would appear to mark the escalation of harassment the human rights defender has been subjected to since 2018. We would like to also express our serious concern about the alleged content of the questioning Mr Swamy was subjected to by NIA officers, as it appears to have been made in response to, and with the intention of delegitimising, his peaceful human rights work."
Public Anger in India
Fr Swamy's declining health and eventual death, after months of imprisonment has caused public anger in India.
In a statement on Monday, the Archbishop of Bombay, Oswald Cardinal Gracias, called Swamy's arrest "very painful."
"One is innocent until proved guilty," the statement said. "Fr Stan's case did not even come up for hearing."
Gracias added Swamy had given marginalised groups in India a "sense of dignity and upliftment," adding that he worked "single-mindedly for the poor."
Indian lawyer and activist Prashant Bhushan said it was "nothing less than murder by the state of one of the gentlest and kindest men I have known. Unfortunately our judicial system is also complicit in this."
Harsh Mander, a prominent activist, described Swamy as "devoted to selfless defence of Adivasi [indigenous] rights, gentle, brave. Even from prison he grieved not for himself but injustice to poor prisoners."
Mander added: "A cruel state jailed him to silence his voice; the judiciary did nothing to secure his freedom. A tragedy for the nation."
Sincere Thanks
IJI and the Irish Jesuit community sincerely thank everyone who advocated for Fr Swamy's release by contacting TDs and the Minister for Foreign Affairs. We appreciate your efforts on his behalf.