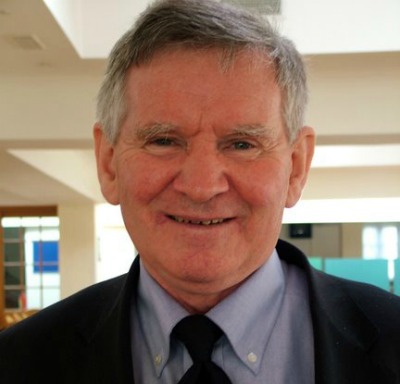 Interview with Fr. Henry Grant, SJ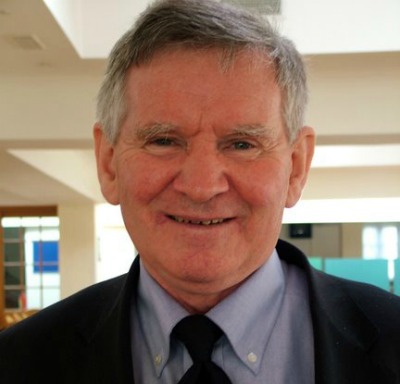 Fr. Henry Grant was born in Buncrana, Co. Donegal in 1934. He joined the Jesuits at Emo Park in 1952. After completing his doctorate in social and political psychology, he moved to Paraguay in 1988, where he lived until 2003. He now lives in Milltown Park, Dublin.
Fr. Grant was a boarder at St. Columb's College Derry, before going on to study science in UCD. He began his professional career as a teacher in Clongowes Wood College and then went on to Crescent College, Co. Limerick. He studied at the Theologate at Milltown for three years before being ordained, after which he returned to Crescent College. Fr. Grant has many postgraduate qualifications including an MA in Counselling Psychology from Fairfield University, Connecticut.
After completing his MA, Fr. Grant moved to San Diego, with the hopes of working with Carl Rogers at the then United States International University (USIU, now a founding institution of Alliant International University). It was here, Henry began preparing for his Doctorate. 'I worked with psychologists and social psychologists, who studied how groups interact,' states Fr. Grant. 'I met the great Herbert Blumer and I was lucky enough to have him as the Director of my doctoral dissertation. I also worked with Roger Kaufmann and David Feldman, who were brilliant men.' Fr. Grant's dissertation focused on moderate political leaders in Northern Ireland and their impact as conflict in the area progressed. It's evident he learned a lot from this experience to prepare him for his future work. 'My experiences in Northern Ireland had shown me that the big problems aren't individual but lie with society and with politics.' His decision to become a missionary was, in part due to his frustration at the partisanship which characterized politics in Northern Ireland at the time.
In 1988, Fr. Grant moved to Paraguay, encouraged by his fellow Jesuit, Fr. Kevin O'Higgins. He took the lessons learned from Northern Ireland with him to South America. He drew up a list of six key issues which apply to society: political, social, economic, religious, cultural, and ethnic. Henry found that conflict existed in Paraguay as in other cultures. 'These are issues of beliefs, values and heritage, and they are very important; people make a mistake when they focus solely on economics or politics. Systems of belief and identity are important in every society.' Because of his background in social science, Fr. Grant was asked to work with ADEC (Asociacion de Empresarios Cristianos), an association of Christian businesspeople. He advocated the need for a social movement in Paraguay which became known as Paraguay Jaipotava (the Paraguay we want). The movement focused on encouraging the peasantry to plan Paraguay's future.
While working with Paraguay Jaipotava, Fr. Grant also taught at the Instituto Superior de Estudios Humanisticos y Filosoficos, set up by the Jesuits in 1982 to teach humanities and philosophy. Fr. Grant found that the main problem for those moving from secondary to third level education was language: 'many of the students were from the countryside, which meant that their language was Guarani.' Guarani is a rural dialect of Paraguay, mainly spoken rather than written. No universities operate through the language. The main issue for those working at the Institute was getting these students to read and write in Spanish, the language of the university. Fr. Grant developed a novel way of doing this. 'I found that what worked was getting into people's lives and hearing their stories.' This was done in Spanish as Fr. Grant's Guarani was basic. Once the story had been told, he would write it all down for the student. This proved to be an effective technique: students who had previously been slow at learning Spanish began volunteering to help their peers. 'It integrated their lives in a way that they might not have had before. It had a wonderful effect.' Fr. Grant continues to use this method in his work with JUST, Jesuit University Support Training, which encourages Ballymun residents to take university degrees.
Fr. Grant's greatest difficulty in mission was adjusting to the Paraguayan climate. He was unused to the heat in Asuncion. 'They were lovely people to live with, but my God, their climate was not good!' he remembers. 'Here, we complain about the rain and the cold, but there it was hot and humid – and that was difficult to deal with.' Diseases such as jaundice were common among those who were unused to the climate. Medicine from the Farmacia was sometimes avoided because of the difficult climate and missionaries preferred to take mixtures and tinctures produced at home.
With regard to religion, Fr. Grant admires the Paraguayan ways of worship, including their emphasis on statues. 'I have a great admiration for their system of prayer, and their earnestness. Their actual beliefs might not bear up under examination, but God has his own way of knowing what people mean. They have the Catholic lingo, but it's a Paraguayan religiosity.' Fr. Grant also believes that spiritual development is every bit as important as economic and political development. To him, the two should go hand in hand. 'I always think of it in terms of human and spiritual needs, because there's a great need for both.' He also believes that promoting the message of mission is still as valid today as it was in the past, even though new methods need to be employed to spread the word of God. 'We need new designs to make it happen, because different forms will work in different places and with different people. We need different forms of the same story.'
Henry Grant is positive on the future of mission. Despite a decline in vocations, the Irish are still concerned with the welfare of their fellow man. Fr. Grant points to the response to crises and natural disasters, such as the earthquake in Haiti, as proof of a missionary culture which continues to exist in Ireland: 'Now it's young people (going out to help), speaking with an Irish accent, talking to the press. They're still Christian, but they're going out there on their own steam, working their hearts out for development.'