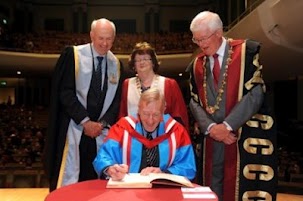 Citation for Professor Father Michael Kelly on the occasion of the conferring of an Honorary Doctorate Award of the Royal College of Surgeons in Ireland
Professor Father Michael Kelly was born in Tullamore, in 1929. One of seven children, three of whom became Jesuits. I am delighted to welcome his sister, Mrs Oonagh O'Hagan, to to-days ceremony. Father Kelly studied at University College Dublin and was awarded a first class honours B.A. in Maths and Mathematical Physics, in 1952. He went on to receive a licentiate in philosophy (maximum cum laude) in 1955 and was ordained in 1961.
On completion of his studies he moved to Zambia. At first he taught at secondary school level and, during the period just before and after Independence, served as Head of Canisius High School.
He completed his PhD studies in the area of child and educational psychology in 1974 and subsequently became a senior lecturer and Dean of the School of Education in the University of Zambia (UNZA), in 1975. He served as pro-vice chancellor and deputy vice chancellor. In 1987, he became Professor of Education.
It's a measure of Father Kelly's standing in Zambia and his commitment to the country that he became a Zambian citizen in April 1968.
Throughout his period at the University of Zambia, Father Kelly was closely involved with the development of education in Zambia, participating in the educational reform movement in the 1970's, the production of the 1991 policy report Focus on Learning, and the development, in 1996, of the current education policy Educating Our Future.
He has written and acted vigorously on behalf of better educational opportunities for girls.
From the late 1980's, as Zambia was in the throes of dealing with the devastating impact of the AIDS pandemic, Fr Michael redirected his attention to addressing HIV and AIDS. Zambia is one of the worst affected countries in sub-Saharan Africa and together with Michael's own personal experience of seeing many men, women and children being lost to the disease, he was moved to action.
While much of the attention in the HIV /AIDS arena has been on the area of treatment and care, Fr Kelly has been a consistent advocate, at national and international levels, about the importance of prevention and the role of education in that context.
He has consistently pointed out that education is the most effective 'social vaccine' against HIV and AIDS – that education in its own right helps prevent infection. The longer we can keep children in school, the higher the chances of delaying the starting age of sexual activity and the better equipped young people are to understand and to protect themselves. Getting more children into school, especially girls and ensuring they get a quality education is critical if we are to reduce the numbers of people who are becoming infected by HIV.
Fr Kelly has promoted this simple but effective message.
Through his research and writing about AIDS his work has become known to many throughout Africa and internationally. Father Kelly's long list of publications includes some fifteen books, numerous articles in professional journals, and several teaching modules relating to educational management and planning in a world with HIV and AIDS. One of his many books on this subject has been described as a seminal and definitive text on our tasks and challenges in fighting AIDS. He has contributed to the work of the World Bank, UNESCO, UNAIDS, UNICEF, Oxfam and a range of other AIDS related organisations.
Since 2006, he has been a member of the Council of Consulting Fellows for the International Institute for Development Planning (Paris) and also a member of the Council of the University of Botswana (Gaborone). In addition he is a board member for RAISA (Regional AIDS Initiative for Southern Africa, based in Pretoria), Restless Development (formerly Students Partnership Worldwide), Zambia Open Community Schools, Zambia Senior Citizens Association, and the Zambia Truck Drivers' Association (as a member of the Advisory Board).
He has worked very closely with the Irish Government in informing their policy on HIV and AIDS. In recognition of Fr Michael's work in this area the Irish Government established an annual lecture series on HIV and AIDS in his name – the Professor Michael Kelly Lecture on HIV and AIDS and a Father Michael Kelly Bursary to enable Zambian students undertake higher studies relating to education and HIV/AIDS.
We were honoured to host the 2011 lecture in the Royal College of Surgeons in Ireland. Many of the staff and students present spoke not only of his inspirational words but of the passion in which he delivered strong messages. He spoke of the need to stop politically sensitive fudging in order to achieve an AIDS free world which included the need for further research into possible genetic determinants of HIV transmission. He called on us to be provocative and honest in this field in order to make progress against the pandemic.
He has received many accolades from international organisations and academic institutions for his work. In 2006, the Forum for Women Educationists in Africa (Zambia Chapter) awarded him the first ever Kabunda Kayongo Award for "immense contribution through research on girls' education", while in 2010, the First Lady of South Africa, Madame Thobeka Zuma, presented him with a Humanitarian Award for commitment to health and HIV and AIDS in the southern African region.
Michael Kelly's contribution to the complex subject of HIV and AIDS combines the highest standard of scholarship with compassion and courage. As one of his confreres said of him recently: 'I know from living in the same community with Michael that his concern about HIV and AIDS is by no means simply academic or technical. He personally knows and relates directly to many who are infected and affected by the disease – hence the clarity and the passion with which he writes and speaks – and inspires all of us!'
All who know Fr Michael speak of his humility. He has lived in and worked from the same small room in Luwisha House in Lusaka for the past 45 years. This is where all his thinking and writing takes place and has been described by many as Michael's 'monastic cell'; He is happiest in his old coat and wellingtons, tending his garden, which is an important source of food for his community, in Lusaka.
I know that an occasion such as this is not one he would seek out, but we at the Royal College of Surgeons in Ireland want to pay tribute to and recognise his work through awarding him an Honorary Doctorate.
Ignatius Loyola implored his followers, "to go forth and set the world on fire".
Professor Fr Michael Kelly in following this path, has demonstrated the power of one and the power of education to change lives.
It is therefore my privilege to propose that Professor Father Michael Kelly be presented with this award.
Professor Cathal Kelly,
Registrar/CEO, RCSI
Wednesday 6th June 2012