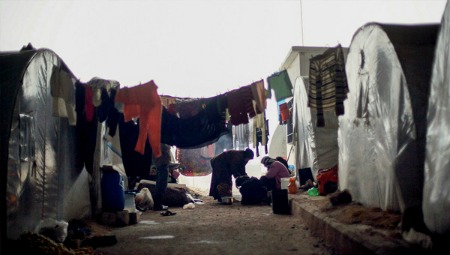 The situation in Syria is increasingly desperate. Life in Aleppo, Homs, Damascus, and indeed throughout the country, remains on a knife edge. Shelling and bombing in Damascus is continuous. A UN envoy yesterday described it as "the destruction of Syria".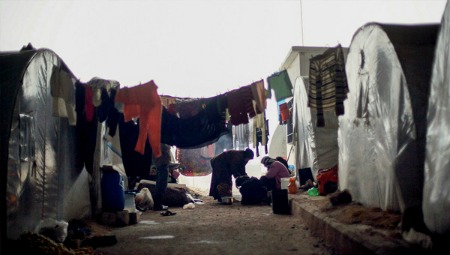 Since the beginning of the crisis in March 2011, hundreds of thousands of people have been forced to flee to neighbouring countries. Refugee camps in Jordan are overwhelmed by the thousands arriving weekly.
One and a half million Syrians have been displaced within their own country. They have had to leave everything behind, they have lost their jobs and fallen into desperate poverty.
The mission of the Jesuit Refugee Service (JRS) is to accompany, advocate and serve the cause of refugees and forcibly displaced persons worldwide. Fr Gerry Clarke, an Irish Jesuit, is part of the JRS Rapid Response service and is now in Beirut. He writes : "The Jesuits and companions have mobilised here in the Middle East and are bracing themselves for the new influx forecast by the UN High Commissioner for Refugees".
Recent figures on refugee numbers from unhcr.org are:
Jordan – over 700,000
Turkey – over 160,000
Lebanon – over 230,000
Iraq – about 75,000
Egypt – over 14,000
North Africa – 5,500
Fr Gerry Clarke continues, " At least half of the people affected by the conflict are children… but the big challenge is funding. In December the UN appealed for $1.5 billion to meet the needs of displaced people within and outside Syria, but the response has not been fast enough to keep up with their needs."
In Aleppo, JRS staff and volunteers have set up a field kitchen producing 15,000 meals daily. There is an outreach programme for those who cannot reach the kitchen. In a bitterly cold winter, the need for warm winter clothes and blankets remains acute. The volunteers in Aleppo, many of whom are displaced themselves, come from all sectors of society – Muslims, Christians, teachers, artists, business people and differing political outlooks.
"We get along so well because of our differences. We live and work for a common cause. We hope to be a template for a new Syrian society in the future", explained one of the volunteers. That future may be a long way off and until then Syria is facing a grave humanitarian crisis.
More than 4 million people are in urgent need of assistance.
50% of hospitals are destroyed or damaged.
There is widespread fuel and food shortages.
Can you help?
€40 pays for a mattress and two blankets.
€50 pays for a monthly food distribution package for a family of five.
€1,000 provides hot meals for 2,500 people for one day.
Donations
If you would like to make a donation online click here
Or send a cheque or postal order to:
Irish Jesuit Missions
28 Upper Sherrard St,
Dublin 1
Tel. + 353 (0) 1 836 6509