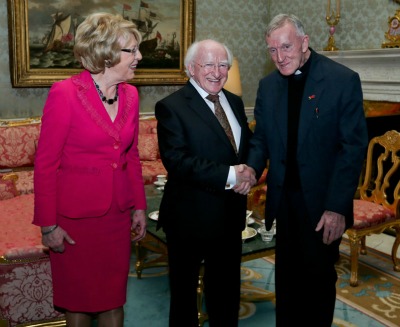 Michael J. Kelly, SJ, was one of the first ten recipients of the new Presidential Distinguished Service Awards at Áras an Uachtaráin on 15th November 2012.
President Michael D. Higgins said the new Award allowed the State to formally honour exceptional individuals and to recognise the "sacrifice, support and commitment to Ireland of the wider Irish diaspora in all its diversity".
Fr Michael J. Kelly writes below about his campaigning struggle against the global epidemic of HIV/Aids :
When AIDS exploded on the world in the 1980s, I was lecturing in education at the University of Zambia. It soon became obvious to me that I would have to take account of this new disease in my teaching, research and priestly work.
Deaths and funerals were becoming the order of the day. Across the country people were dying in large numbers, most of them parents with young families, leaving behind them children to be reared and educated by communities which were being overwhelmed by the great number of orphans. Teachers and education administrators were also falling sick and dying in large numbers.
I quickly saw that the courses I was teaching had to say something about this totally new situation. They had to speak about adjusting to the potential loss of teachers, about the great numbers of orphans that would be coming into the schools, about teaching children traumatised by the loss to a dehumanising sickness of greatly loved family members, about communities shattered and bewildered and impoverished by the sickness and deaths of their most productive members.
But the courses also had to suggest how the very process of education could help check the disease and what could be done to protect the education system itself against the disease's destructive impacts. From then on, my work was guided by what I termed education's "minimax" response to the pandemic: minimise the potential of HIV and AIDS to harm the education sector, maximise the potential of the education sector to control the disease and reduce its harmful effects.
This was a new approach at the time, so new that the University of Zambia has the distinction of being one of the first universities in the world to take account of HIV and AIDS in its teaching programmes. Increasingly, I began to study, write and give presentations about AIDS and education. It was not long until we began to speak about the potential of education to provide a "social vaccine" against the disease, an approach that UNAIDS, the highest world authority on the disease, still strongly advocates.
Gradually I found myself being drawn more and more into national and international discussions on the two-way interaction between AIDS and education, into advocacy and awareness-raising in regard to orphans, and eventually into a wide spectrum of AIDS-related areas, almost all of them with strong social justice implications – stigma, poverty, the subordinate status of women, human rights, the marginalisation of whole categories of people, unfair north-south trade and other practices, food security, environmental protection, global failure to deal honestly with several AIDS-related issues.
The outcome was a greatly extended engagement on my part with the pandemic and extensive commitments to activities across the world on its educational and other implications. As the demands became greater, it eventually became necessary for me to retire from the University of Zambia so that I could dedicate myself more wholeheartedly to the work of confronting HIV and AIDS nationally and globally. And it is to this work that I remain committed. AIDS is not yet over. People are still dying. AIDS continues to consume them. It also consumes me, not in body but in spirit, and challenges me with the great Jesuit questions: "What have I done for Christ who is suffering with HIV and AIDS? What more should I be doing so that there is less AIDS and more chance that people can live with greater human dignity in a world that comes closer to being the happy world God had planned it to be?"
In many ways the answers are simple. There is need for more honesty in dealing with central AIDS issues. There is need to avoid complacency and recognise how far the world is from seeing an end to the pandemic. There is need for an uncompromising stand on making social justice a reality for every child, woman and man. There is need for more resources for those affected by the pandemic and for research that will lead to its control.
To the extent that I can respond to any of these needs I must do so. The miracle of those living with HIV or AIDS demands this of me. For as long as one person remains with HIV or the disease deprives one child of a parent, I cannot stop. Until God calls me, or AIDS ends, I simply must keep going.
Fr. Michael J. Kelly is an Irish Jesuit Catholic priest and educator. Having lived and worked in Zambia for over fifty years, he is an internationally-renowned expert on AIDS and education.
Photos courtesy of Maxwell Photography