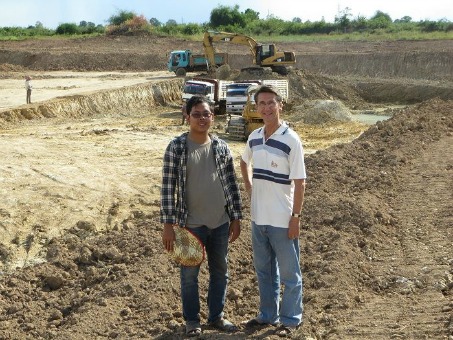 Fr. Ashley Evans S.J. has been sent to Sisophon, a remote town in the North-West of Cambodia to start a new Jesuit school there.  He has spent the last twenty years teaching at the Royal University of Phnom Penh and thirteen years running the Catholic Church Student Centre of Phnom Penh.  The Jesuit and their partners on mission in Cambodia now believe that the education and formation of the young people is the top priority for the country and the Church.  Sisophon was chosen because of the large number of vulnerable youth growing up there close to the border with Thailand.
The new education project will have four components; a community learning centre, a primary school, a secondary school and a teacher resource centre.  The medium of instruction will be Khmer even though English language skills will be crucial in the ASEAN common market.  Skills training will be combined with traditional quality Jesuit education to ensure the formation of well-rounded young people with a heart to serve others.
Fr. Ashley heads up a small team to start this project that includes Br. Ham Toeun S.J., the first Khmer Jesuit, Ms. Lucia Wong, an experienced Hong Kong lay missionary and Ms. Phon Sonai, the Khmer project director.  All have worked together before on the project of the Catholic Church Student Centre in Phnom Penh.
On the 21st of January, the Minister of Education, Dr. Hang Chuon Naron, welcomed the project and on the 6th of February the Governor of Banteay Meanchey Province also welcomed the project and promised to support Jesuit Service in its implementation.
A large piece of land has been purchased for the project (16 hectares).  This land floods each year so parts of it will have to be raised for buildings and roads.
The team hopes to find the funds to start construction of the first building, the Community Learning Centre/Teacher Resource Centre this year (2014).  This building will then serve as a temporary primary and secondary school for the following year school year (2015-2016).