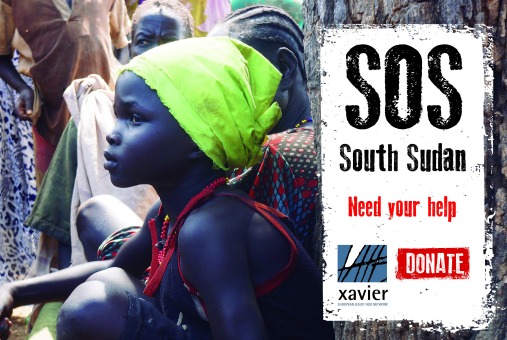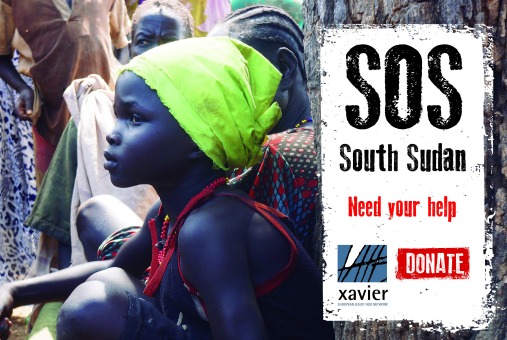 On World Refugee Day, the Irish Jesuit Mission Office (IJMO) and its Spanish partner Entreculturas with other Xavier Network members launched a special appeal for the people of South Sudan
Almost two million people have been forcibly displaced as a result of the recent conflict.
Since last December, almost two million people have fled their homes and farms in an attempt to escape the violence ravaging their country. As Richard O'Dwyer SJ, an Irish Jesuit working in Rumbek, South Sudan wrote in his article in the spring newsletter entitled Internally Displaced People: ""The latest tragedy to affect the long suffering people of South Sudan is all the more tragic because it is the result of South Sudanese seeking to kill their fellow country men and women because of ethnic difference."
Jesuit Refugee Service USA estimates that there are 45.5 million displaced people in the world - 15.5 million of whom are refugees who have been forced to flee their homeland because of conflict or persecution. Eighty percent of these refugees are stranded in developing countries. As long as people continue to be persecuted for their religious or political views and while wars rage in countries like Afghanistan, the Central African Republic, Somalia, South Sudan, Iraq and Syria, people will continue to flee their homes and seek safety in stable nations.
These are people who have had no choice but to leave their friends, families and homes and embark on a long and sometimes dangerous journey in search of safety. They are searching for a life free from fear, a life with security, a life with a future.
Forces driving people from their homes are stronger than any measures that we can put in place to deter them. In fact, these methods of deterrence only lead to greater human rights violations and despair.
When we ignore and trample on the rights of the world's displaced and marginalized, we weaken those protections, and risk a future in which they don't protect us either. Instead, we must be guided by principles of compassion and justice. We should never forget that these people are human beings, entitled to the same human rights as we are, and whose well-being is interconnected with our own.
The IJMO supports the Jesuit Eastern Africa Province with the MAJIS project – the Multi-educational and Agricultural Jesuit Institute of South Sudan – in the training and upskilling of men and women farmers. Click here to read more about the MAJIS project.
Responding to the great need for education, the IJMO also supports Loyola Secondary School in Wau, South Sudan. Click here to read more about Loyola Secondary School in Wau
Jesuit Refugee Service works in more than 50 countries worldwide to meet the educational, health, social and other needs of approximately 700,000 refugees and other forcibly displaced persons, more than half of whom are women. JRS services are available to refugees and displaced persons regardless of their race, ethnic origin, or religious beliefs.
Approximately 280,000 children, young people and adults receive primary, secondary, tertiary and vocational education services each year. JRS places the highest priority on ensuring a better future for refugees by investing heavily in education and training. Further, JRS undertakes advocacy to ensure all displaced children be provided with access to quality education. JRS services are provided to refugees regardless of race, ethnic origin or religious beliefs.