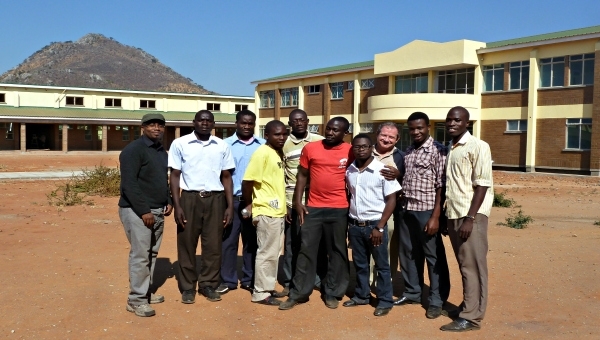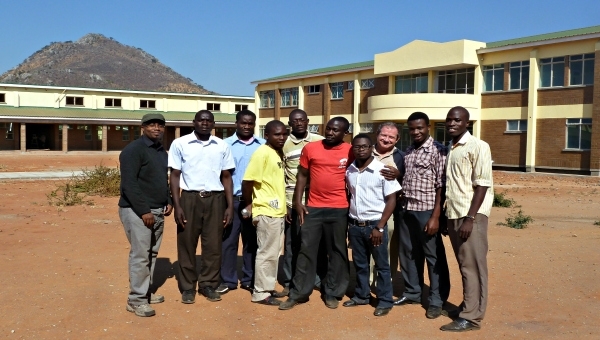 Malawi is a rich country in resources but poor in living conditions for the majority of the people. The educational system is very inadequate for the population of 15 million, 50% of whom are under the age of 18.
Recent Government of Malawi figures for Kasungu District demonstrate in a stark fashion this deficit. Of 12,000 pupils who entered the Standard Eight examination, only 6000 passed the exam. Of these, only 3000 were actually placed in secondary schools. Thus, only 25% of Standard Eight pupils are able to go on for secondary education.
The Jesuit Order is building Loyola Jesuit Secondary School (LJSS) in Kasungu in an area of Malawi that has a very significant deficit in good educational opportunities available to young women and men. It's a busy day every day there since groundbreaking took place in September 2012 for Loyola Jesuit Secondary School (LJSS). In the past two years, the empty 22 hectare (50 acre) plot on the outskirts of Kasungu municipality has blossomed with the many buildings that make up Phase One of LJSS construction.
The school is moving forward in leaps and bounds, not without problems but with lots of goodwill and enthusiasm! When it opens for classes in 2015, the school will form students of conscience, competence, compassion and commitment who strive to transform and improve their community. As a co-educational school working in cooperation with the Ministry of Education, Loyola Jesuit will address many of the pressing educational and societal needs facing the young people of Malawi.
One of the good features of construction of LJSS over the past two years has been the fact that more than 200 local residents have been employed in the construction process over the past two years. Living near the site of the school, these residents – both women and men – have been part of the wonderful process of turning an empty field into an educational dreamland. Clearing land, digging foundations, mixing cement, moulding blocks, raising walls, painting structures – plenty of good work! And that work has meant both ""earn and learn"; making good salaries and gaining new skills.
The construction is a very large undertaking consisting of:
"¢ An Administration Block containing offices for the Head Teacher and other officials, with additional offices for teachers and meeting rooms for conferences
"¢ Eight classrooms and two laboratories provide the learning spaces for Form One and Form Two (Grades Nine and Ten) learners. Temporary library space is also provided for in this Phase One of the construction
"¢ Hostels (dormitories) will be ready to provide comfortable living spaces for the young women and men coming into LJSS from Kasungu and across Malawi
"¢ Kitchen and dining facilities are in progress, with all the necessary cookers, pots and pans, and tables and benches
"¢ A very large Conference Hall provides space for the many gatherings that will take place during the school year. It will serve as the place for religious services until our Chapel is built in Phase Two
"¢ There will be sports fields for recreation and for training future Malawi football and netball national champions!
By this time next year the kitchen facilities will have been completed and Fr. Peter Henriot SJ there says they certainly need to be up and running before the hungry students arrive! There is a lot more to do with curriculum design, preparation of teachers, details about boarding facilities for the students and the planting of trees and grass etc.
More funding has to be raised too for basic necessities such as 600 chairs for the big hall, 300 blankets for hostels,150 energy saver bulbs, and a myriad other things! ""There seems no end to this" says Fr. Alojz Podgrajsek SJ adding "" thanks to everyone for the help given thus far, and 'Forget us not!' Thanks."
Funds for the construction of Phase Two and for provision of all the necessary furnishings and equipment are still needed. If you would like to support the school, go to ' Donate Online' for details of how you can help us.
Please visit http://loyola-malawi.org/ for further information.