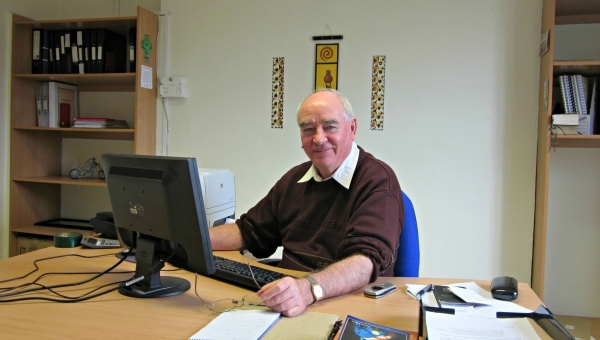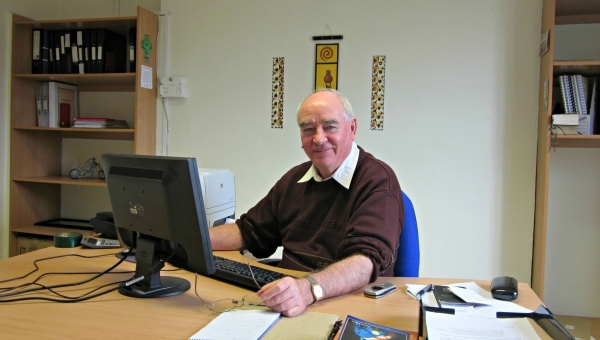 Continuing our series of missionaries' stories for the Mission Month of October ""Irish Men behind the Missions", Fr Murt Curry SJ shares some of his present activities and past memories. There are many more tales to tell of the numerous, dedicated Irish Jesuits working for social justice in developing or conflict torn countries: only a very few are recalled in this series. But their stories are examples of the lives lived by their Jesuit brethren all over the world.
Born in Donegal and brought up in Galway, Martin – known as Murt – served as an altar boy and from a young age was unwavering in his conviction that the priesthood was his calling. Educated by the Jesuits at Coláiste Iognáid – affectionately known as The Jes – Murt went on to teach Maths and Science there as a young Jesuit.
Hanging around boats
Outside the classroom, he recalls that his love of sport and the great outdoors often found him on the playing fields and down by the river ""hanging around boats" at Coláiste Iognáid Rowing Club. Murt rowed for his school winning the Four's (number of rowers in a boat) Championship, and later continued his involvement with the Club for 14 years.
Following his Jesuit Tertianship, he took charge of the rowing club from Fr. Eddie Diffley SJ and started girls' rowing in the school. In 1989, two girls' eights rowed in the inaugural Women's Junior 18 eight Championships in the Galway Regatta; 'The Jes' won!
The Club went from strength to strength with some students going on to row for Ireland at junior and senior international levels. Murt believes that ""Rowing promotes friends for life". His contribution to Irish rowing is celebrated in the Fr. Murt Curry Cup, a prized annual trophy for Women's Junior Fours Championship.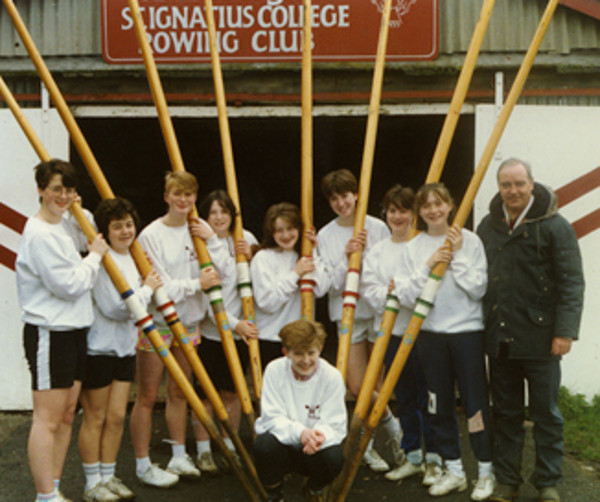 Studies, science, maths and music
As a Jesuit he studied Biochemistry at University College Dublin in 1972 and continued taking degrees in Philosophy and Theology at Milltown Institute, winding up with a Masters at Berkeley in California.
Eighteen years were spent in Galway where Murt taught Maths and Science. As a music lover and violinist, Murt recalls with a smile his strong support of the annual school musical which is still a highlight of the school year there. The students loved it; it was great fun! Then followed six years in Crescent College, Limerick, teaching Maths, Science and Religion.
A Sabbatical year well spent
During a Sabbatical year in 2005, the call of the great outdoors led Murt to Spain to walk the full Camino de Santiago. From the Pyrenees to Finisterre, the pilgrimage covered 500 miles in 30 days. He remembers the walk as """¦a wonderful time for beautiful sunsets and quiet reflection."
The year out continued with four months in a parish on Long Island in the Bahamas. Being the only priest with six churches and very poor communities, there was not much time there for reading or reflection.
Murt found himself back on the water again, this time on the Nile in Africa en route to South Sudan. The following months were spent teaching Maths through English in Nimule, South Sudan, a refugee camp on the border of Uganda. Although there were 35 languages amongst the students there, the teaching language was English.
The Sabbatical year wound up in Zambia in 2006, visiting the various Jesuit mission works and preparing for his next position of project writing at the Irish Jesuit Mission Office in Dublin, Ireland.
Back to the office
Project writing – composing official funding applications for Jesuit works – along with field trips to the Jesuit East Africa and Zambia/Malawi Provinces, keeps Murt very much in touch with people living in developing regions. He observes that a new joined-up approach has been adopted now, from the national to the European to the international, to ensure that Mission works become more efficient and have lasting beneficial effects on the lives of developing communities. For example, the Irish Jesuit Missions (IJM) is now a member of the worldwide Jesuit Xavier Network of mission offices and Jesuit NGOs. Murt attends meetings on behalf of the IJM.
Home is in Rathmines, Dublin, where Fr. Murt lives as a local Superior leading and encouraging young Jesuits coming to study from the African, Asian and European Provinces. He explains that his job is to ensure that they progress with their studies, live and share in Jesuit community life and take responsibility for their own lives and decisions.
But it doesn't stop there. He is also consultant to the Irish Provincial and manager of the Jesuit house and grounds in Wicklow. Any free time that remains sees Murt playing golf or hiking in the hills, revisiting and enjoying the great outdoors!
Fr. Murt Curry SJ is Programmes Officer at the Irish Jesuit Missions in Dublin.