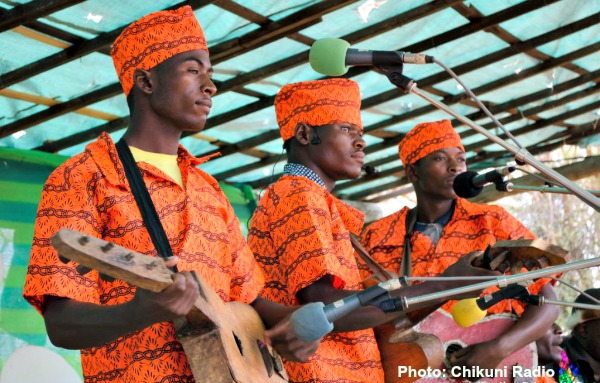 The Tonga Music Festival in Monze, Zambia, is organised each year by Chikuni Community Radio Station. The station's vision is to enable the community of Chikuni to be fully developed in all aspects of human life. Listen in here!

It was founded by the Jesuits in 2000 and amongst many other projects, organises the festival with two days of concerts each year. It was initiated for the purpose of reviving, promoting and preserving Tonga traditional music and dance and promoting the Chitonga language. The Jesuits in Zambia are extremely interested in preserving local language and culture. In recent years, the Chitonga-English dictionary was produced by Fr. Frank Wafer SJ, which was a trojan task.
Since its beginning in 2002, the music festival has grown, attracting many traditional bands as well as corporate institutions and businesses that contribute to the successful hosting of this big cultural event. The Irish Jesuit Mission Office was amongst the contributors and donated €6,000 towards the concert.
For many years, 12 competition categories of traditional music have been performed. But over the years more traditional and almost extinct music styles are being revived and performed thanks to the value the people have placed on the festival. Participants register beforehand and their songs must be original, never having been published or recorded before.
Musicians come to perform to the crowds and are also trained on the cultural and musical values of the Tonga as well as their general lifestyle. This has led to improved performances and deliveries from the participating groups. The Sakala Brothers and Mukanzubo Kalinda Research Institute have helped in the training and have raised the standards of the festival as a result.
Groups like Mashombe Blue Jeans, Green Mamba and Gonde Cultural Ensemble no longer compete but provide entertainment to the concert goers during the two day event while local businesses benefit from keeping everyone fed and watered!
This year, 82 bands competed in various categories at the Tonga concerts. As the area's biggest musical festival, it hosts various traditional bands that display the unique way of life for the BaTonga people while an additional 25 non competing traditional bands showcase the Tonga culture through music and dance.
September's festival was a spectacular one, partly due to the performances of local Zambian hit singers Mpande and Real Jay who recently released their new albums.
Check out Mpande
{youtube}zdeVFbL8YPw{/youtube}
Listen to Real Jay
{youtube}mvZidW-C-64{/youtube}
September 2014