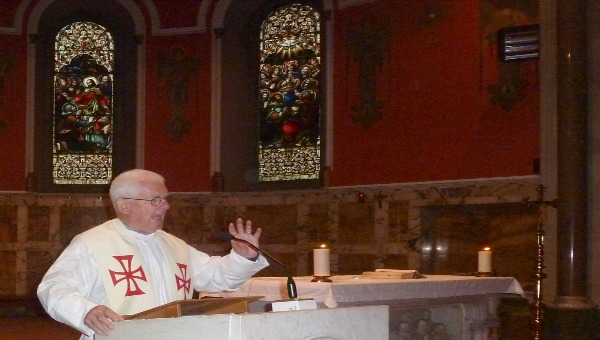 The annual memorial mass to celebrate the lives and works of deceased Jesuit missionaries and volunteers gathered their families and friends together at Milltown Institute in Dublin on 30th November 2014.
The mass was concelebrated by John Guiney SJ, Martin Curry SJ and Fergus O'Keeffe SJ.
A stirring homily on the aliveness of God, social justice, human rights and the changing face of the Church in Africa was given by Fr Joe Hayes SJ, who is visiting from Zambia. African Jesuit missionaries are taking the lead in the development of the Church across the continent as Irish Jesuits retire or pass on to their final reward. The older generation of Jesuits have left their mark in the building and managing of an amazing complex of educational institutions, health services, social services, justice centres, leadership development centres, income and employment generating opportunities, gender education and human rights education.
The list goes on and leaves wonderful initiatives and services that try to help people be more liberated, own their own power, find their own voice and express their own creativity.  These services stand on their own or are sometimes in collaboration with government and other non-government agencies.Most of the countries the missionaries live and work in have had over 50 years of self-rule, indigenised religious and secular organisations, national hierarchies and ecclesiastical civil services.
Despite much poverty, middle classes are emerging to such an extent that the Jesuits are being invited to accompany a growing number of people wanting a more personal relationship with the source of all creativity. Fr Joe Hayes shared their sentiments with the congregation:
"We thank you for what you have built and sacrificed to bring to fruition. We thank you for the Catholic Church with its wonderful priesthood and sacramental life, theologies, social and educational services.
""Now we are ready to embrace our own responsibilities. As lay people we have to lead the creative movements of our times that are truly offering hope of transforming our political, economic, educational and social structures and we want to Christianise these.
""You were once our parent. Now we need you to accompany us as we own our own voice. We need you to appreciate our efforts even when our successes don't always come up to your expectations."