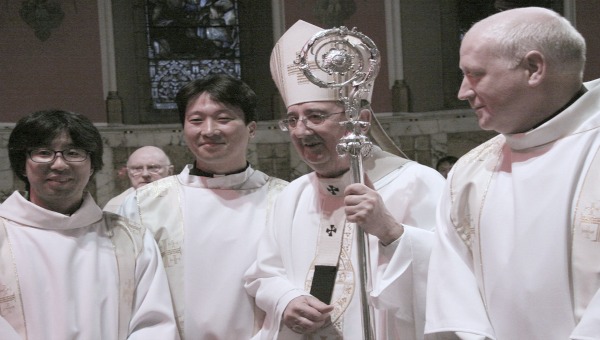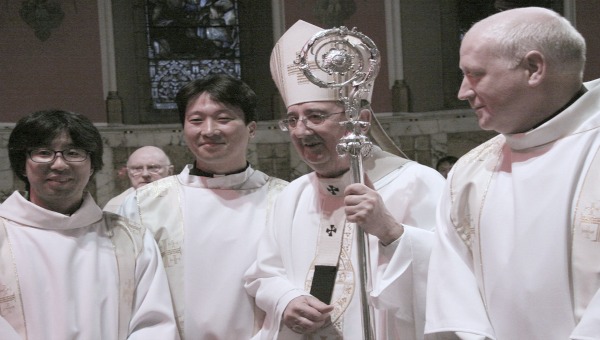 Three Jesuit deacons, Jae-wook Lee and Hjun-june Lee from South Korea, along with Shane Daly from Co. Kildare were ordained by Archbishop Diarmuid Martin in Milltown Park, Dublin on 4th January 2015.
The Archbishop of Dublin told the three deacons that service of the Church today is not simply about activism.
""The service of these deacons and all of us called to ministry is one where we must journey with the men and women of our times, and especially the young people of our time, leading them into a discernment about the fundamental orientation of their lives and especially their Christian lives and thus find Jesus fully within the reality of their lives".
Archbishop Martin said the journeying of the missionary disciple must be a journey of respect, encountering cultures which we may not always like, but which we must always attempt to understand; cultures which may well be pluralist, and where we may attract others to our views but not impose them.
He added that the present Pope Francs, when he was the young Jesuit Jorge Bergoglio, had a vision of being missionary, ""not in the sense of imposing a new and different religion on people who had not yet heard of Jesus Christ. He desired to walk with people leading them into knowing someone to whom they would be attracted and thus to change their lives."
Fr Layden, Jesuit Provincial, said the ordination of the three men to the diaconate was ""an occasion of great joy" for the Jesuits in Ireland.
""It reminds us of the fact that we are an international order – our two brothers from Korea are here doing sacred theology in the Milltown Institute. They will be ordained to the priesthood at a later stage and ordained for service back in Korea."
According to Fr Layden, there has been a tradition for the past twenty years of Korean Jesuits coming to Ireland for their studies.
""We have got to know them and we find ourselves inspired by their great sense of reverence and friendliness and their courage in adapting so readily and so well to another culture and another language."
He added that the ordinations gave the Jesuits ""a sense of our future" and it was their hope that the pontificate of Pope Francis ""would lead younger men to think about the Jesuit way of life – that this would lead to an increase in Jesuit vocations as this has already been the experience in some parts of the world."