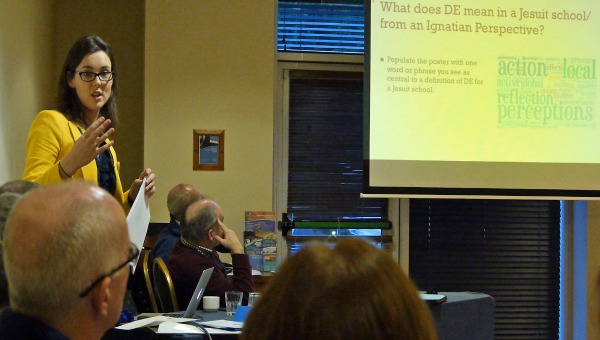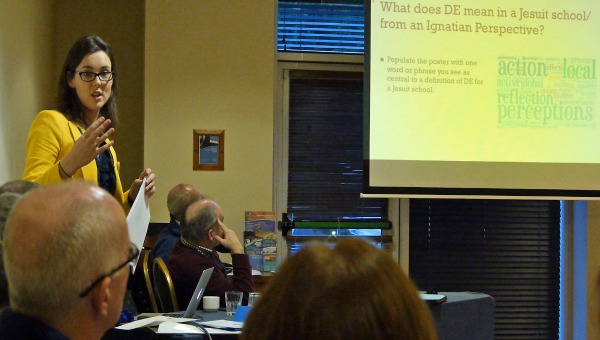 Development Education is sometimes a challenging concept to unpack. However, this didn't stop 25 representatives from Jesuit schools and works coming together to address the concept.
The Irish Jesuit Mission Office (IJMO) hosted its inaugural Development Education (DE) conference last December as part of its newly launched DE programme. The aim of this programme is to build critical thinking and engagement with our schools in the area of global justice, encouraging students and staffs to access in a tangible way 'the faith that does justice'.
Reflections on transformation
Fr. John K. Guiney SJ reflected on the passing of the Society of Jesus through moments of transformation as to how mission is a collaborative effort in the modern context. Commenting on the shared Ignatian vision of the world, he reminded those present that ""central to that vision is that God works in the world to transform it out of love and we are all called into His Company to work with Him for this transformation."
John went on to comment that ""We (the Society of Jesus) recognize that DE is an essential dimension of all our works and in a special way, of our mission in education, because essentially DE extends an invitation to look and to begin to understand the world from God's viewpoint. DE invites us and our students, as Ignatius did with his retreatant in the Spiritual Exercises, to contemplate the world as the three divine Persons do and to respond appropriately in the healing of a broken world. The 'how' of doing this is our challenge today."
Hands of God; hands of compassion
Brian Flannery, Education Delegate, drew the forum's attention to the problem of homelessness and a faith lead response to the current crisis, moving towards a compassionate response. He proposed that this is mirrored in the characteristics of Jesuit education, which encourages our students and staff to connect faith to action and to connect head, heart and hands. He suggested that DE is about educating students in this connected way, about social justice on a local and global scale. Brian's prayer was that our students will be ""the hands of God on our world - hands of compassion".
The Charity model of giving and receiving
An indepth exploration of the concept of DE was lead by Bríd Dunne, DE Coordinator, during which issues of the 'Live Aid Legacy' were addressed. Participants were encouraged to move beyond a donor lead vision for development as being a 'generous giver' supporting a childlike image of the global south as 'grateful receiver'. This single story of development was challenged and participants were encouraged to develop a more critical view of the structural causes of poverty at national and international levels.
These inputs were underpinned by a series of active learning methodology workshops, lead by Bríd, Lizzie Noone, WorldWise Global Schools and Gerry Jeffers, DE specialist, spanning themes such as the use of imagery, local development and DE good practice case studies.
Changing behaviour through DE
Each school group developed lists of plans and follow up actions to facilitate integration beyond the two day conference. Some participants responded at the end of the training: ""It seems that DE is not just about intellectual change, but it's also about behavioural change" and ""Participatory methodologies inspire a different way of learning that will now find its way into my classroom".
We pray these learnings will bear much fruit in the future in our journey towards social justice inspired by Ignatian Spirituality.