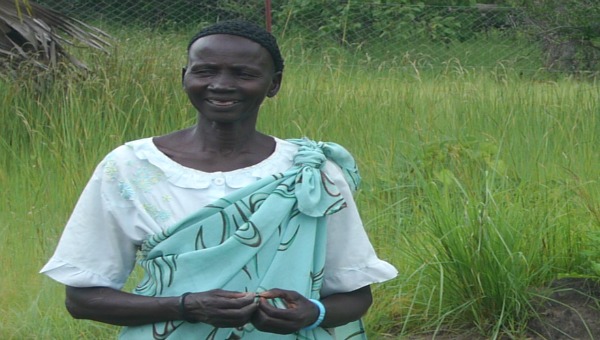 .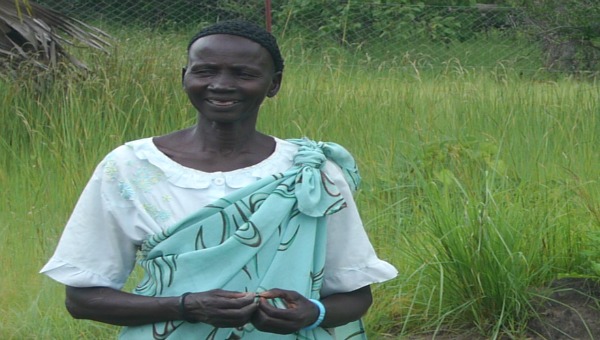 Mary Apet has lived close to the land all her life. She and her family have depended heavily on farming to feed themselves ever since she can remember. While her father was away from home moving his cattle across the countryside looking for water and grass, her mother looked after the family, farming on a very small piece of land near their family home. The food produced was not even enough for daily life. No surplus. Just survival.
The shortage of food at home forced her at eight years of age to live at the cattle camp with her father living on cows' milk; often the only food for the day. There was no opportunity to go to school. When a teenager, she was married to one of the cattle keepers who paid her dowry in cows to her father. See Bride Price
Yet food security should be a given in this fertile country, with its vast areas of arable land, with the River Nile as its extensive water source, and with most of its inhabitants cultivating the land. The earth yields an array of fruits; tomatoes, papaya, guava, lemons, mangos, apples, papaya, guava, with the cashenut and malat amongst the fruit trees.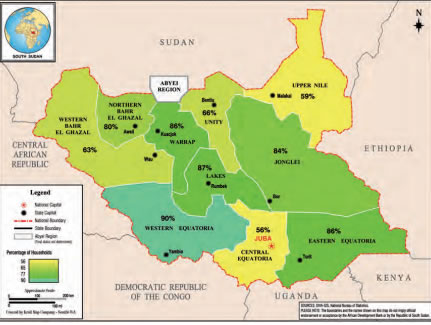 Per cent population by county farming the land before the war
This was a common scenario in South Sudan. Before the current war, more than 90 percent of the country's 10 million people earned their living from agricultural produce on small family farms and from herding cattle. But now fighting has forced farmers to abandon their land, destroyed market towns and the infrastructure that facilitated the transport of produce and reduced people to eating the seeds that should be stored for next year's sowing.
Mary is one of the two million Sudanese people forced to abandon their lands and escape the violence. She belongs to the Amonom clan and has had to flee fighting between the Amonom and Panyon people. Now she lives with four of her five children in Akol Jal, near the Jesuit Multi – educational and Agricultural Jesuit Institute of South Sudan (MAJIS), situated in Rumbek. It is comparatively peaceful there and she cultivates the land with others, growing vegetables and fruit.
Fr Tomasz SJ updates on MAJIS projects and describes a small chicken pen that was built with bamboo screen walls. It is just a trial: he hopes it can be expanded in the future into a chicken farm. A demonstration garden with seeds and vegetables from India is the newest project there. So apart from native African and European varieties of different vegetables in Akol Jal, there will be a new section of the vegi nursery and demonstration garden for Indian vegetables! See MAJIS Farm, South Sudan
Since starting work for MAJIS, Mary receives support and is able to buy some food, medicines and tools for farming. Her family though is forced to live apart for safety reasons. In fear of revenge from a neighbouring clan, her husband lives in another area of Rumbek with one of her sons who attends school there.
Despite being in danger herself and enduring this hardship, Mary enjoys singing and dancing at Sunday Mass. Her friends sing her praises as a good farmer, a gentle, sensitive mother and a friend to the workers in the MAJIS compound. She is an inspiration and leader amongst the women of Akol Jol.
Mary has agreed to feature on the Irish Jesuit Mission collection box that now has a place in Jesuit schools and many homes across Ireland.