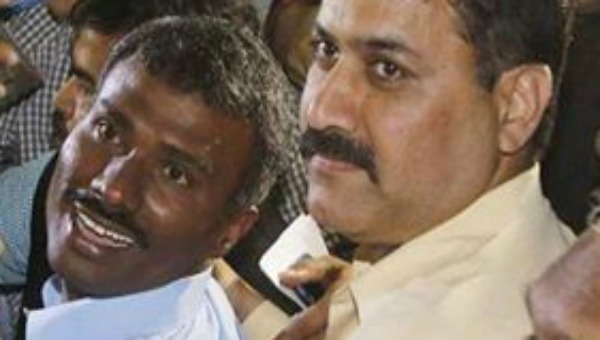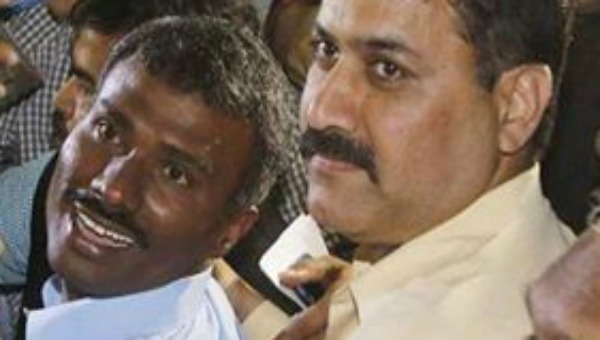 Fr Prem Kumar SJ (Left)
"I prayed a lot every day and I knew you'd make all the efforts to get me released".
Nearly nine months after he was taken hostage by the Taliban in Afghanistan, Father Alexis Prem Kumar Antonysamy SJ landed in Delhi amidst great joy on Sunday.
Fr Prem is deeply grateful to the Prime Minister, the Indian government and his Jesuit brethren for his release following more than eight months in captivity. "The Government of India, especially the External Affairs Ministry, has made a lot of effort to take care of me, to console me," he said. "I sincerely thank PM Modi and all officials of foreign ministry; they have done a great job".
On 2 June 2014, Fr Kumar was taken by a group of unidentified men in western Afghanistan while on a visit to a school supported by the Jesuit Refugee Service (JRS) for returnee refugees in a settlement 34km from the city of Herat. The 47 year old Jesuit, from the southern Indian state of Tamil Nadu, was forced at gunpoint into a vehicle by a group of unidentified armed men.
Before moving to Afghanistan five years ago, Fr Prem had worked for JRS serving Sri Lankan refugees living in the southern Indian state of Tamil Nadu. At the time of his kidnapping, he was the JRS Afghanistan Director. His family is based in Tamil Nadu and are overjoyed at his safe return.
"The last eight months have been a long and difficult period of uncertainty for Fr Prem's family, friends and colleagues. You cannot imagine our relief that he is now home, safe and sound. We are aware of the tireless efforts at many levels to achieve his release and we are grateful for the consolation we have received from the prayerful support of countless friends – including those of the school children from the school where he was kidnapped," said Fr Peter Balleis SJ, JRS International Director.
The Superior General of the Society of Jesus, Father General Adolfo Nicolas, has extended his gratitude to the governments of India and Afghanistan for the efforts made in securing the release of Fr Prem from captivity, saying "We are grateful to the Indian and Afghan governments for their efforts in securing the release of Father Prem Kumar. We are grateful too to many other persons and organizations that continue to work tirelessly for the release of many other humanitarian and aid workers who remain in captivity in Afghanistan and in other places."
Meanwhile we continue to hope and pray for the safety of Fr Paolo Dall'OglioSJ, an Italian priest and peace activist who was exiled from Syria by the Basher al-Assad government in 2012 for meeting with members of the opposition and criticizing the actions of the al-Assad regime. Before his exile, he had served for 30 years at the 6th century monastery of Deir Mar Musa, north of Damascus. He has been credited with the reconstruction of the Mar Musa complex and its reinvention as a centre of interfaith dialogue.
He was kidnapped by rebels on 29 July 2013 and despite rumours of his whereabouts, has not been located since. Please remember him in your prayers.
25/02/2015