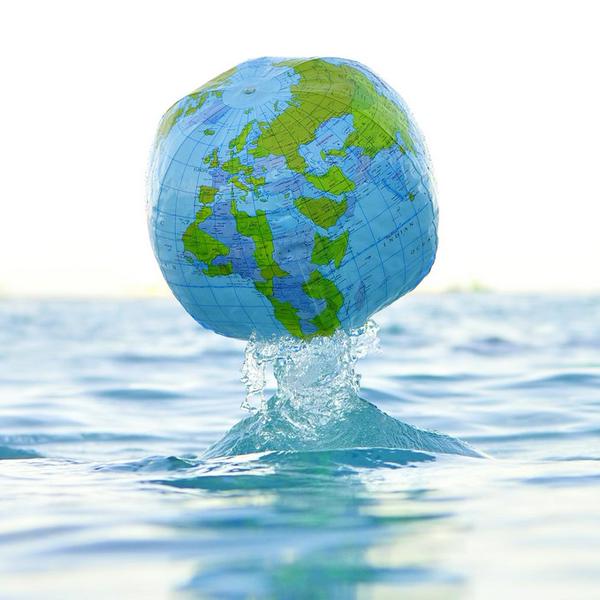 Image: Environmental Health News and Updates
2015 is a crucial year when it comes to Climate Justice and building a strategy for a sustainable future, writes Sheila Curran of the Religious Sisters of Mercy. It culminates in the 21st Session of the Conference of the Parties to the United Nations Framework Convention on Climate Change (COP21) in Paris in December. Following the publication of the Papal Encyclical Laudato si', Sheila attended an international climate justice conference in Ireland and gives an overview of the vibrant proceedings.
A new dialogue shaping the future
It was heartening to see more than 500 interested people from all over Ireland gathered together for this international conference co-hosted by Maynooth University, Trocaire and St. Patrick's College Maynooth. The conference followed the launch of Pope Francis' encyclical Laudato si' and was in keeping with his request: "for a new dialogue on how we are shaping the future of (the) planet with the need for a conversation which includes everyone, since the environmental challenge we are undergoing, and its human roots, concern and affect us all."
The conference was free and open to all which enabled a diverse group of people from all walks of life to attend. The key conversation and dialogue partners were: Mary Robinson UN Special Envoy on Climate Change; Professor van Ypersele, Vice-Chair of the Inter-Governmental Panel on Climate Change; Bill McKibben, co-Founder of Global Climate Movement 350.org. Alongside them were people such as John Sweeney, Emeritus Professor of Geography at Maynooth University, Fr Sean McDonagh, a Columban missionary and ecological activist, Dr. Aine Ryall, an environmental lawyer from the Law Department in Cork University and Bishop Theotonius Gomes, Auxiliary Bishop of Dhaka, Bangladesh.
The key messages from the conference were that climate change is the most serious challenge facing humanity. There is scientific evidence to back it up. Professor van Ypersele pointed out that the increase in carbon dioxide - in our generation - is unprecedented in the last 800,000 years. The window of opportunity is rapidly closing. But we can do something about it, if we make different personal choices and pressurise our governments to take this challenge seriously. It was apparent that those who are least responsible for climate change are those who suffer most.
It is impossible to capture the richness of input at the conference in this short article, so I will highlight some points that impacted on me personally.
Key takeaways from a conference rich in content
Mary Robinson emphasised the fact that two thirds of fossil-fuel reserves must be left in the ground if global warming is to be kept at less than two degrees Celsius above pre-industrial levels. Bill McKibben speaking on the issue of the fossil fuel industry told us that it is threatening the safety and security of the earth. He described it as: "the most irresponsible industry we have ever seen on the planet": we need to divest from fossil fuel and invest in renewal energy. We in the western world also need to change from our consumeristic lifestyle. Are we prepared to take up the challenge?
Ms. Robinson welcomed the leadership of Pope Francis in addressing the issue of climate change in his encyclical which she referred to a number of times. She reiterated his statement that the moral imperative is to act now and emphasised how climate justice confronts us with our own interdependence. She spoke about: "inter-generational justice" and asked what we are giving to the next generation. She believes: "we borrow our world from our ancestors, to hand it on to the next generation".

Image: Trócaire website. Left to right: Mary Robinson, Bill McKibben, Professor Jean-Pascal van Ypersele.
Climate change migrancy
This becomes all the more challenging when Ms. Robinson recalled that today some peoples cannot remain living on their traditional island homes. An example is the 1,000 residents of the Carteret Islands, a group of small and low-lying coral atolls administered by Papua New Guinea, who have to leave because of rising sea levels that will totally submerge their islands this year. They are moving to the larger island of Bougainville, 100 kilometres away. What will become of their sovereign identity? What will they hand on to the next generations?
The same thing happened to the people of Lohachara Island in India's Hooghly River. We are now seeing nations going out of existence and people of these former nations become climate change migrants.
Bishop Theotonius Gomez from Bangladesh gave a first-hand account of the effects of climate change on his country. Rising sea levels are having serious implications for food security and economic growth. Bangladesh's Gangetic plain is the "breadbasket" for the country. It is being threatened due to the lack of fresh water resources because of changing precipitation. Food shortages and movements of peoples naturally follow.
An air of hope prevails
While this is a very brief overview of the conference and much discussion took place on the challenges that face all of us, there was also an air of hope. We can all do something to make a difference. We need to mobilize, educate and act.
Dr. Aine Ryall gave a very clear example of civil society mobilisation. Nine hundred people in the Netherlands brought the Dutch Government to court for not taking preventative action to restrict carbon emissions. The Dutch court has compelled the government to cut its greenhouse gases by 25% by the year 2020.
The World Bank ranks Ireland as the 9th highest country per capita for pollution in Europe. John Sweeney reminded us that Ireland is among the highest in the world for greenhouse gases' emissions due to our agriculture industry. We have had four climate bills and his recommendations continue to be rejected. Climate justice is not mentioned and national self-interest is prioritised before the global good. Perhaps we who are Irish citizens could lobby our government to enshrine a long term emission reduction commitment into our domestic law.
As the COP21 meeting in Paris draws near at the end of this year, let us remember the interdependence of all life on the planet and do all we can to ensure climate justice is to the forefront of the Paris meeting.
Article by Sheila Curran RSM, Justice Coordinator for Irish Missionary Union – Conference Of Religious of Ireland, from 'Meeting the Challenge of Climate Justice: From Evidence to Action', Conference in Maynooth, Ireland, June 22nd-23rd 2015.
For further reading by Fr. Peter Walpole SJ on climate change: A Jesuit with a Cosmovision
and see his interview video: Climate change and a New Call to Mission