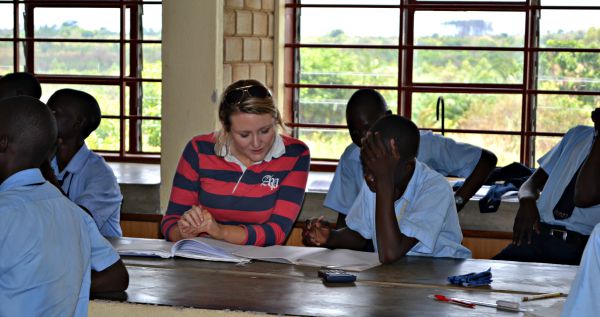 The third story in the Irish Jesuit Missions' series on achievement and the struggle towards success on the continent of Africa, takes us this time to Northern Uganda, to the city of Gulu. Laura Freyne, a teacher from Belvedere College in Dublin, shares her reflections on her recent visit to the Ocer Campion SJ College.
Remembering with a smile my visit to Gulu
When someone asks me to describe my time spent in Uganda, I cannot help but smile.
During the Easter break, a delegation of five teachers from each of the Jesuit schools in Ireland, led by Bríd Dunne, was warmly welcomed by the wonderful staff and Jesuit community in Ocer Campion S J in Gulu. It was a mutually beneficial opportunity to share ideas on Jesuit education and how to best serve students entrusted into our care.
Physics, fine art and drama
In the early stages of our visit, we hosted a staff seminar day exploring the Jesuit characteristics in education. This event actively engaged all participants into examining the shared attributes of our sister Jesuit school which led to open and informal discussions that continued throughout the duration of our stay.
I had the pleasure of visiting a variety of lessons including a physics class and a fine art class where I tried my best to take in everything that was being taught! It was evident to students and teacher alike that physics was never my best subject! I also held a drama class with an enthusiastic and talented bunch of students where we experimented with different forms of process drama and improvisation before they performed an extract from a religious play. I could see my own drama students from Belvedere in the smiles of these students: both groups found humour and parallel delight in the same games.
Vibrant Easter celebration of song, dance and scripture
One of the highlights for me was Easter Sunday Mass and the student talent show that followed. The ceremony was a vibrant celebration of song, dance and scripture where the entire family of Ocer Campion congregated. The show took place in the afternoon with an array of talent on display from debating to rapping and poetry recitals to traditional tribal dancing.
There was also precious time spent visiting the Jesuit Refugee Service (JRS) in Kampala where we met refugees from the Congo and South Sudan who shared their stories with us. It was a deeply moving and enlightening experience. JRS provides invaluable work in the field of education, emergency assistance, healthcare, livelihood activities and social services.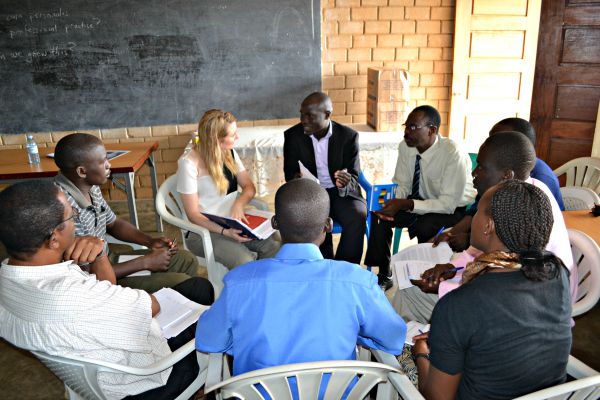 'Shared experience'. Teacher exchange in Ocer Campion College, Gulu
Building a more just and peaceful Uganda
Another notable visit was to the John Paul II Justice and Peace Centre which is an Institution of six Missionary congregations committed to build a more just and peaceful Uganda. They aim to promote peace by enabling people to resolve conflicts through nonviolent means and promoting justice by empowering people to become active and responsible citizens, knowing and respecting their rights and duties.
A major activity conducted by this centre is the training of secondary school teachers as their direct target group in civic education. The training aims at enhancing teachers' commitment towards students' civic education in secondary schools while also increasing the understanding of civic responsibilities among youth out of school through formal and informal education systems. The training of teachers is based on the following themes: peace building, justice, human rights and responsibilities, good governance, leadership and environmental conservation.
Striving for magis
My return to Belvedere College was greeted with many questions from students and staff alike. Not only has this formation visit afforded me the ability to educate the Belvedere community but also it allowed me to witness the great work and devotion of our Ugandan colleagues in striving for magis in all they do. I gained a new appreciation of our international Jesuit ethos and how our actions as educators affect the lives of those in our care.
We have much in common with our friends in Uganda and I will always cherish the time shared with them in Ocer Campion Jesuit College.
Author Laura Freyne, 10th August 2015
Be inspired by stories of more Jesuit works in Africa! Read more on:
Celebrating achievement in Africa series 1: Africa Day: We believe in Africa
Celebrating achievement in Africa series 2: Celebrating achievement in Kasungu, Malawi