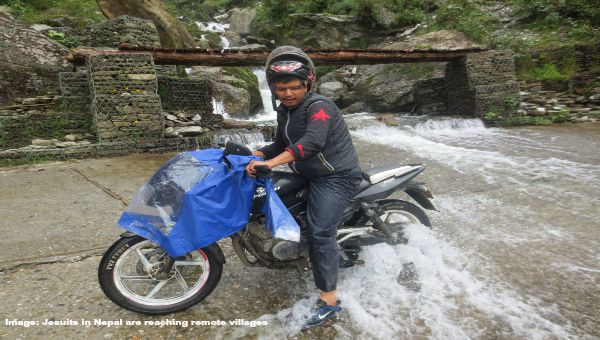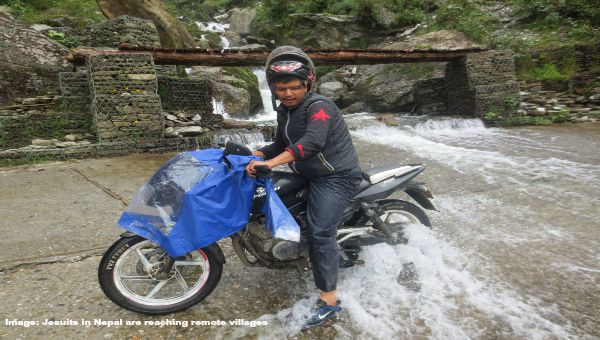 People who face danger and adversity in order to help others are recognised every year on United Nations' World Humanitarian Day, 19th August. For those following the Jesuit path of Ignatian spirituality: ""men and women for others", life is outward looking and service oriented. It insists that a life lived fully for God must include service and action that will benefit other people. Many Jesuits choose to serve and work in difficult or conflict zones to contribute towards this vision and mission.
They strive to inspire, organise and support the work of Jesuit brethren and their teams in emergencies such as the Nepal earthquake, response to refugee needs in Syria and long-term sustainable development programmes like farming in South Sudan.
Nepal Jesuits search the mountain villages
Fr Tigga SJ, working on the massive rehabilitation efforts in Nepal explains: "Our focus has been where the government help has not reached so far, that is, reaching the unreached". The Jesuits and St Xavier volunteers continue to bring supplies to remote villages: not an easy task as many of the mountain treks had been destroyed by the earthquakes.
Trekking through the mountains, Dr Prakash Louis SJ and his team recently came across a school with 20 special children (hearing and visually impaired) in Chandeswari where no one was stationed. Their hostel is devastated and the school badly damaged. Braille stationery will be distributed to the school and galvanized metal roofing sheets provided to get the children back into education and a regular routine.
Reaching The Unreached in Nepal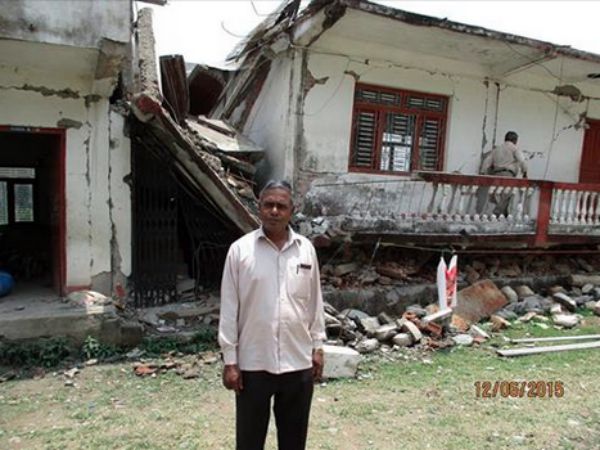 Dr Prakash Louis SJ in Chandeswari
Mobilising Syrians for each other
In war torn Syria, an initiative began by Fr Mourad Abou Seif SJ, project director at Jesuit Refugee Services (JRS) encourages young people of all faiths to work together for the common good. It has expanded in leaps and bounds with almost 600 volunteers helping the Jesuits in family community programmes providing food, health care and psychosocial care and education.
In Aleppo alone he says: ""There are 240 young people working together from all colours of society. Many Syrians have fled to the coastline where it is safer and outreach teams from the three cities of Aleppo, Damascus and Homs collect data continuously there." Fr Mourad stresses that they are not Christians working for Christians or Muslims working for Muslims, but a Syrian people of all religions working together for Syria.
Last year, Fr Mourad accepted the Pax Christi International Peace Award on behalf of JRS Syria for outstanding dedication in providing humanitarian relief to Syrians since 2011.
Interview with Fr Mourad SJ, Syria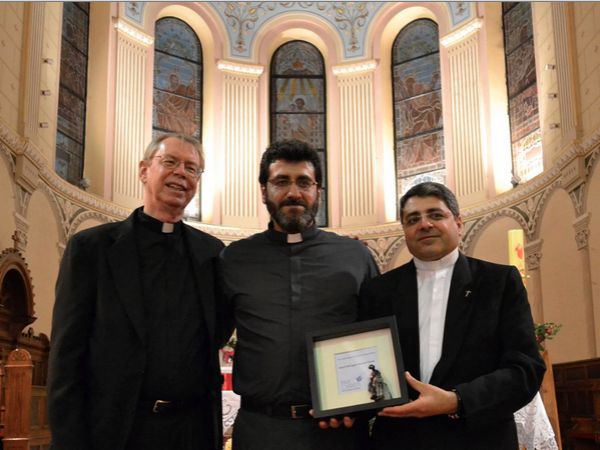 Ken Gavin SJ, Mourad Abou Seif SJ and Ziad Hilal SJ receiving the Pax Christi Award 2014, image www.paxchristi.be
Food security in South Sudan
In conflict ridden South Sudan, Fr Richard O'Dwyer SJ directs the Multi-educational and Agricultural Jesuit Institute of South Sudan (MAJIS), a sustainable farming programme at Rumbek. Recognising that the agro-pastoral communities of the area suffer recurring food shortages during the dry season, inadequate water sources, limited health services and insufficient access to education, the MAJIS programme was founded in 2010. Conflict has socially destabilised the communities causing a high rate of insecurity in the area.
Before the current war, more than 90 percent of the country's 10 million people earned their living from agricultural produce on small family farms and from herding cattle. But now fighting has forced farmers to abandon their land, destroyed market towns and the infrastructure that facilitated the transport of produce and reduced people to eating the seeds that should be stored for next year's sowing.
Although not completely secure, it is comparatively peaceful in the Rumbek area and the land is cultivated, growing vegetables and fruit. Mary Apet, a displaced farmer now living there in Akol Jal, tells of her experience:
Meet Mary Apet- farmer, mother and women's' leader in Akol Jal
The Irish Jesuit Missions honours the efforts of missionary Jesuits and their teams across the globe on World Humanitarian Day and asks you to pray for their safety, security and blessings in all their endeavors.
Article by IJM, 18th August 2015