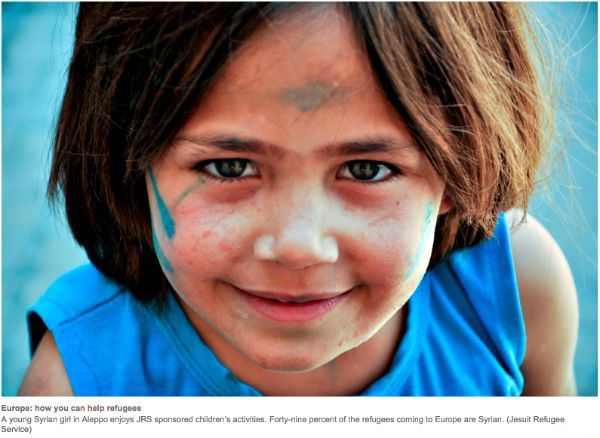 Thousands of migrants are reaching our European shores at this present time. The Jesuits through the Jesuit Refugee Service (JRS) are responding to this crisis with a project in Macedonia and planned support programs in Greece and Hungary.
Here's how you can take action and help.
Advocate for refugees
On 14 September 2015, EU Ministers held emergency talks on the refugee crisis:discussions will continue. You can sign Amnesty International's petition asking EU leaders to:
"¢ Welcome their fair share of the refugees and asylum seekers
"¢ Ensure that Europe strengthens emergency reception capacity in the countries where refugees first arrive
"¢ Fix the EU's broken asylum system by providing more safe routes and increasing resettlement places
Donate for refugee relief
Please support our work; your goodwill, prayers and donations are greatly appreciated. Click here to make a donation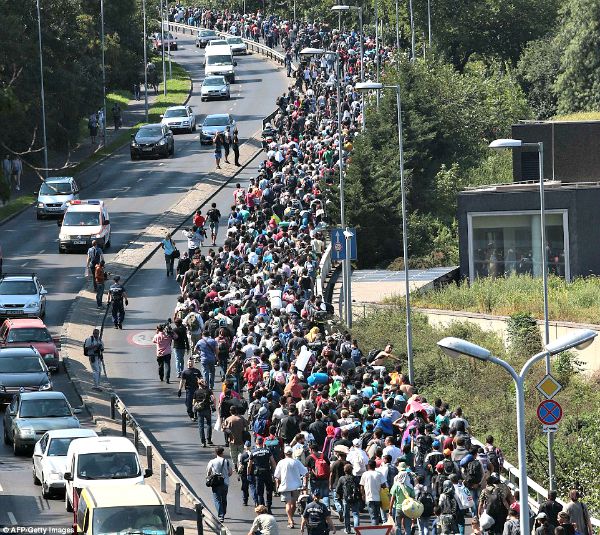 Image: AFP Getty Images. Refugees walk Hungary's M1 motorway on their journey to Austria www.dailymail.co.uk
Keep informed on the Jesuits' refugee work
The situation is changing rapidly. Keep up to date with JRS works and how you can assist refugees in Europe.
"Responding to the needs of those who suffer, JRS is working not only in Europe but also Syria, Jordan, Turkey, the Lebanon and Afghanistan," says Fr Guiney SJ.
In an interview with Brenda Drumm of Kildare KFM last April, he gives an outline of the Jesuits' work with refugees of all religions in the Middle East and especially in Syria against the background of the story of Fr Frans Van der Lugt SJ, who was shot in Homs in 2014.
Fr Guiney describes "The Walking Church" while reaching out on our spiritual journey to others with compassion and in solidarity.
Podcast: ""The Camino of the Middle East"
What JRS is doing in Syria
When people are displaced, they loose their sense of security and are often traumatised. JRS in Syria runs psychosocial support for children, young people and women in particular. Activities are imaginative and creative: games, art and interactive theatre are some of the methods employed to examine issues and build trust and self-confidence.
"It remains very hard to talk about the future: there is no light visible yet at the end of the tunnel" says Fr Mourad Abou Seif SJ of JRS Syria.
"We are trying to maintain some hope that God is with us and that there's a possibility for us to live together. Our team of Muslims and Christians and everybody working together, is a hope for us. Maybe we are hoping the international community will stop the violence and we will rebuild our country."
Advocate for an end to the war in Syria here
"We have been living together for hundreds of years and we have to continue to live together like brothers and sisters, like neighbours and friends. Amongst all the violence around us, we are trying to experience a new kind of life, of relationship together. We are working to construct the heart of society in Syria."
Fr Mourad SJ and his companions remain in Syria, despite the dangers, working to provide secure, sustainable futures for displaced Syrian families and give them enough stability and hope to remain in their country instead of taking the often perilous path into Europe.
Jesuits tell their experiences to accompany, to serve and to advocate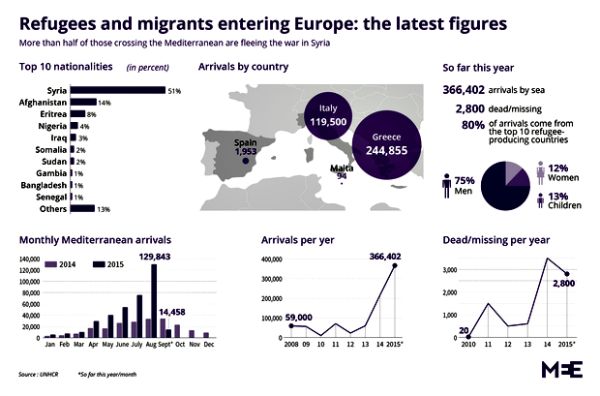 Refugees and migrants entering Europe, numbers as of 9th Sept 2015, UNHCR
Article compiled by IJM, 11th September, 2015