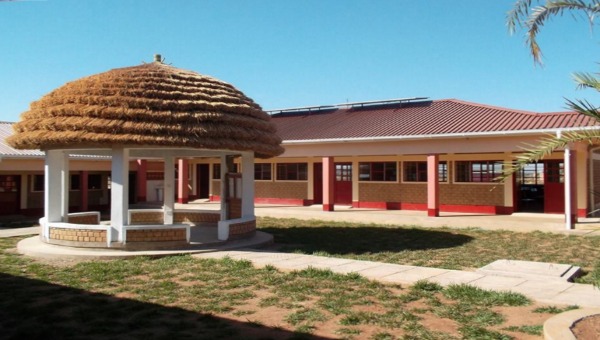 Ocer Campion Jesuit College (OCJC) is the first Jesuit secondary school in Uganda. It is a Catholic boarding school open to both boys and girls of all religious backgrounds. It's multidenominational, open approach is enhanced by regular visitors sharing their expertise while learning from the staff and students there.
Amongst the groups of visitors on a teachers' formation visit at present is Bríd Dunne from the Irish Jesuit Missions office and five teachers from Jesuit Schools (Gonzaga College, Belvedere College, Limerick Crescent College Comprehensive, Clongowes Wood College and Coláiste Iognáid).
This is not the first visit to OCJC from Ireland. Last year two Misean Cara staff conducted a monitoring visit for the buildings they co-funded: the boys' dormitory and classroom block. Another group of Irish Jesuit Schools teachers led by Bríd expanded their teaching experience and practice in the class and staff rooms of Ocer Campion.
Visitors from the States
Visitors from further afield flew from St. Ignatius College Preparatory, San Francisco, USA and spent three weeks at the school in September 2014. They donated an assortment of items ranging from sports, uniforms, equipment and clothes to scholastic materials.
A joint visit of delegates from Bainbridge Graduate Institute,Washington and Johnson County Community College along with student interns from Rockhurst University spent a number of weeks assessing potential areas of collaboration with the school. Their visit had an exciting end when the President of Rockhurst Universitythe Rev. Fr Tom Curran SJ came to join the American contingent at Ocer Campion!
The annual peace camp facilitated and supported by American Peace Corp volunteers took place in May. OCJC shared this valuble training with several schools from northern Uganda who attended the one week camp.
Ocer Campion is aiming high
The mission of the school is to provide quality education in Northern Uganda, especially for children from disadvantaged socio-economic backgrounds. OCJC aims to become a world class education institution producing Uganda's best professionals. In April 2013, the school was registered with the Ministry of Education and Sports as a private 'O' level secondary school.The school was officially opened in February 2010 with 35 students joining the pre-secondary preparatory class. Currently, there are between 400 and 500 students with over 30 members of teaching staff.
In 2014, the school was granted an Examination Centre number by the Uganda National Examinations Board and had its pioneer class of students sit for Uganda Certificate Examination.A total of 42 candidates sat for the 2014 National Examinations. The results were so good that Ocer Campion was ranked 1st out of 70 schools in Gulu District. Out of the 3,149 schools in Uganda., it was ranked 69th.
Continuing strategic development and colloboration
Through collaboration with local and international partners, 97 students received scholarships for partial and full tuition fees as well as scholastic materials. This enabled them to complete the school year without interruptions due to lack of funds.
Capacity building is ongoing. So far one teacher attended a workshop on "Needs Assessment and Project Proposal Writing Skills" organized by the Jesuit Development Office in Nairobi. The Strategic Plan for 2015 – 2018 was formulated and awaits approval. The Plan aims to earmark the development priorities of the institution over the next two to four years.
OCJC continues to improve with infrastructure development, equipment and furniture provision, new internet connection installation and computers. They are run using N-computing technology, which allows multiple users to simultaneously share a single operating system.
Investing in new vehicles for campus maintenance and student transport, instead of hiring, is paying dividends in savings for the college. The Jesuit dream of OCJC becoming a world class education institution for young Ugandans living in poverty, is well on the road to success!