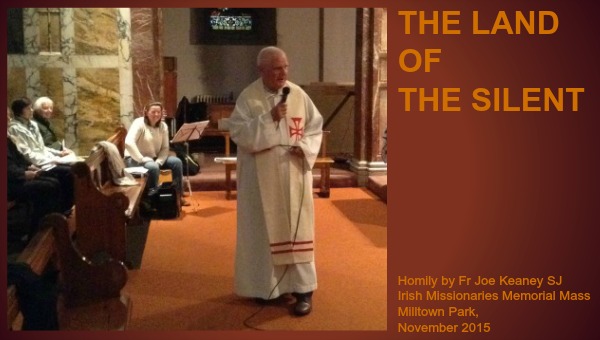 At the annual Memorial Mass for deceased missionaries in November, Fr Joe Keaney SJ knew that a long homily wouldn't work for a Dublin congregation as it does in Zambia. He explained there would be complaints if he didn't give a lengthy sermon there. As the Pope said recently to the bishop: "Don't give long homilies!" His homily was short, friendly and honest delivered from the center of the church to be close to the people he was talking to.
The theme was silence — listening to the internal, silent voice within that has led men to give their entire lives to missionary work, having faith without a spoken assurance from God. Even when there is only silence after death, they gave not a few years' of voluntary work, but their entire lives.
The Land of the Silent
Joe Keaney remembered Jesuit friends he has worked with who have gone to "The Land of the Silent". Sometimes he thinks he hears their laughter or voices in the office…but knows it is only his imagination. If he said he heard voices in his head, he would be put into an insane asylum! How he wishes there was just a little whisper…so that he would be a better preacher. But all there is,is silence.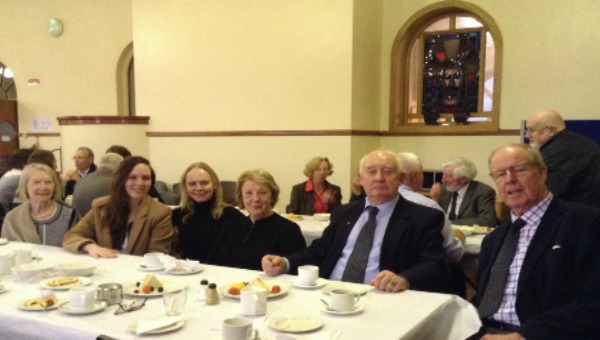 Family of Fr Neil O'Driscoll SJ, L to R: Flo Walsh (sister), Catharine Stewart (grandniece), Vivienne Stewart (niece), Bernie Carr (sister), Tony Carr (brother in law), Brendan Walsh (brother in law)
Joe's friend and colleague, Fr Bob Kelly SJ was a great preacher: "He was a great source of inspiration for me. Having been together for 20 years I listened to him in his heyday and when his energy was failing.
"He could make heaven come alive, often using Isaiah 25, describing the afterlife as a great celebration with the best of food and wine. Afterwards he would flop into a chair exhausted and turn to me saying: 'Joe are we daft? Is there anything there at all?' But the following Sunday he would be back on the altar at it again, with the same enthusiasm, preaching with vigor about the noise, the laughter and fun of heaven. He made 'The Land of the Silent' wake up for me."
Voices in the heart
The Gospel stories about widows' giving inspires images of trust. While the Pharisees took from widows and the widow put in the mite she had, they still gave with trust in God. Missionaries dedicate their entire lives to following a voice that isn't heard, such is their trust and strong faith.
The Irish men who went on missionary work could have made other choices. They could have been CEOs of companies, entrepreneurs, neuroscientists…yet somehow their decisions help Joe when he has doubts. To hear that interior voice needs a special listening. When they were young they did hear a voice in their own hearts saying: "You're special you're mine. I am the way, and the truth, and the life. No one comes to the Father except through me." (John 14:6). "Follow me, and I will make you fishers of men." (Matthew 4:19)
Fr Joe greeted the family of Fr Michael J Kelly, Bob's brother, renowned for his work on HIV and AIDS and still working in Zambia. In his family three of four sons became priests and missionaries in Africa: Bob and Joe have passed on to their final rewards. In Hong Kong, Fr Joe Mallin SJ has just celebrated his 102nd birthday and intends to return to Ireland next year for the 2016 celebrations.
Fr Joe Keaney left the congregation with an assurance that when we give our trust to God, we are reclaimed by Him, as these great Irish missionaries did. Let us listen to the silent voice within.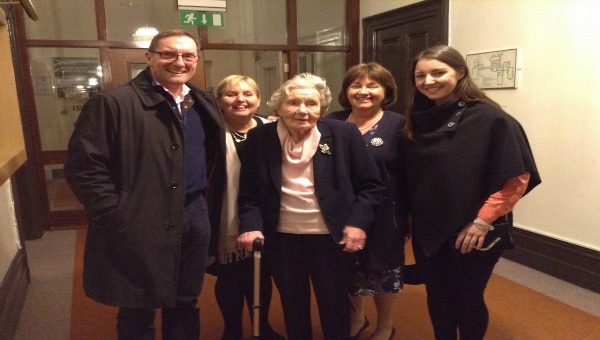 Family of Fr Michael J Kelly, L to R: Pat O'Hagan (nephew), Mary McKeown (niece), Oonagh Kelly (sister), Geraldine O'Hagan (niece in law), Elizabeth O'Hagan (grandniece in law)
Homily by Fr Joe Keaney SJ at Annual Memorial Mass 8th November 2015, Milltown Park, Dublin.