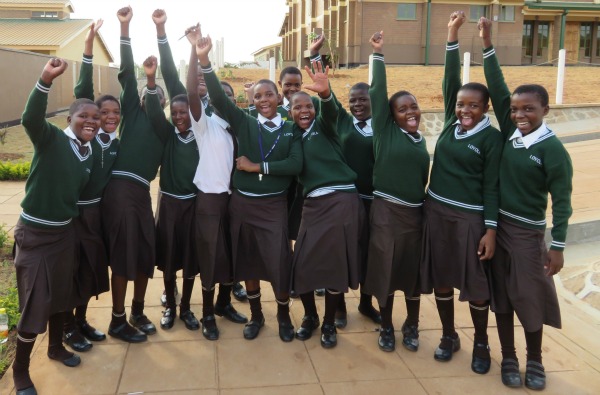 After several years of an empty plot and then three years of busy construction work, Loyola Jesuit Secondary School (LJSS) has finally moved from dream to reality! In early September, 123 girls and boys (61 girls and 62 boys – good gender balance!) enrolled in Form One/ Grade Nine in the new school of the Zambia-Malawi Jesuit Province. All are boarders with 11 teachers housed nearby on campus.
Simon Makuru SJ, a Malawian Jesuit, is Head Teacher, and Ken Simalalo SJ, a Zambian Jesuit, is Chaplain. More Jesuits will join the team as LJSS adds a new year of students over the next few years.
Quality education for young girls and boys
When we first talked about a secondary school in Malawi (one of the poorest countries in the world, with less than 30 per cent of the youth attending secondary school), the expectation among many here was quite simple: "Oh, you Jesuits will found a private school just for boys and locate it in the capital of Lilongwe!"
Well, as a matter of fact, LJSS is co-educational from the start and located in a poor rural area 120 km from the capital! And it is not private but "grant-aided" – we cooperate with the Government of Malawi that pays salaries of teachers. That means that the fees are low and thus more accessible to families of lesser means. At about USD 500 per year, we are building an endowment fund to support those who are unable to afford that fee.
LJSS works closely with the government which sends the teachers, assigns 60 per cent of the students, and designs the curriculum. We are encouraged by the fact that the best secondary schools in Malawi – with the highest scores each year – are grant-aided Catholic schools conducted by well-established religious congregations eg. Marist Brothers, Teresian Sisters.
Religious instruction and ethical well-being
We are very clearly a Jesuit school, guided by our Jesuit pedagogy, to graduate girls and boys who will be: "women and men with and for others." One of our mottos says it very clearly: "Come to Loyola Jesuit Secondary School to learn not just to make a living but to make a difference!"
Not all of our students are Catholic, but we are a Catholic school. An optional early morning Mass (6.50 am) is offered during the week, and so far we find most of the students are very happy to participate. On Sundays all students must attend a religious service – the main Catholic Mass or other services of their choice. The Malawi educational curriculum has a clear place for religious instruction as well as courses that emphasise ethical well-being.
An oasis of learning in a very poor neighbourhood
When you enter the LJSS campus – coming through a very poor neighbourhood of the Kasungu municipality – you will see the fully constructed buildings of Phase One: administration block; conference hall; eight classrooms with additional science and IT labs; temporary library; girls' and boys' dormitories; kitchen/dining facilities. The sports fields are appearing and already getting good use. Phase Two will see more classrooms and dormitories, and three major buildings: chapel, clinic and Jesuit Residence.
LJSS has been blessed from the start with generous benefactors. The worldwide Society of Jesus has assisted through donations from many Provinces and Mission Offices. Father General Adolfo Nicolas has made significant donations. Some national Catholic Bishops Conferences have contributed, and foundations in Europe and the USA have designated funds for specific purposes. And hundreds of individual donors from across the globe have made contributions, large and small.