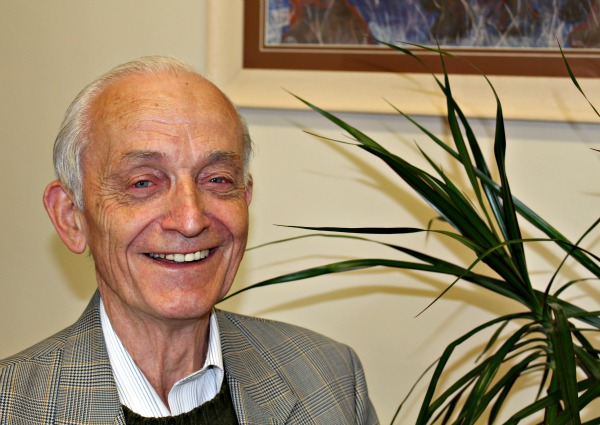 'Going to the Far East' was an expression used by many missionaries in the past to mean they were going to China and South East Asia. In this new series 'Irish Men behind the Far East Missions', they relate their stories and memories to share with you. We hope you will enjoy reading them.
Over 125 Irish Jesuits have gone to the Far East and some remain there still. There are six Irish Jesuits living in Hong Kong, two in Japan, one in Singapore and one in Cambodia. When the first Irish Jesuits went out in 1925 it took over a month to reach their destination by boat. This was the mode of travel for Fr Donal Doyle SJ in 1958.
From the city to the sea and back again
Fr Donal Doyle SJ was born in the heart of the city of Dublin on 11th October 1931. His family lived at 72 Lower Baggot Street for many years. Donal's father was a gynaecologist at Saint Michael's Hospital in Dun Laoghaire – in those days a long commute. So the family moved to a new home overlooking the harbour there. Donal and his younger brother Frank went to the local Christian Brothers to be educated.
The new location brought new friends and Harry Brennan from nearby Dalkey was a close one. Donal recalls wonderful funfilled Sunday teatimes with Harry's family. He and his brothers were being educated in Belvedere College in Dublin and Donal wanted to move to secondary school there with his friends.
But his father, who was a Christian Brothers boy himself, had different plans. He knew nothing of Belvedere College and intended to leave Donal at the Christian Brothers school in Dun Laoghaire. Upon enquiry however, he was reassured by a colleague, Dr. Ryan – the father of Archbishop Ryan – and so Donal had his first encounter with the Society of Jesus at Belvedere.
Deep down, Donal had felt his calling to be a priest living in a community from an early age. He was a member of the Solidality of Our Lady and it was on the Feast of St Francis Xavier, when he first heard of the Jesuit mission to Japan through the letters that Francis had sent to St Ignatius Loyola. He was very moved.
Ships passing in the night
On July 31st 1958, the feast of St Ignatius Loyola, Donal and Dermot Brangan set sail from Naples on the Lloyd Triestino cruise line aboard the "Asia". The voyage took three weeks. Passing through the Suez Canal, the ports of call were Port Said, Aden, Karachi, Colombo, Bombay, Singapore and finally Hong Kong. There they spent a few days visiting the Irish Mission in Hong Kong before setting sail for Yokohama where they arrived on September 3rd.
An interesting anecdote: as the "Asia" and its sister ship passed each other in the Indian Ocean, they sounded their ship's whistle in the night. Many years later, when Donal was working as Assistant to the President of Sophia University, he discovered that the future president had been on that very ship en route to Italy and remembered the incident.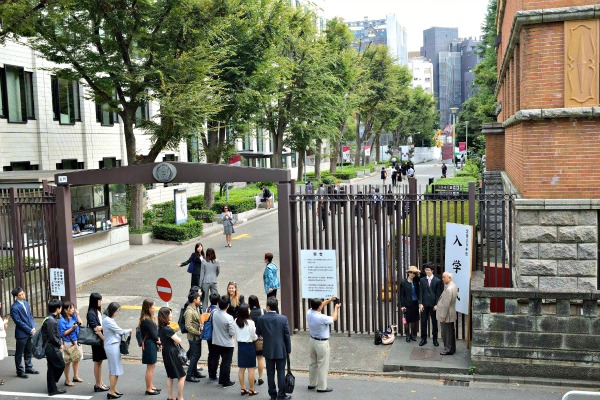 Sofia University, Japan
Japan and Ireland: similar islands
Japan being isolated and so far away geographically, the prevalent thinking can be that of an island mentality, reminiscent of the Ireland of years ago. The love of traditional life, music, folklore is valued by both cultures.
In 1985 he was encouraged to establish an Ireland Studies Programme at Sophia University. Two years late, this developed into the Ireland Studies' Tour that gave students a special, personal experience of the country and the people. As a result, Ireland has many hundreds of Japanese friends who are influential in business, administration, and the arts.
For 26 years, Donal accompanied new groups and was warmly welcomed at Áras an Uachtaráin where the students were graciously received by the president of the time: Mary Robinson, Mary McAleese and President Michael D. Higgins. He is a recipient of the 2015 Business and Education Presidential Distinguished Services Awards that recognise remarkable people who have served Ireland with distinction whilst living abroad.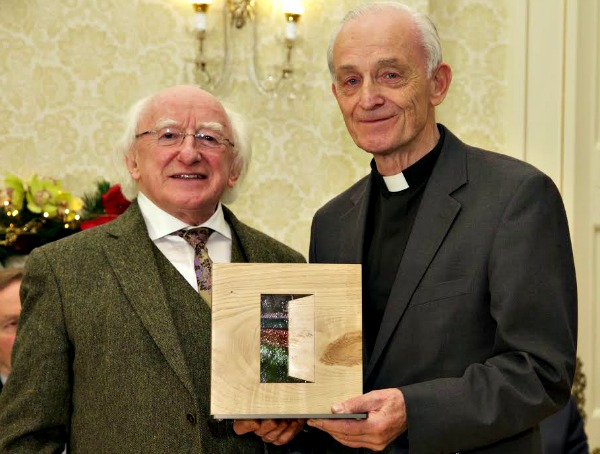 Donal is busy with positions carrying many responsibilities. In particular, he remains involved with the Alumni Association of the University and is the contact person for weddings of graduates in the 100 year old university chapel on campus.
Fr Doyle is happy in Japan. He is very grateful for the opportunities that have led him to an encounter with God among the Japanese people. He recounts his 57 years in Japan in this article: "Why Japan".
Author: IJM, December 2015