Through its collection of stories, "Journeys of Hope", the Jesuit Refugee Service (JRS) records the individual voices, hopes and dreams of people seeking new, safe lives in Europe.
Danielle Vella JRS, listened to a young Moroccan man's fears that he would almost certainly be dismissed at the Macedonian border because he is the 'wrong' nationality. What's more, like many North Africans, he risked being immediately classified as an economic migrant. She observed the lazy ease with which people are labelled either "refugees" or "economic migrants", with the latter all but demonised for having the temerity to turn up.
Given the lawless, violent, repressive and impoverished state of so many countries, the way to determine if someone is a refugee is to listen to the person's story.
Husbands and fathers
For how long can parents like Hassan bear to have their family live amid destruction and death? "I didn't leave Syria before because I couldn't afford to," he continues. "I've been thinking of leaving for three years. I tried and tried and tried but I didn't manage. I begged friends abroad to send me money. It cost us 3000 euro to come to Greece."
The foremost aim of their journey is humble: to be in a safe and peaceful place. One man, who came from ISIS territory in Syria, said: "What do I hope for? Nothing! Just that one, two, three – he points to himself, his wife and little child – are together and safe, that's all."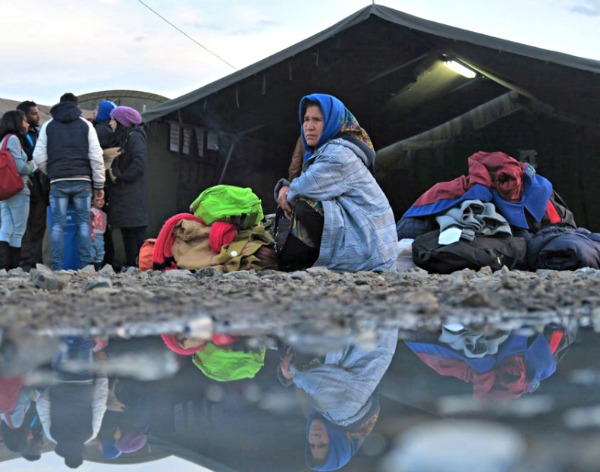 A woman waits in the refugee transit camp in Slavonski Brod, Croatia, 9 February 2016 (Photo: Darrin Zammit Lupi / JRS Europe).
Wives and mothers
Nour, at eight months pregnant, left for the journey undeterred by the fear that she may give birth on the road. She told JRS in Slavonski Brod, Eastern Croatia: "I am so, so tired," she says. "We have been on the road for 10 days."
Nour's husband fled the Syrian city of Aleppo five months ago after receiving a threat, "a paper that was so dangerous". He went to Germany but Nour did not wait to follow him through legal channels. She set off for Greece with her father and brother because: "I couldn't stand it alone in Syria anymore". Nour's daughter, aged one year and a half, clings to her. "My baby needs her father, she is always calling: 'Daddy, Daddy' " she says "and I miss him so much, so much, I am waiting for the moment to meet him."
The worst part was being stuck on the Greek side of the border with Macedonia, due to a strike by Macedonian taxi drivers. At least 80 buses packed with refugees waited at a petrol station for days for the border to open. "I stayed seven days in the bus, I was so cold, and we had very little food," recalls Nour. But still she smiles often and says philosophically: "It is difficult everywhere: in Syria and here."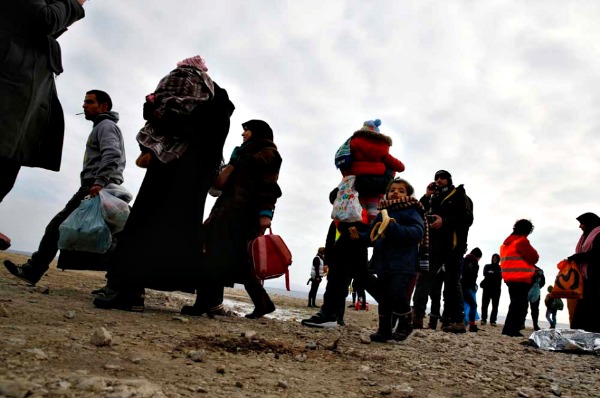 People walk to a waiting bus after arriving on a rubber dinghy on a beach on the Greek island of Lesbos, 29 January 2016 (Photo: Darrin Zammit Lupi / JRS Europe).
Sons and brothers
So perilous is the journey that many men choose to go alone, to try to pave a safer way for their family to follow – a brave plan that may be foiled by stringent family reunification policies in Europe.
Many young men voluntarily assume the obligation of going ahead to Europe not only for their wives and children but also for their parents and siblings.
Amir comes from Ghazni in Afghanistan. "I'm so worried about my family, they are alone and in hiding from the Taliban. My father is 78 and I am the eldest, I must take care of my parents, brothers and sisters. I have come to Europe to save them, do you get this?"
Amir's father worked as a pharmacist and doctor for the Afghan government for more than 40 years – a crime in the eyes of the Taliban. A year ago, the elderly man received death threats. Amir left shortly afterwards, worked in Iran to raise money for his journey, and then headed for Greece. "I need to build my life in Europe and then bring my family."
They are constantly in touch: "Everywhere I have Wi-Fi, I call them, just to say I am here. They are so happy, they cry every time."
Author: Compiled by Irish Jesuit Missions, 26th February 2016