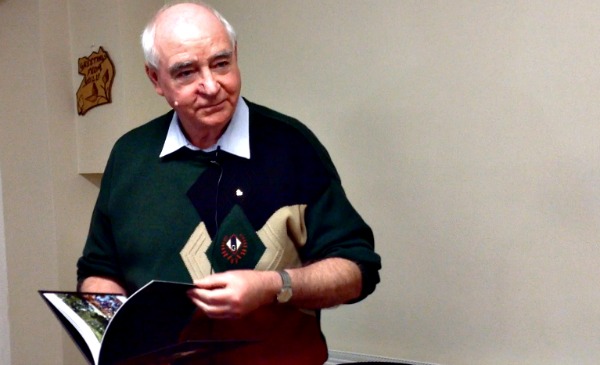 Fr Martin Curry SJ leaves the Irish Jesuit Missions (IJM) this month after 10 years' dedicated service. He returns to his beloved Galway to take up new duties there. Martin's persevering work assisted Jesuit works in securing funding for programmes and in following through on their progress.
"Galway's gain is our loss"
This new chapter in Martin's life was marked by his friends and colleagues at an event held in his honour on Wednesday 20th April.
"Galway's gain is our loss", said Rosaleen Kenny, IJM Receptionist, to widespread agreement as she thanked Martin for being a wonderful friend and colleague.
Martin kept everyone laughing with his usual wit and self effacing quips and admitted to being surprised that so many accepted the invitation to be present at his event.
Fr John Guiney SJ complimented Martin on his wonderful companionship, sense of humour and skills in relationship building, adding: "In Swahili we don't say bye bye – 'kawheri'. We say 'tutaonana' – we'll see each other again".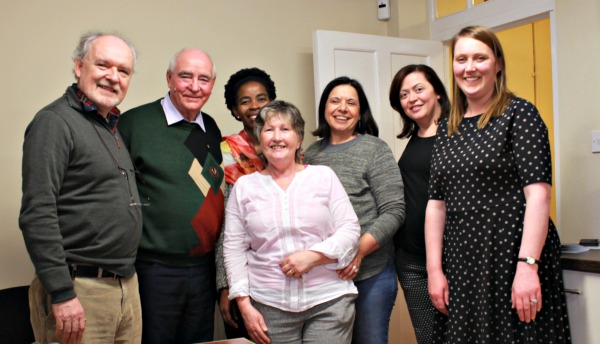 Irish Jesuit Missions staff gather to celebrate Martin's 10 years of service
Martin: "deeply rooted in his Jesuit vocation and mission"
Fr Orobator SJ writes: "I got to know Martin when I served as Provincial of Eastern Africa Province. Part of Martin's responsibilities was to assist the province in facilitating grant proposals to Irish foundations and organisations, and have oversight of monitoring and implementation.
"More than that, in all my dealings with Martin, I discovered that he cared deeply about the men and mission of the Society of Jesus in Eastern Africa. I cherish the numerous times I was privileged to meet Martin in Nairobi and Dublin. The picture of him that I continue to carry in my mind is a gentle soul and generous heart, who is deeply rooted in his Jesuit vocation and mission."
"Something about Martin reminds me of Pope Francis"
"Even when things went wrong – and there were times didn't go as planned in the course of my term – Martin kept calm and remained focused: never raised his voice; never was the outsider who wept louder than the bereaved; never passed judgment on anybody. He just always wanted to help.
"As I reflect on it now, something about Martin reminds me of Pope Francis. Obviously, both are Jesuits! When Francis insists on the priority of mercy over judgment, the mutuality of learning, and the virtue of listening with compassion, Martin embodies all of that for me.
"I am almost certain that Martin will never become the next pope, but when I think of Francis, I remember Martin as the Jesuit companion who modeled these core teachings of Francis for me during my term as provincial and continues to do so."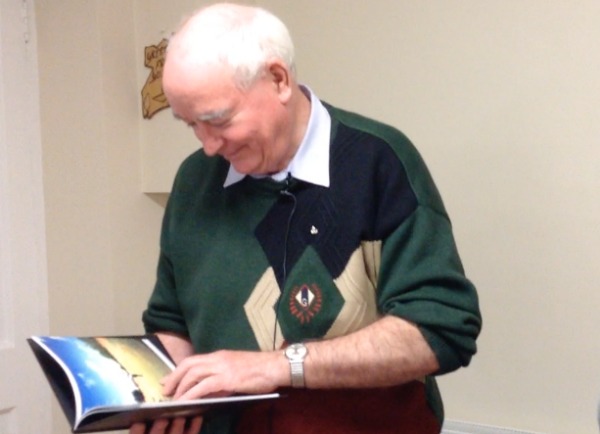 Smiling at the memories: in a photo album presented to Martin
" Know that you are in our thoughts and prayers, with much gratitude!"
Fr Peter Henriot SJ, Director of Development shares in the celebration of Martin's work:
"When we list the supporters of the Zambia-Malawi Province new Loyola Jesuit Secondary School (LJSS) in Kasungu, Malawi, one name will surely shine out: Martin Curry SJ !
"Martin was with us right from the start seven or eight years ago. Words of encouragement, suggestions for funding, help with proposals, praise for work accomplished, challenge for new steps. His personal involvement meant a lot to our team in Malawi.
"So Martin, many blessings as you move to a new spot of service in Galway. Please do keep LJSS—now open and moving forward—in your thoughts and prayers, and know that you are in our thoughts and prayers, with much gratitude!"
All about Martin Curry SJ here
Author: Curated by Irish Jesuit Missions, 26th April 2016.