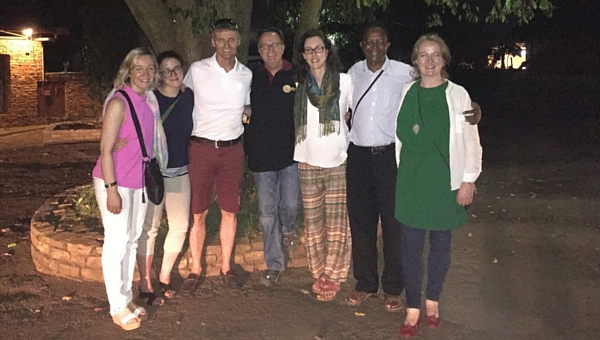 Irish teachers' group with Fr Edmund Mallaya SJ and Fr Kevin White SJ, Jesuit Refugee Service
The Irish Jesuit Mission office's Development Education (DE) programme established in 2013 was the first of its kind for the province. DE is the avenue through which we can educate our youth to be 'people for and with others', but we do it, through our teachers and school staff. It is the Irish Province's response to Pope Francis call to be 'agents of change in a globalised context' (Laudato si).
Time now for a new phase for DE
Over the last two and a half years the DE programme, funded by the Mission office and lead by Bríd Dunne, has worked with staff in Society of Jesus' (SJ) schools in Ireland to build their capacity to integrate global justice themes into their day to day professional practice. Rooted in Ignatian spirituality, the programme has become just as much about the formation of staff as of the students each of the schools aim to serve.
It is time now for a new phase for DE in the province, as after two and a half years, Bríd the DE Coordinator, returns to the chalk face; to teaching in the classroom. Bríd says: "one doesn't use the same tools to break ground as you do to build. I was employed to plough and plant the seeds of DE. It is time now for a new wave of energy to grow the programme and build on it. It has been a privilege to bring it this far, I look forward to seeing the fruits into the future".
What is Development Education in a Jesuit school?
None of the above, however, answers the question "What is Development Education in a Jesuit school?" Teachers and ethos personnel from the five Jesuit colleges came together to answer that question, after one year of DE activity in their schools. It seems that only after experiencing it they could define it. They decided on the following:
"Inspired by an Jesuit world view, DE encourages consciousness of our global human family. It is a creative and reflective learning process. DE seeks to inspire a 'faith that does justice' by actively challenging perceptions and stereotypes at local, national and international levels. This develops us as 'men and women for and with others'."
Two and a half years on, this vision is active in the SJ colleges. A curriculum resource 'Global Justice Perspectives' is being taught in all schools. Teachers have been involved in teacher training conferences, capacity building in-service, are supported by the coordinator and a comprehensive online resource bank.
There is now, move than ever before, a clear link forged between teaching about justice issues and Jesuit ethos alive in the schools. Students have engaged in workshops—facilitated through the Missions office—on topical issues that underpin the good practice in the schools. Cross curricular teams of teachers, ignited by this vision are now established and dedicated to driving the DE programme forward in the coming years.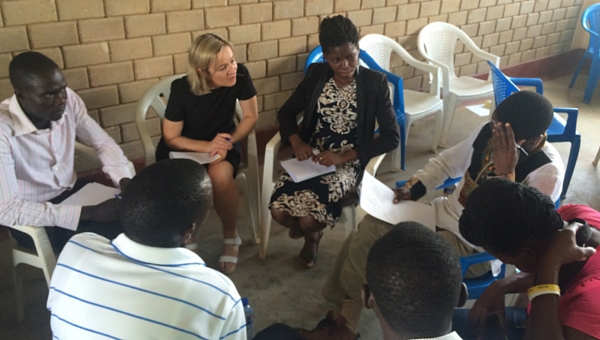 Irish teacher Jacqueline working with colleagues in Ocer Campion Jesuit College Gulu, Uganda
Formation visits to Northern Uganda and back again
The solid and important work at home has been supported also by formation visits to a sister school in Northern Uganda. These visits have really captured the imagination of staffs in all the schools. Over the last two years and a half, 15 teachers have been accompanied to Uganda by the DE coordinator. They engage in an ethos conversation with their colleagues on Ocer Campion Jesuit College.
The aim firstly, is to learn from each other's experience and context and secondly, to bear witness to global justice upon return. Participants fully experience what it means to be part of a global family of Ignatian educators. Most recently, St. Declan's Primary School, joined the programme and Jacqueline Barry Duke travelled as part of this formation programme. She reflects on her experience here.
Jacqueline's experience can be echoed among participating teachers across the Jesuit schools network. As the programme has gone from strength to strength, the personal conviction of participating teachers has deepened.
Author: Bríd Dunne, DE Coordinator , 14th July 2016