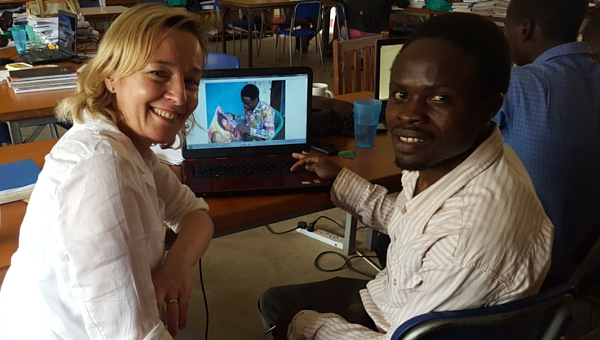 Jacqueline with Art teacher colleagues in Gulu
Jacqueline Barry Duke, teacher at St Declan's Primary School, writes about her experience as a member of the Jesuit formation visit group to Ocer Campion School in Gulu, Uganda.
"It took us 24 hours to reach Uganda. As we drove through Kampala city to the station where we were catching the postbus (delivering post and people), it was dark but the city was alive with people going to work and school. There were no streetlights and the roads were full of potholes and dust.  I could not understand how the people could see where they were going but they all walked with purpose! It was extraordinary!
"As the bus made its way towards Gulu I got a great sense of the countryside or bush. It was sparse near the road. In the distance there were trees and bushes. The earth is terracotta in colour and dry looking. It was hot and humid and the heavy rains were due any day. The roads were dusty, bumpy and had a lot of potholes. Bríd said that they were an improvement from the last time she was here. At that moment I thought to myself if Bríd says that these roads were an improvement I couldn't even begin to imagine what they were like before!
"Coming from a small school like St. Declan's to a large school with approx. 700 students and a large staff was a little daunting but I was made very welcome. At ease in the open staff room I chatted to teachers about a typical day at Ocer. They were so willing to give me their time and spoke openly and sincerely about the school. Life in Ocer is not easy for teachers and pupils as they have long days and intensive study and teaching.
"I got an opportunity to teach an art class to the youngest pupils. This I can say was a very enjoyable day! Before the class I discovered there were no art supplies in the school. I ran to Bríd in the office and she got a boda boda (motorbike) into Gulu town to buy brushes and paint! I got them to break into pairs and draw each other's portrait. They were very enthusiastic and very keen to show me their work. So I encouraged them and told them to enjoy themselves.
"About an hour later I told them it was break time and I would see them in 20 minutes. None of them wanted to leave! They were really enjoying it all so much! Later they helped me to hang all their beautiful and very interesting work on the classroom wall. They were so proud and so happy!"
Kind words and a friendly smile
"There are many wonderful people at Ocer who are so caring and committed to their job. The first person that comes to mind is Matron. She is like a mother to all the girls and really cared and looked after them like they were her own. She welcomed us like she knew us all her life during our stay in Ocer she was warm, funny, thoughtful, wise and had a knowledge and way with words. Nurse Susan and Nurse Consey run the infirmary at the school. They too were also warm and friendly and like Matron really form a large part of the backbone of Ocer.
"Children can come here if they are not well and receive medication and rest. While I was there many children were in the infirmary for malaria. Nurse Susan was able to test them for malaria. We also had a lot of fun with the cooks Lillian and Prossey in the kitchen. They worked hard and long hours. I enjoyed going into the kitchen to chat and help them prepare the meal, as they were so warm, charming and completely easy going.
"Cyprian, a Jesuit priest at Ocer, runs an outreach programme with the older students. They visit a juvenile detention centre once a month and play a game of soccer against them. We did accompany them while we were there and I personally found it a tense and difficult visit. These children are waiting to appear in court, which they share with adults and so there is a backlog. They are not given priority and yet they are serving time for crimes that they may not have committed. I have to praise the Ocer students for showing support and solidarity towards them.
"We said our goodbyes to the Ocer community and I really felt so privileged to have met these wonderful people with good community values and hope for their future. They really seemed to appreciate our visit and thanked us for taking the time to come to Ocer. The words of a letter written to us by Matron sum up the experience in Ocer very well 'We can't create lasting treasure but we can accomplish wonderful things with kind words and a friendly smile. Thank you for being that kind of friend.' "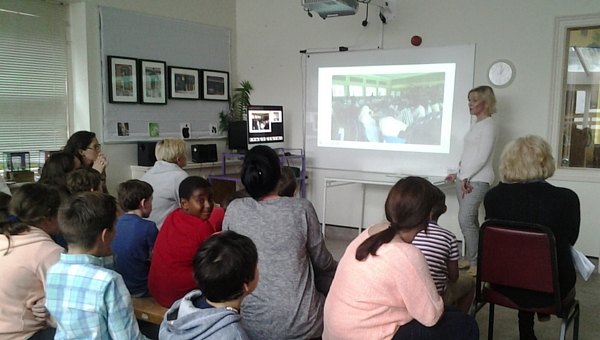 Back in Ireland, Jacqueline presents on her experience to staff and students of St Declan's school
A very safe and sacred place
"On our last day I was woken by our usual alarm the call to prayer once again coming from the mosque at around 5.30am! Today we were going to the Jesuit Refugee Services Centre to spend most of the day there. This service facility is carried out on the grounds of what was once a Jesuit residence. When we arrived at the locked gate there was a crowed of refugees outside waiting and hoping to get in. There were men, women and children. The security man let us in and I immediately got a positive feeling yet there also was a sense of vulnerability and sensitivity. I also felt it was a very safe and sacred place.
"We meet Fr. Kevin a Canadian Jesuit priest and Fr. Mallaya who run the centre along with many other staff members. They help asylum seekers to get refugee status in Uganda and travel mostly on foot from neighbouring countries like Congo, South Sudan, Kenya, Burundi, Rwanda and Ethiopia. The status takes about three months and during that time the centre helps them with rent for accommodation, food, protection.
"That day we walked around the centre and visited various classes they have to offer the asylum seekers like English language classes, fashion design, hairdressing, arts & crafts, woodwork and more. They also have a kindergarten class where we played with the children. Kevin and Mallaya arranged that we would get to meet various refugees who were very bravely willing to tell us their story. Mary and I met three different women from Congo, South Sudan and Burundi who told us the harrowing reality of what they have been through so far in their lives.
"As a mother and a wife I found the experience difficult and upsetting. I couldn't but admire these strong but hopeful women of the future. I also felt honoured and privileged that I was the person, a stranger, they opened their hearts to and told their story to. I really believed that it was like therapy for them. These people, and those experiences will never be far from me as I return to life in Ireland and to work in St. Declan's."
Author: Jacqueline Barry Duke, teacher at St. Declan's Primary School. 15th July 2016