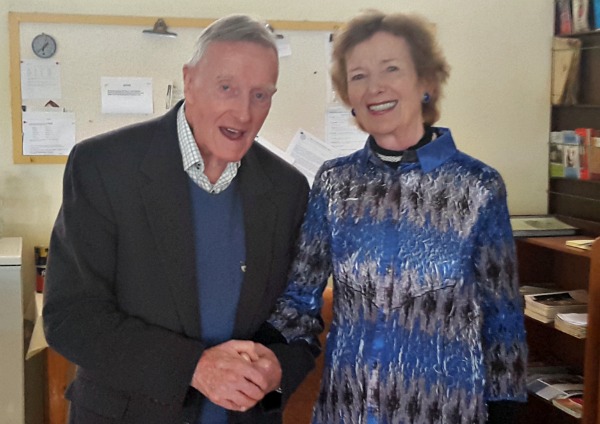 A Museum Piece
Early in May  a new state-of-the-art interactive-type museum, EPIC Ireland, was opened in the vaults of the docklands CHQ building in Dublin. The new museum focuses on the Irish abroad and the Irish diaspora, what they have done and what they are doing in various parts of the world.
The Museum Director has informed me, as a matter of courtesy, that they are featuring my story in the visitor experience and will continue to do so for the coming ten years. I have no idea what aspects of my 'story' are touched on, but it is reassuring to know that at last I have found my proper niche – as a museum piece!
Distinguished Visitor visits 'her hero'
On May 25th, which was Africa Freedom Day, I was greatly honoured when the former Irish President Mary Robinson, called at Luwisha House to see me. She was in Lusaka for a few days to speak to a top-level meeting of the African Development Bank on ecological, clean power and climate-change issues.
Noting that I was not present when she met some members of the Irish community shortly after her arrival in Lusaka, Mrs. Robinson asked the Irish Ambassador if she could come to see me as I was  'her hero'. God save the mark!
To talk of many things
During her stay of about an hour she and I talked about many things – progress against HIV and AIDS, the empowerment of women, the problems faced by children, clean energy and solar power, population growth, and even family.
Unfortunately I had to acknowledge that so far we here at Luwisha House had done nothing about installing a solar power system, even though we are very suitably placed to do so, with the sun beaming down on us all day almost every day of the year.
But I was able to redress the balance a little by drawing attention to the work being done by the Jesuit Centre for Ecology and Development in Malawi and the development there of a cooking stove that is very economical in its use of charcoal, something that Mrs. Robinson said she had heard about.
It was indeed a great honour to receive this surprise visit from such an eminent and busy person. I greatly appreciated it.
Author: Michael J. Kelly SJ, Luwisha House, Lusaka, Zambia. June 2016