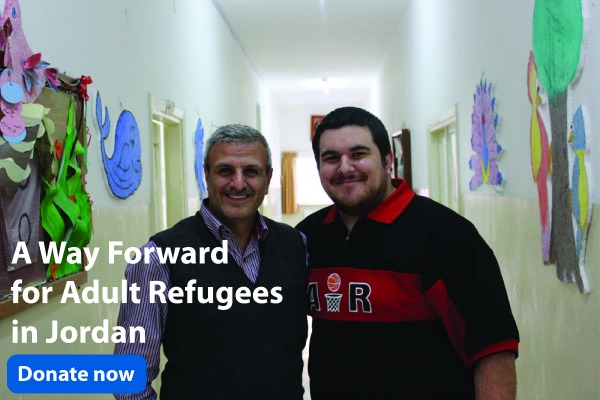 Iraqi refugees Tamim (right) and Qais (left) in the corridor at the JRS school in Amman, both are volunteers and part of the JRS Jordan core team. (Zerene Haddad/JRS)
At the Higher Education programme in Amman, Jordan, the Jesuit Refugee Service (JRS) operates a 'no discrimination by passport' approach. It serves all refugees equally whether from Iraq, Palestine, Somalia, South Sudan or Syria. The purpose is to build the capacities of mature refugee students through higher education courses that will give access to further third level education. Most of the staff of JRS Jordan are refugees too and working to improve their technical and management skills.
There they can study for a Diploma in Liberal Studies—a three year blended online and in-class undergraduate course—or a Certificate in Community Service Learning Tracks—short term courses that focus on community needs such as English and Life Skills.
Offered in collaboration with a worldwide network of Jesuit universitites, the standard is high and the adult students work hard taking the opportunity to advance academically, form new social networks and be supported in their social and emotional well being in a respectful environment. Wherever the ex students eventually settle down, they take their qualifications with them to help them in beginning their new lives.