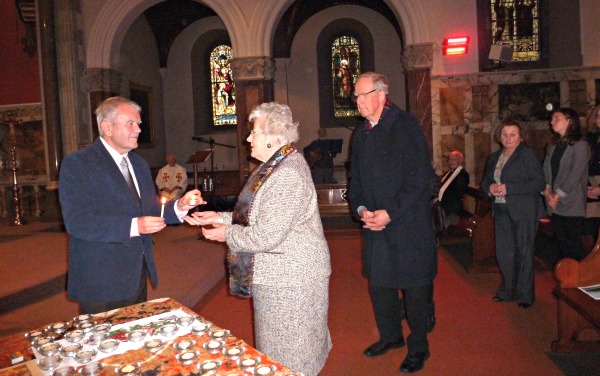 A large group of family and friends of deceased Jesuit Missionaries gathered for our annual Mass on Sunday 6th November. This year Fr John Guiney SJ was unable to be present due to his commitments to the General Congregation 36 meetings in Rome. Fr John was present in spirit and his greeting was read out. He updated all on the proceedings in Rome and wrote:" The most important part of the experience is to meet 214 other companions from all over the world—from India, Latin America, China, South East Asia, Africa, North America and Europe.
The Society is growing so much in Asia and Africa. There are over 4,000 Jesuits in India alone: all the fruit of our missionaries' work who we celebrate and remember today."
Fr Gerry Clarke SJ the Parish Priest at St Francis Xavier's Church in Gardiner Street, Dublin officiated and was supported by Fr Fergus O'Keeffe SJ and Fr Jerry O'Connell SJ. Also in attendance were Fr James Hurley SJ, formerly of Hong Kong and Fr John Dooley SJ, who served for many years in Zambia.
Fr Clarke started the Mass by reading out Fr Guiney's letter, sending his greetings from Rome. Members of the congregation assisted with the readings and the Prayers of the Faithful while the beautiful music of Berna and Brian Cunningham added greatly to the lovely atmosphere. We had the candle ceremony where a family member or a friend would light a candle in memory of their particular missionary. Colm Brophy assisted in this calling out the missionaries' names as people came forward. More family members helped with the Offertory, adding items from Africa and Asia to the altar.
Fr Clarke's homily was very well received; he explained that he had been a missionary for five years working for Jesuit Refugee Service in Chad, Africa. He spoke of what makes a missionary and the attributes needed for this task, including courage and hope. but the most important quality was to be 'spiritual'.
It was really nice to meet up with those who come regularly to the annual missionary Mass and to meet new families who had come for the first time. After Mass, most of those present joined us for tea and sandwiches in the canteen and everyone got a chance to catch up or meet and greet some new acquaintances. We are very grateful to the staff in Milltown for all their help and kindness in arranging the occasion.
Author: Rosaleen Kenny, 10th November 2016