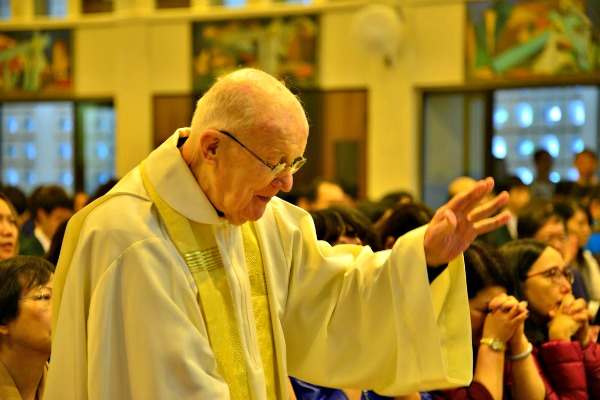 Fr Alfred Joseph Deignan SJ
When we reach the age of 90 we often look back at our life history and marvel at how God has blessed us. We feel so grateful, as we recognize God's plan working through us as His poor weak instruments.
The first Irish Jesuits arrived in Hong Kong on the eve of the Feast of St. Francis Xavier and said their first Mass on his feast day, 3rd December, in the Cathedral. Was this God's sign to us to be like St. Francis who had a strong desire to work in China? This mission was a new challenge to the Irish Province to work in Hong Kong and China It was a new experience to work among poor people speaking a different language, the Cantonese dialect, with different food, customs and weather, often so hot and humid. So different from Ireland.
Bishop Henry Valtorta invited English speaking Jesuits to work in this British colony to build and run a residential hall of the University for Catholic students. He was worried about the danger to their faith, studying in the atheistic atmosphere of the University. So the early Jesuits opened Ricci Hall for Catholic students in December 1929, three years after their arrival. At that time, there was only one University and the language of instruction was English. So English was an important subject in secondary schools. Fr. Finn became the first Jesuit University lecturer of Geography. He was an archeologist and he researched a site on Lamma Island, finding pottery and stone object from the Chalcolithic period. Ricci Hall a residence for the Catholic students of the University was the first important apostolate undertaken by the Jesuits.
The second challenge came when the Bishop asked us to run and teach philosophy and theology in the Seminary for South China which had just been opened in November 1931 in Aberdeen. The seminarians came from the whole of South China. After the communists took over China seminarians could not come to Hong Kong. We handed over the Seminary to the Hong Kong Diocese in 1964. We continue to teach in the Holy Spirit Seminary up till now. Fr. William Lo, Fr. Robert Ng. Fr. Marciano Baptista and Fr. Simon Wong are at present on the teaching staff.
The first Chinese Jesuit to join the Irish Province in 1934 was Fr. Albert Chan He was an historian who did research on the Ming Dynasty. The first Past Student of Wah Yan College to become a Jesuit, who joined the Portuguese Province was Dominic Tang. He became Bishop of Canton in 1951 under the communists. He was arrested and imprisoned in 1958 and spent twenty-two years in prison, with seven in solitary confinement. He was released for health reasons in 1980 and arrived in Hong Kong in 1981.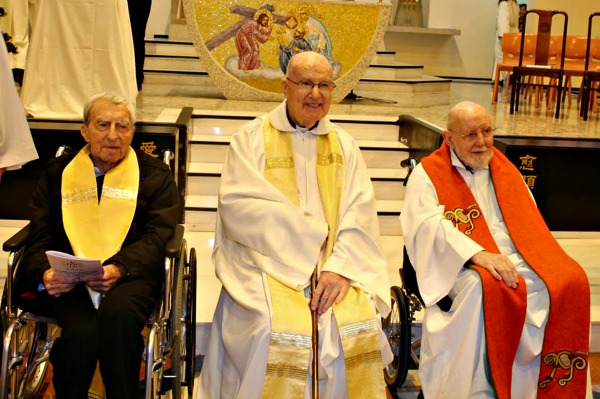 Frs Joe Mallin, Alfred Deignan and Seán Ó'Cearbhalláin
It is interesting to mention that in 1936 Fr. Thomas Cooney an engineer brought the Markree Observatory telescope from Ireland and set it up in the Seminary. It was the second largest refractor telescope in South China. The Irish Jesuits dreamed of working in China proper. So they accepted the request of the Bishop to run and teach in Sacred Heart School in Canton. Two Irish Jesuits were assigned there in 1928. The first tragedy of the Irish mission was when Fr. Saul and Fr. McCullough died in Canton from cholera. The scholastics learning Chinese in Canton were moved back to Hong Kong. Now the concentration was on our apostolates in Hong Kong. A Catholic layman, Peter Tsui asked us to take over his two secondary schools for boys one on Hong Kong Island in 1932, the other in Kowloon in 1946. So three pillars of the Mission were set up in the early years i.e. Ricci Hall, the Seminary and the schools, which continue to this day. Fr. Stephen Chow is now the Supervisor of our schools making them more and more Ignatian. These could not have been possible without the generosity of the Irish Province which sent an average of four Jesuits to Hong Kong each year between 1926 and 1970, a total of 106 Jesuits.
When the Jesuits arrived for the first time in Hong Kong the people were very poor. There were many refugees from China. They lived in slums, in wooded huts on the hillside or on the roof tops. There was little welfare provided then. Fr. Howatson started the Poor Boys Club and a night school for poor boys in 1946. this initiative developed over the years to become today "The Boys' and Girls' Club Association".

In 1937 the Japanese invaded China. About 50,000 refugees poured into Hong Kong from China. Fr. Thomas Ryan and Fr. Donnelly set up the "War Relief Association" and got the students of Wah Yan to help provide them with supplies and medical care.
The Japanese invaded Hong Kong in 1941. The British surrendered. All schools were closed. Many people suffered from fear and poverty. Fr. Gerald Kennedy, a doctor served the wounded in St. Paul's Hospital.
The Seminary was shelled and our Language School was looted. The Jesuits were scattered, some went to Macau and set up a school there, St. Luis Gonzaga, so that many boys who escaped from Hong Kong could continue their studies. Some went to work in China. Of those who remained, two, Fr. Patrick Joy and Fr. Gerald Casey, were imprisoned by the Japanese. Fr. Richard Kennedy, who served as Chaplain to the British army was imprisoned in Singapore. These were difficult times but providentially all survived. In 1945 the Japanese surrendered and Hong Kong had to start the road to recovery.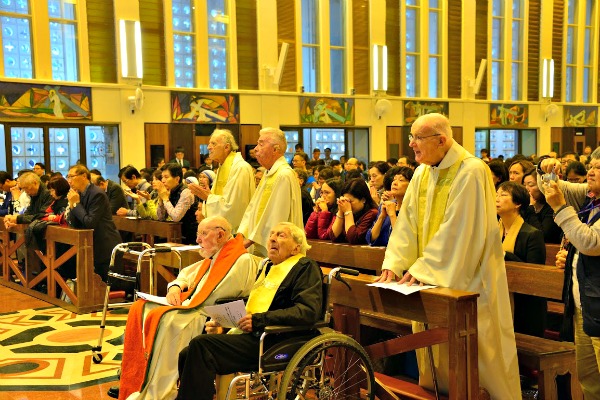 90th Anniversary of the Arrival of the Jesuits in Hong Kong
Fr. Thomas Ryan was appointed Acting Superintendent of Agriculture. Many trees had been cut down as firewood. He reforested the hillsides: set up a wholesale market for farmers and helped found the Social Welfare Department and the Housing Society. In 1946 Fr. Jeremiah McCarthy started the cooperative movement in Aberdeen and a central market where fishermen could get a regular price for their catch. In 1950 Fr. Michael Morahan taught in the Aberdeen Fishermen's School but then in 1960 he opened the Aberdeen Children's School. In the same year, he was appointed the first Welfare Officer of the Police and he arranged recreational, medical and welfare amenities for the fishing community.
In 1947, Radio Hong Kong broadcast Catholic Prayers by Fr. Richard Gallagher, 659 of them up to 1960. Fr. Thomas Ryan broadcast music programmes and, years later, Fr. Ciaran Kane broadcast Morning and Evening prayers, 2,200 of them, and had a weekly programme of one hour on sacred music called "Gloria" from 1996 to 1999.
In 1947 a language school was opened in Canton and there were 19 Jesuits living there some were learning Chinese. Others taught in the Sacred Heart Middle School. Two lectured in Chung Shan University. When the Communists took over the scholastics were moved to Hong Kong and later the priests were expelled. Our work in Canton came to an end in 1948.
The first Jesuit Port Chaplain was Fr. Michael Pelly. He was later followed by Fr. McAsey and Fr. Cunningham. They looked after the needs of the sailors and often said Mass on the ships.
In 1966 Fr. Fr. Collins formed the first Credit Union in Hong Kong and helped to found the Rehabilitation Society in 1959 to help the handicapped.
The Jesuits bought land and a house on the Island of Cheung Chau in 1952. Up to this day it is the only piece of land the Jesuits own, all our other sites are on leased land. The house became our language school, our novitiate and then a retreat house. Our apostolate of spiritual formation became the fourth pillar of our work in Hong Kong. Jesuits, Fr. Stephen Tong and Fr. Paul Goh give retreats and go into China to help in the spiritual formation of clergy and religious. Fr. Robert Ng has been going to different seminaries in China for over twenty years giving lectures in Moral Theology. It is back to work again in the formation of the young priests.
When the number of Jesuits in Hong Kong reached about eighty we started a new mission in Singapore and Malaysia. We ran a teacher trainee hostel and two parishes one in Singapore and the other in Petaling Jaya, Malaysia.
In 1956 we had riots in Hong Kong. It was a rough time for police and people. Youth groups holding Mao's red book terrified people. Bombs were used. The schools closed as there was a scare that bombs were placed in the schools. A worrying time.

70th Anniversary celebration of the Ordination Fr Joe Mallin
The first Jesuit to be ordained in Hong Kong was Fr. Frank Doyle. Scholastics usually went back to Ireland to study Theology and were ordained there.
Fr. Edward Collins started the Catholic Marriage Advisory Council in `1967 to instruct those who wished to follow the Natural Family Planning method and who sought counseling. He was assisted by Fr. John Russell, Fr. Peter Brady and Fr. Alfred Deignan. Fr. Alan Birmingham became the editor of the Catholic weekly called "The Sunday Examiner" and served for many years in this work. Fr. Seán Ó Cearbhalláin and Fr. Robert Ng formed Xavier Publishing to publish spiritual books and the Spirit magazine in Chinese – 108 in twenty seven years. In 1997 Fr. Alfred Deignan with a group of lay people started the Hong Kong International Institute of Educational Leadership to promote basic human values. Fr. John Russell was appointed by the Bishop the Secretary General of the Diocesan Convention in 1969 and Fr. Patrick McGovern was appointed by the Governor a member of the Legislative and Executive Council of Hong Kong in 1976.
The Jesuit story of 90 Years had its ups and downs, its difficulties and challenges but God blessed our work. The story is interesting: We started as a Mission of the Irish Province. In 1966 we became the Vice-Province of Hong Kong: then in 1980 we were Vice-Province of Macau – Hong Kong; in 1983 the Province of Macau-Hong Kong. In 1991, we were a Region of Macau-Hong Kong, Chinese Province. In 2002 Hong Kong had a Provincial Delegate of the Chinese Province and in 2005 we ended up as the Matteo Ricci Community. What a changing history!
We can see that besides the early pillars of hostel, seminary and secondary education a new pillar was added – spiritual formation.
Besides these we can see the extraordinary variety of apostolic services. Jesuits were always led by the MAGIS, the greater good. It is no wonder that we are filled with gratitude to God. We have now only six Irish left, one is 103 but God has provided us with 11 Chinese Jesuits to carry on the work of service to the Church in China and the people of Hong Kong. We ask for prayers for more vocations.
Author: Fr Alfred Joseph Deignan SJ