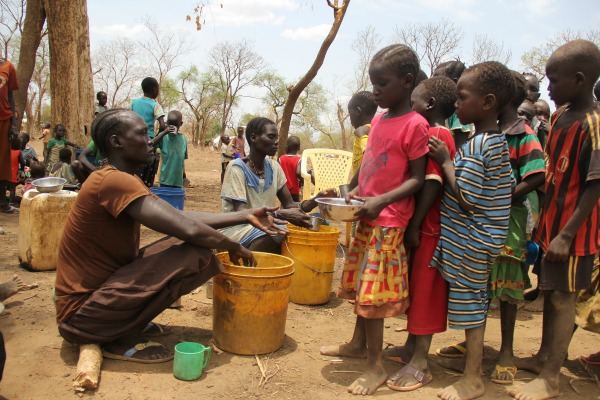 In addition to offer basic early childhood education in Huffra IDP camp, JRS also provides porridge each morning to students. This is the only meal most will eat all day. (Angela Wells/Jesuit Refugee Service).
Almost two million people in South Sudan are on the brink of starvation. Famine was declared in the country in February of this year, and although the crisis has now passed, the situation has once again become critical as millions of people endure persistent hunger.
We urgently need your help to provide food, clean water and support to malnourished and distressed people who are victims of the ongoing conflict in one of the poorest countries in the world.
Food scarcity in South Sudan is caused by the ongoing instability and fallout from the ongoing civil clashes, a situation that has been made more urgent by last year's drought. People in affected areas, especially women and children, urgently need nutritional supplies, access to clean water, and the mental and emotional support to cope with this situation.
In Maban, north-eastern South Sudan, Jesuit Refugee Service (JRS) provides emergency food relief and other services to internally displaced persons and refugees. Emergency food services focus on hungry, malnourished children and provide baby formula, cereals and milk to families. They also feed students in local primary schools, ensuring that they at least receive one meal that day. Communities will also be given clean water, which is crucial to prevent the spread of life-threatening diseases like cholera.
School attendance has fallen drastically, as hundreds of families are forced to relocate to flee violence or look for food. Jesuit parishes throughout the Eastern African Province are asked for help daily by despairing people. The suffering is quickly escalating into a disaster of unprecedented proportion as there is no assurance of how long the conflict will last.
Irish Jesuit Missions urgently needs your help to continue to provide, food and support to these people. To donate to this appeal, please click here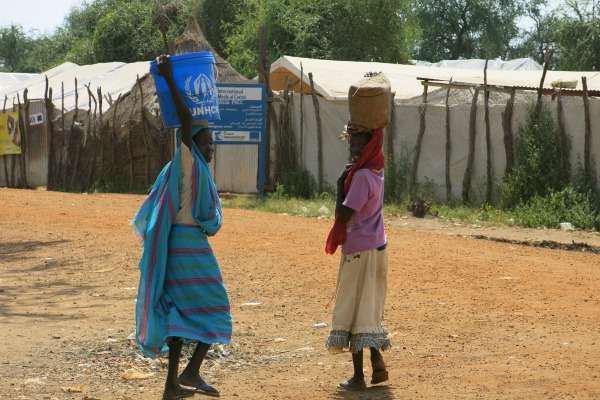 Photo: Andrew Ash/Jesuit Refugee Service
Jesuits in South Sudan
Jesuit services deliver more than just food in times of crisis. We are committed to providing people with tools so that they can create a more stable and resilient environment. While we deal with the immediate needs of the people affected, we also work with individuals and communities to help prevent or mitigate against future crises.
Irish Jesuit Missions invests in education and psychosocial support programmes in refugee camps in Maban. More than 3.5 million people have had to flee their homes since the conflict began; many of them are children.
Education
In a country where fewer than one third of the adult population can read and write, education is critical. Jesuits have been delivering education to children in South Sudan since 1982 when Loyola Secondary School first opened. The Jesuit Eastern Africa Province provides all students and some neighbours of the school with a daily meal (often the only meal they get) and safe drinking water.
Education programmes provide people with opportunities that enable them to heal, learn, support themselves and their families and make positive contributions to their communities. The future generation can learn how to settle disputes through dialogue and negotiation rather than violence, as well as providing protection against forced conscription of young boys into armed gangs. More than 17,000 children have been used as soldiers in the conflict since it began.
Education and improving literacy levels is also vital for girls. Currently, almost 50% of South Sudanese girls are married before they are 18. Education would give them opportunities and could prevent them being forced into child marriages as their families attempt to ward off the threat of poverty.
Psychosocial support
Trauma caused by the ongoing war in South Sudan includes violence, loss, displacement, extreme poverty and hunger. The emotional impact of this distress and suffering can be less visible. Jesuit services offer psychosocial support to help people to cope, and stop their suffering from becoming more severe and unbearable.
Providing early support and psychological help to people who have been traumatised can help them to cope with their suffering. Support offered is sensitive to local customs and takes place within the community, which is collectively sharing the experience of disruption, loss and helplessness.
Background
South Sudan gained independence in 2011 after decades of civil war, and a brief period of peace ensued. However, old tensions and rivalries flared up three months later and violence continued.
Irish Jesuit Missions, 13th July 2017