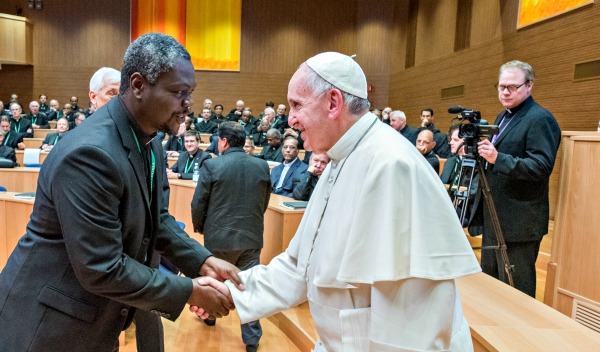 Fr Leonard Chiti SJ meets Pope Francis at the GC 36 in Rome
Fr Arturo Sosa has been quoting a lot from decrees passed at last year's General Congregation 36, which elected him as the 31st Superior General of the Society of Jesus. Clearly, he is indicating to many of us that he sees the implementation of GC 36 as one of his key mandates.
Similarly, many of the appointments of key personnel he has made such as new Provincials were members of GC 36. It is like he wants people around him to help him put into practice GC 36 who are familiar with its teaching. So it seems to me that this will be a guiding principle in the way Fr Arturo governs the Society of Jesus in the next several years.
I was privileged to participate in last year's General Congregation. One of the striking moments of the event for me and of many others was obviously the visit of Pope Francis and his speech to GC 36. Most striking in his speech was his encouragement to Jesuits to insistently ask for consolation. I think this was a key moment for me in the whole congregation. Jesuits constantly review their lives to see the sources of consolations and move in that direction and identify sources of desolations and move away from them. However, it rarely occurs to many of us that we should actually consistently ask for consolation.
A Jesuit who recognises where both his consolations and desolations emanate from learns to not only to discern the will of God but to live according to his will. Jesuits seek to place themselves in God's hands to use them as God wills. Discerning the will of God was a hallmark of the first companions. In all their decisions in those early days they were guided by the desire to 'defend and propagate the faith and …to help souls'.
In living out this vocation, they relied on the inspiration of God which they found repeatedly in the discernment of spirits, i.e. distinguishing between the movements that come from God and those that do not; or those that lead to God and those that do not.
My hope and desire is that we can emulate the first companions by abandoning ourselves totally to the leadership of the Holy Spirit in our discernments and actions. They were 'poor and learned' and committed themselves to 'helping souls' wherever God sent them. They were consoled not only by realising that they were carrying out God's will but also by a sense of participating in the ministries of consolations. I think Jesuits have a special task of leading the people of God in ministries of consolations wherever they are and whatever the spirit tells them to do. That is what I hope I can contribute to, encouraging my brothers to rely totally on God's help and bring consolation to his people.
In Zambia and Malawi as is the case elsewhere on the continent many people long to be consoled by God. Many suffer deprivations of one kind or the other. Poverty, sickness, lack of access to basic human rights and poor governance are just a few of the many sources of suffering for many in our part of the world. Many Jesuits in both countries are devoted to helping millions of people experience God's consolation. Obviously this is as it should be.
I sincerely hope that the teaching of GC 36 will augment their efforts and inject new energies into their ministries and bring God's consolation to the people of God in these two countries. I hope to be part of a 'renewed' Society of Jesus taking after the first companions to minister to God's people as they address obstacles to living a fulfilled life.
Author: Fr Leonard Chiti SJ is Provincial of the Zambia-Malawi Province. August 2017