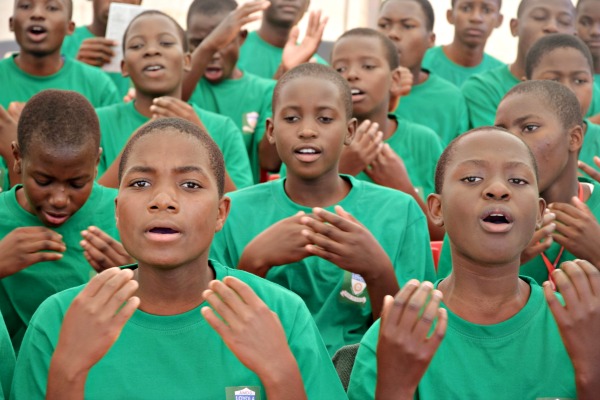 "One of the best ways to serve the present is to give hope for the future. Loyola Jesuit Secondary School will effectively serve the needs of the present youth who are the future hope of Malawi."
These words of our former Jesuit Father General, Adolfo Nicolas, SJ, are both comforting and challenging. Comforting because they assure those of us associated with Loyola Jesuit Secondary School (LJSS) that we are in the right Jesuit apostolate. And challenging because they give us a well-defined task to dream of a future filled with hope in our new school in Kasungu, Malawi.
About a dozen years ago the Zambia-Malawi Jesuit Province began thinking about a new educational apostolate in Malawi. When some people heard of this possibility, they surmised that this would mean an all-boy's private school located in the capital to serve the few better-off families. But the process of Ignatian discernment resulted in a co-educational boarding school in a poor rural town where most of the youth don't attend school. And it is not a private school but a 'grant-aided' school where the salaries of teachers are paid by the Government, enabling fees to be low and thus more accessible to families of limited means.
LJSS opened for Form One (Grade Nine) in September 2015, with 61 girls and 62 boys. A good gender balance is a key element in our dreaming the future since educated women are essential for national development. A girl who has a chance for secondary school will marry later, have fewer children, ensure that her children go to school, and take part in community improvement.
When a large 25-hectare plot was secured for LJSS in Kasungu, the future dream for LJSS included excellent physical facilities to be staffed by well-prepared and dedicated staff. Thank God, we have been able to move toward realising that dream, through the help of generous benefactors; Jesuit offices around the globe, Bishops' Conferences, Malawian government, foundations, and individual donors in Malawi and worldwide.
Central to our dream for the future, of course, is that our school would consistently prepare our learners with good Jesuit teaching. 'Forming women and men for and with others' is engraved over the entrance to the Administration Building. 'Ever to excel' is the motto on our logo – a constant reminder.
Two other elements raise questions that are real tests of our future. Firstly, can LJSS truly be the 'option for the poor' that we have talked about since early days of planning? We are dependent on Government funding for teachers, in a country faced with serious economic problems. Without adequate Government support, LJSS would have to raise tuition fees. What consequences would that have for the recruitment of girls and boys from poorer families?
And second, will LJSS be the 'green' school we say it desires to be? We built the school with soil-based bricks, and purchased all the furniture from a joinery using wood from sustainable tree plots. This is our commitment to avoid the deforestation that is causing climate change havoc in Malawi. Can we keep this green pledge in the future?
'Dreaming the future' for LJSS in Malawi requires plenty of work here in the present!
Author: Fr Peter Henriot SJ is Director of Development at Loyola Secondary School, Kasungu, Malawi. Agust 2017