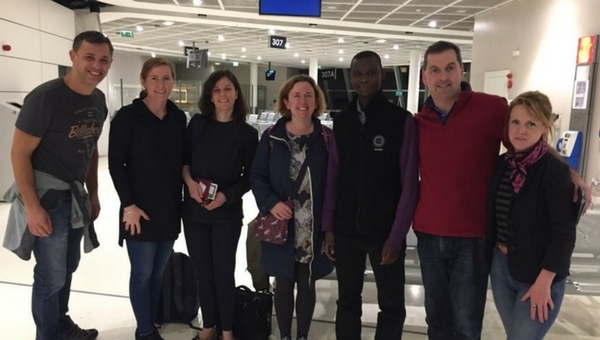 The Irish Jesuit Missions continues to support and fund the teacher formation project between Ocer Campion and Jesuit schools in Ireland.Teachers from Jesuit schools in Ireland and teachers in the Jesuit school in Uganda will share on principles and practices of Ignatian pedagogy. This is the fourth trip organized in co-ordination with the Education and Justice sectors through the Irish Jesuit Missions.
Krizan Vekic, Justice Education Officer for the Irish Jesuit province, is taking a group of teachers and staff from Jesuit schools on a formation visit to Uganda this week.
The group will spend several days at Ocer Campion School, in Gulu, northern Uganda to collaborate with teachers and pupils and share their experiences of Jesuit teaching methods. The school was established to educate children who had been affected by conflict in the country, caused by a violent civil war between the military and rebel group, the Lord's Resistance Army (LRA). It is a coeducational school, with more than 800 pupils, and runs a scholarship programme to give an opportunity to children whose families would not otherwise be able to afford education.
Uganda is home to more than one million refugees from South Sudan, and the group will visit a camp in Adjumani, near the border with that country. Jesuit Refugee Service (JRS) support food and education programmes in the region, to people who are fleeing violence in the country.
They will also spend some time in the capital, Kampala, and see the work that JRS is doing in the urban refugee community in the city, with refugees from the Democratic Republic of Congo (DRC).
Three of the group are from Dublin Jesuit schools: home economics teacher Divinia Lyons and religion teacher Charles Jaryekonga (who is a native Ugandan) are both from Belvedere College, while Siobhan McNamara is a librarian at Gonzaga College in Ranelagh.
The other teachers on the trip are from the Jesuit schools in Galway city: Eoin Durkin is a primary teacher in Scoil Iognáid primary school, and Rian Carney is a music teacher at secondary school, Coláiste Iognáid.
Communications Officer for Irish Jesuit Missions and the Jesuit Centre for Faith and Justice, Martina Madden, will accompany the group. To follow their progress on the trip, follow us on @IrishJMissions or Facebook.com/IrishJesuitMissions/