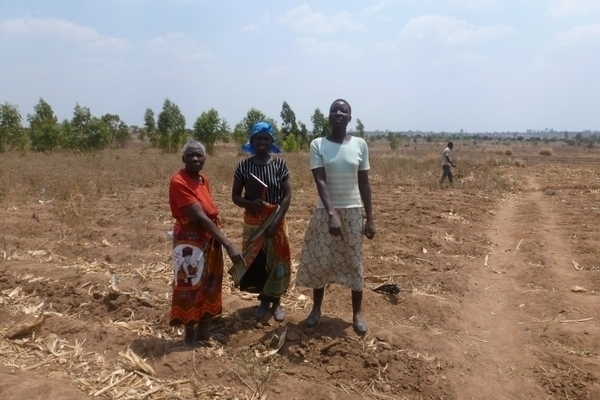 JCED, Malawi. Female farmers in Kasungu use contour ridging as a soil and water conservation technique
I spent the last two weeks of September on a programme visit to southern Africa, taking in Zambia, Malawi and South Africa along the way. This was a first for me – my first time to visit our projects in these countries as well as to meet with colleagues, put faces to names and generally to get to know people and the work.
It also provided an opportunity for me to develop strategic relations with partners and stakeholders in the Zambia-Malawi Province as well as to undertake site visits to Misean Cara projects in the region, as well as projects from other funded streams. Finally, I was able to work with members of our teams, explore ideas and to make assessments of future possible projects in the region.
I can say that while the programme for the visit was very intense, it was also most interesting and really worthwhile. In the course of the two weeks I visited a range of projects that we fund and travelled to project locations in Zambia (Chikuni and Kitwe) as well as to Malawi (Kasungu and Dzaleka) and spent the final two days working with the Jesuit Refugee Service (JRS) Regional team in the office in South Africa.
During the course of the visit I met with a wide range of people and managed to exchange information and ideas regarding the achievements and challenges that our partners encounter on a regular basis. It was a privilege to be able to play a part with colleagues.
At an early point in the trip I had a meeting with the recently appointed Provincial Fr Leonard Chiti of the Jesuit Zambia-Malawi Province. We had a wide-ranging discussion which provided a very helpful context that assisted my understanding of the work of the Province considerably. It also provided a platform for Fr Chiti to outline his vision and ambitions in relation to strategic development for the future of the Province as well as an opportunity for us to explore our mutual support, particularly with respect to the future.
Misean Cara supported projects
In Lusaka, Zambia I visited the Jesuit Centre for Theological Reflection (JCTR) which is running a three-year project entitled "Promoting fullness of life through the promotion of human rights'', that is now entering its final year.
I visited two one-year projects in Malawi; the "Environment and Food Security in Kasungu District" in the Jesuit Centre for Ecology and Development (JCED), and the "Vocational Skills Training" project in Dzaleka Refugee Camp
JRS has been working in the Dzaleka Refugee Camp for more than 20 years. Apart from skills training they provide education at pre-school, primary and secondary levels there.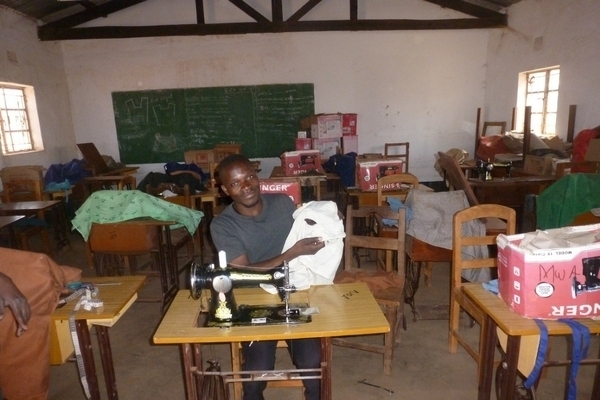 Philenon Oimbeni trained as a tailor in JRS' Vocational Skill Training Programme
The visit to the camp provided an opportunity to witness our work in action. The hundreds of project beneficiaries are trained in a range of skills that include sustainable agriculture and farming; electrical engineering; bricklaying; hospitality and catering and tailoring. Each of the trainees are assisted in developing business plans to support sustainable businesses.
We met with Philenon Oimbeni, a refugee from South Kivu in Democratic Republic of Congo (DRC). He arrived in the camp in 2010 seeking a better life. Philenon was trained as a tailor on our project and has now started his own small business employing a number of other refugees.
He told us that his plan is to work with JRS to design and deliver training in tailoring for vulnerable refugees in Dzaleka sharing with others the skills he has acquired on the camp.
Author: Fran Flood, Programmes Manager, 13 November 2017