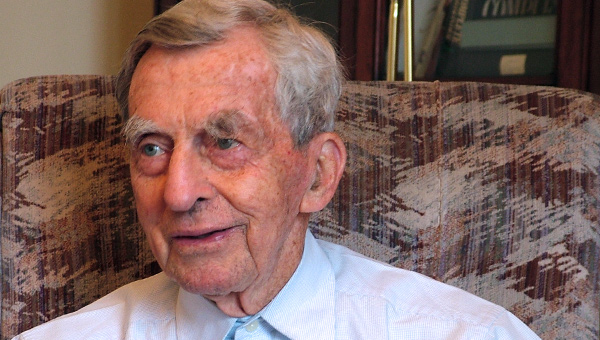 Fr Joe Mallin SJ passed on to his final reward on the 1st April 2018 in Hong Kong. At 104, Fr Mallin was the oldest living Irish Jesuit missionary, and was also the only surviving child of a leader of the 1916 Rising.
The funeral Mass for Fr Joe will be held at 10.00 AM on Saturday, 14 April at St Ignatius Chapel, Wah Yan College, Kowloon and will be presided over by the Bishop of Hong Kong. Burial will take place afterwards in St Michael's Cemetery, Happy Valley, Hong Kong.
A memorial mass will be held in Dublin for Fr Mallin, after his funeral. We will share details of time, date and location in the coming days.
Fr. Joe Mallin SJ – A Life of Service
The last eighty years have seen momentous changes and Fr. Joe Mallin SJ has been a witness to many, during his years of service in China. Clearly a life of service to others was not unknown in his own family – his brother Sean entered the Society a few years before him and his father was Commandant Michael Mallin, executed by the British for his part in the Easter Rising of 1916.
Fr. Mallin was only two and a half years old and therefore has no memories of his father but was very moved by an article about him written in 1917 by an American Jesuit. Fr. Mallin remembers his mother as a wise woman, who tried to let them experience as normal a family life as possible. At the time of his execution she had four children and was expecting their fifth. In a final letter to her, her husband wrote "to pray for all the souls who fell in this fight, Irish and English".
Eucharistic Congress 1932
Shortly before he entered the Irish Jesuit Novitiate, in September 1932, Joe was an active participant in the Eucharistic Congress, remembering the huge crowds in Phoenix Park, the relief that the weather held, and the excellent marshaling by General O'Duffy, Garda Commissioner. Joe had been in contact with the Jesuits whilst at St Enda's Rathfarnham and met Fr. Ernest Mackey at Knockbeg College.
China
On the ship out to Hong Kong the Catholic cargo supervisor died and Fr. Joe was asked to conduct the burial service at sea. It was a very moving experience he remembers and the captain was most helpful. Fr. Mallin arrived in Guangzhou (Canton) in early September 1948. But in May 1949, the Jesuits had to leave the city for Hong Kong due to the advance of the Chinese Communist army. Hong Kong in the late 1940s was not in good shape due to the Japanese occupation and the Allied bombing but it recovered very quickly.
Fr. Mallin didn't have much time to explore his new home but got to work straight away. He had to take over the top floor of the Paris Foreign Mission Society house which had kindly been handed over to the Jesuits. Joe had no difficulty adapting to the new life and culture. He pitched in head first into dealing with all kinds of people – architects, builders and suppliers, cooks and cleaners. He supervised several construction or building conversion jobs and had to arrange for the temporary accommodation of many Jesuits expelled from Mainland China after the Communist takeover.
An incident he recalls clearly was when a phone call came one night, very late, from the Queen Mary Hospital asking for a priest to come to attend a dying patient. He went down to the street and stopped a taxi. The taxi driver got him to the hospital very quickly. When he thanked him, the driver replied "I am a Muslim, and my father told me that if a Catholic mission priest ever stopped me in the middle of the night to go to a hospital I should drive like the wind because it was very important."
Few words, but many loving actions
He had a very varied apostolic life, successfully doing the job of minister in the community, Mission Bursar, Director of a Social Centre, secondary teacher, Headmaster of Pun Yu Primary School in Hong Kong, Principal of Ricci College in Macao, among other things. He was known as a man of few words, but of many loving actions.
National Museum Dublin
Fr. Mallin played the flute, which had belonged to his father. Indeed his father had played it in Liberty Hall in the Workers' Orchestra on the eve of the 1916 Rising. The flute and his father's watch are now in the National Museum in Dublin.
When asked if he regretted anything about leaving Ireland, he said that he would like to have had some more time working as a priest in Ireland. He said that he also missed the rain! Fr. Joe Mallin has been a Jesuit for over 80 years and will celebrate his 100th birthday next September! He is viewed with almost incredulous amazement for all he does at his age. He is deeply respected by all those who know him.
Article from Irish Jesuit Missions archive, 2012