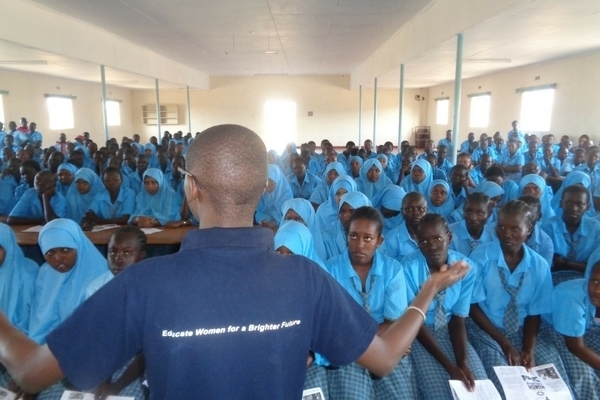 "Women and girls are Africa's greatest untapped resource, and it is they, not diamonds or oil and minerals, that will be the foundation for solid, sustainable and equitable progress". – Joaquim Chissano
Kakuma Refugee Camp is located in the northwestern region of Kenya. It was established in 1992 to host unaccompanied minors who had fled the war in Sudan and came walking from camps in Ethiopia. Today, the camp accommodates more than 185,000 registered refugees and asylum-seekers from countries all over Sub-Saharan Africa, including Somalia, Ethiopia, and the Democratic Republic of the Congo (DRC).
Irish Jesuit Missions works in partnership with the Jesuit Refugee Service (JRS) in the camp to accompany, serve and advocate for the rights of refugees and other forcibly displaced persons within it. They have implemented a range of projects to help this marginalised community, among them two projects aimed at addressing the education and protection needs of refugee girls and women.
Obstacles to Girls' Education
Girls face difficulties accessing education, in the setting of Kakuma and other refugee camps. Girls are the first to be kept out of school to help with family chores such as collecting water and childcare. In cases where a girl is the head of the household because her mother has died, she will receive the food token from camp staff so that she can queue for food for the family, making it impossible for her to go to class.
There are also considerations that are particularly linked to gender. The vulnerability of girls in refugee camps can lead to more serious problems that are particularly linked to gender including forced early marriage, domestic violence, sexual abuse and rape. JRS tackles these issues through a variety of interventions.
Safe Haven
Safe Haven is the JRS protection centre for women and girls who have experienced gender-based violence. The centre empowers resident women by providing skills training and other capacity-building activities. The women receive instruction in child protection and personal hygiene to improve the quality of parental care given to their children, many of whom still exhibit signs of trauma. They also attend tailoring, bead work and catering classes, which give them the skills they need to generate some income for themselves, including making bags, ornaments and bracelets for sale.
Because the centre's protocol restricts their movement for safety reasons, the programme helps them to market their products by taking advantage of events that attract crowds, like the celebration of international days, inter-agency coordination meetings, and also the arrival of visitors to the camp. The products are also sold through the JRS Mikono Shop in Nairobi. Currently, JRS is working towards organising registered self-help groups for the women. This would enable them to save money which could provide a start-up fund when they leave the protection centre.
Sunshine School
The Sunshine School is an early childhood education programme for children from the age of six who are admitted to Safe Haven with their mothers. The children receive weekly art and play therapy in addition to the normal learning activities. The therapy helps improve their social wellbeing and enhances their ability to positively cope with trauma and to develop healthy interpersonal relationships. After the age of 14, girls are enrolled into primary and secondary boarding schools within the camp, to help to smooth their transition into mainstream education, when they are discharged from the centre.
Girls with Special Needs
Girls with special needs in Kakuma comprise a particularly vulnerable group in the resource-deprived context of the camp. Some of these girls receive scholarships from JRS to enable them to attend specialised schools outside the camp, as this is the only way for them to access education. Camp schools are too overcrowded and have neither the personnel or the requisite equipment to adequately manage the education of special needs children.
Harnessing Potential
Jesuit Refugee Service continues to work hard to help refugee girls to receive an education, through efforts to break down the obstacles to access and by continually reviewing the programmes that are provided for effectiveness and relevance. It is hoped that these programmes will go some way to helping to release the untapped potential of girls and women in the camp, which is waiting to be harnessed.
Authors: Melvin Kiruja is Community Service Learning Track Facilitator with Jesuit Refugee Service in the Kakuma Project. Arthur Omondi is CSLT Facilitator with Jesuit Refugee Service, Kakuma Refugee Camp in Kenya. April 19th 2017