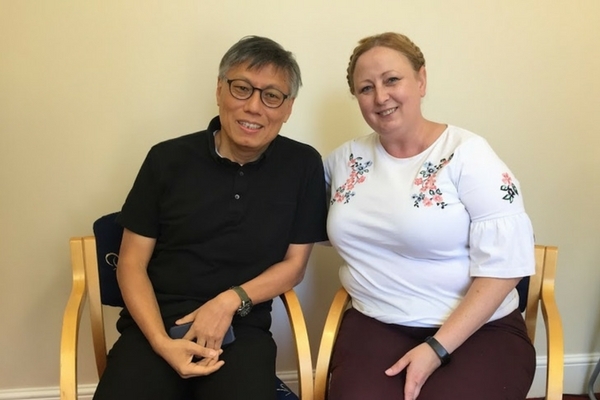 Fr Stephen Chow SJ and Amanda Bermingham
Stephen Chow
The new Provincial of the Chinese region, Stephen Chow SJ has strong links to Ireland and is in his own words 'the product of a Jesuit education'. He was in Dublin last week to visit Irish Jesuit Jimmy Hurley SJ, who is back home after spending many years in Hong Kong where he is fondly missed by the community.
Stephen grew up in Hong Kong where he began his schooling in a Dominican primary school. He was soon moved to by his parents to a Jesuit school, where his principal was Joe Mallin SJ, the Irish Jesuit who died earlier this year at the remarkable age of 104. He attended secondary school in the Wah Yan College, which was taken over by Irish Jesuits in 1932. 'There were a lot of Jesuits!' he says, adding that he counts his blessings because in his last decade at the school he really benefited from the influence of Irish Jesuits there.
He was delighted to be back in Dublin for a few days as this is where he undertook his novitiate and philosophy training. He describes it as coming 'back to the cradle' in a sense.
Irish in Hong Kong
Since the death of Joe Mallin SJ, there are just five Irish Jesuits remaining in Hong Kong – Seán Coghlan, Alfred Deignan SJ, Harold Naylor SJ, Seán O'Cearbhallain SJ and John Russell SJ. Stephen remarks on the fact that the Irish Jesuits are very much missed and likens their dwindling numbers to the 'passing of the giants'. Chinese Jesuits are taking over the roles that the Irish once filled but they are fewer in number, as declining numbers affects all of the Society of Jesus communities.
Stephen says that the Society is on an ongoing journey of learning how to collaborate with lay people. Jesuit schools are now run by lay principals, including his alma mater Wah Yan College. He is the supervisor of the school which also has a Jesuit chaplain and keeps the spirit of Jesuit education is very much alive.
Chinese Province
The Chinese province is vast and has a complicated structure. The regions it encompasses – China, Hong Kong, Macau and Taiwan – are four different systems. China and Hong Kong are very different politically due to their history. Macau and Taiwan are different administrative areas but are under the aegis of mainland China. All four legal systems are different which is a challenge for the Provice. All of the previous Provincials of the Chinese region have all been from Taiwan, Stephen is proud to be the first from Hong Kong.
Jesuit services on the Chinese mainland provide programmes that help poor and marginalised communities work closely with volunteers who form an essential part of the agency there. The Beijing Centre is a collaboration between the Jesuit Chinese Province and Jesuits from Asia Pacific and North America. The aim is that it will become a scholarly platform for West to meet East in the cultural and intellectual sense which is important for the understanding of contemporary China.
Connecting Ireland and China
Stephen was adamant that the Jesuit community does not want the declining numbers of the Irish Jesuits in Hong Kong to be the end of the connection with Ireland. It's still a meaningful to the Chinese province to have Irish support, spiritually, financially and with wisdom about how to manage projects and programmes borne of decades of experience.
He would like to see the continuation of this meaningful relationship between the two provinces, a sentiment that is echoed in Ireland.
Irish Jesuit Missions, July 2018