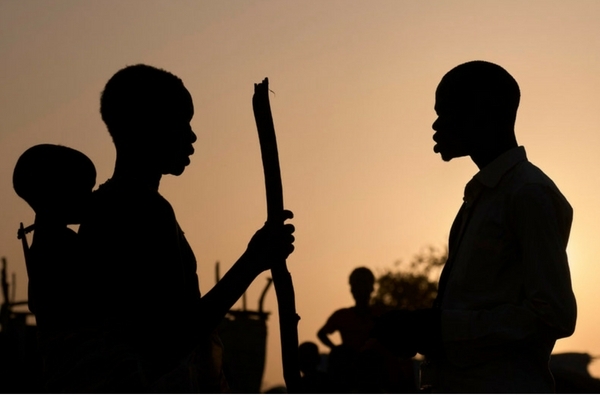 Between fighting in Sudan and civil war in South Sudan, violence has become a sad fact of life for hundreds of thousands of refugees in Maban county.
A humanitarian crisis of shocking proportions is currently unfolding in South Sudan, the world's youngest country. Heydi Foster, CEO at Misean Cara, recently visited refugee camps in Maban County.
"I witnessed extreme levels of suffering. Imagine fleeing violence in your home country only to find yourself caught up in a civil war. Many children have grown up in this dire situation. Not knowing a normal childhood, and never experiencing life beyond the confines of the camp."
Maban is one of the most marginalised and remote areas in South Sudan and home to over 145,000 people living across four sprawling refugee camps. The majority of people came to Maban having fled armed conflict in the Blue Nile and South Kordofan states of Sudan. They sought refuge in the newly independent South Sudan, but instead found themselves caught in the midst of a brutal civil war, now in its fifth year. Between conflict at home in Sudan and conflict in their new host country of South Sudan, the future for these refugees is bleak.
The situation for the host South Sudanese population is no better. Since the civil war began in 2011, almost 2 million South Sudanese people have been forced from their homes and internally displaced within the country. Another 2 million have fled the violence and sought shelter in neighbouring countries.
Hunger is an extreme problem, with 43% of the population of South Sudan classified as being severely food insecure. Despite an abundance of natural resources such as oil, the people in South Sudan experience extreme levels of poverty, and at least 80% of the population live on less than $1 per day.
In this extremely challenging environment, there is a ray of hope. The Jesuit Refugee Service (JRS) are working to bring some normality to people's lives through education and psychosocial support services in the refugee camps of Maban County. Fr. Tony O'Riordan SJ, an Irish Jesuit missionary from West Cork moved to South Sudan in February to take over as Project Director.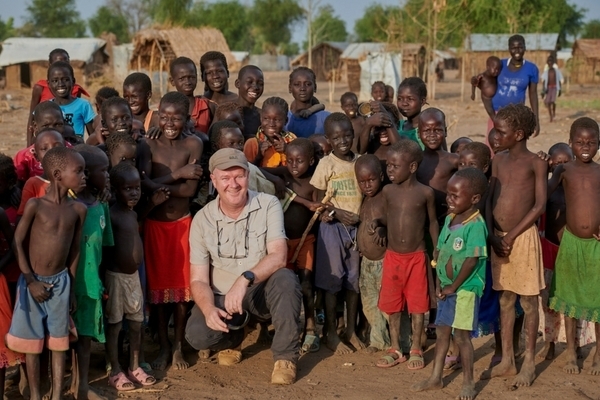 Fr. Tony O'Riordan, SJ, with children in the Doro Refugee Camp in Maban, South Sudan. Fr. Tony is Project Director of the Jesuit Refugee Service in Maban. Doro is one of four camps in Maban that hosts tens of thousands of refugees from the South Kordofan and Blue Nile regions of Sudan. The Jesuit Refugee Service, with support from Misean Cara, provide educational and psychosocial support services to both refugees and the host community. Photo by Paul Jeffrey, 2018.
"Coming here for me has been an eye opener, and what I'd also describe as a heart opener. Seeing thousands and thousands of people who have had to flee war and conflict in their own country, and come here for safety. [They] find themselves here in a country that is also experiencing its own conflict."
"They are people I would describe as in an ocean of misery that threatens them. They are in a place that is so physically isolated that food and basic supplies, the only way they can get in here, is if they are flown in."
Many of the refugees living in the camps have witnessed terrible atrocities and lived through traumatic experiences. Ganun Butros Wadko is in charge of the JRS Home Visitation Programme at Doro refugee camp. He visits people at their homes to provide support as part of the psychosocial care services JRS offer. He says the visits give people hope. JRS also delivers counselling and post-traumatic stress support for survivors, providing care and compassion to help them cope with past trauma.
Education is often neglected in times of crisis and conflict. JRS provides education opportunities for pre-school children and adults, as well as enrolling teachers on training programmes. Fr. Tony sees education as the key to a brighter future. "The education we give children […] gives hope to the parents that perhaps their children might have a better future."
Basamat Alnoor Jakolo Aldabi, a primary school teacher in Kaya Camp has high hopes for the children. "I want to educate the […] children so they become good people in the future. […] When they are educated they can work everywhere, they can do what they want, and they can also help their families."
Heydi Foster, CEO at Misean Cara, visited the JRS project and met with Fr. Tony. Misean Cara is an Irish faith-based NGO that supports the development work of missionaries worldwide, including the projects run by JRS in Maban.
Ms Foster recently returned from the monitoring visit to South Sudan. "People have been warning for some time that South Sudan is on the brink of a famine, but for many of the people in Maban County, daily hunger is already a reality."
"I listened to people speak of their desperation, but I also saw hope," she said. "I witnessed the women and men working with JRS doing truly heroic work to minimise suffering. I'm proud of the support Misean Cara is able to provide."
"Irish missionaries have a long tradition of standing in solidarity with people, of accompanying the poorest. What I witnessed in South Sudan reaffirms that."
Misean Cara provided funding to JRS through the Irish Jesuit Missions to support education and psychosocial support projects in Maban.
Click here to read the original article on the Misean Cara website.