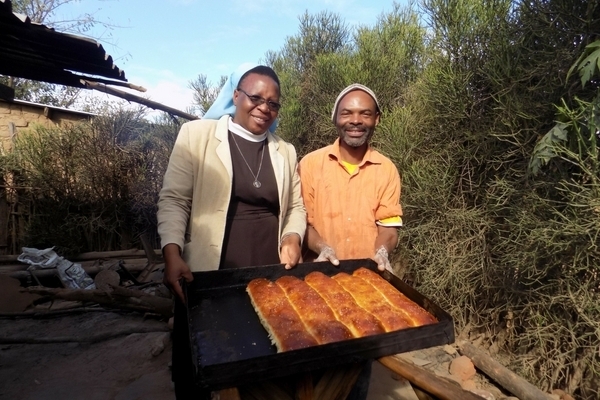 Daniel Tshimanga and Sr Perpetua Gomba
Tongogara Camp was established soon after Zimbabwe's independence in 1981, providing refuge to those fleeing the war in neighbouring Mozambique. It closed after the 1992 ceasefire there, only reopening in early 1998. The camp is located 550 kilometers southeast of the capital Harare and is currently home to over 9,000 refugees, most of whom are from Democratic Republic of Congo (DRC).
Irish Jesuit Missions and our partners Jesuit Refugee Service (JRS) Southern Africa built a Vocational Training Centre in the camp so that its inhabitants can learn skills that will give them the means to earn an income and provide for themselves and their families.
Opening a Bakery
Daniel Tshimanga is a refugee from DRC who lives in Tongogara Camp with his wife and their five children. When he arrived in the camp as a refugee, he had no way to earn money, and his children were hungry. He joined a Vocational Skills Training course run by JRS to learn how to start and run a successful bakery business. Daniel is now well-known throughout the refugee community as a baker and his bakery produces 75 loaves of bread every day which he can sell to make an income.
Role Model for Fatherhood
He credits JRS with helping him to find success from the bakery and tuck shop he runs with support from his family. Everyone is happy with the change in living standards that the bakery provides for his family, he says. The income from it means his children have books and pens for school, and new shoes on their feet. He likes the idea that that he is now a role model for his children – they see him at work and learn that this is the way to behave, for success. He feels like a real father to his children again.
Rose and the JRS Family
Rose is a mother of four children. When she first arrived in Tongogara camp she was forced to depend on UNCHR monthly food rations and it was impossible for her to manage.
She got a job with JRS in 2014 teaching on a programme that trains people from the refugee community as beauticians. Rose has described the experience of working for JRS within her community was like being part of a wonderful family.
With her income as a teacher she was able to open her own beauty shop and salon, where her former students often work giving manicures, pedicures and hair treatments. Many of them have now progressed to owning their own salons, something that makes her happy.
Getting a job at JRS and eventually owning her own salon were empowering for Rose. They gave her her confidence back, and also allowed her to take care of herself and her children which has been positive for them too. They can now attend school because she can now afford the fees.
Easing the Refugee Experience for Families
Refugee camps are stressful environments, and it is difficult for people to keep their families together without the means to support them or the ability to inhabit their usual roles as mothers and fathers. JRS gives people the means to support their families; to feed them, to clothe them. It humanises the refugee experience which can be frightening and isolating for all members of a family.
Author: Sr Perpetua Gomba, is Project Director at the Tongogara Vocational Training Centre in Zimbabwe. August 16, 2018