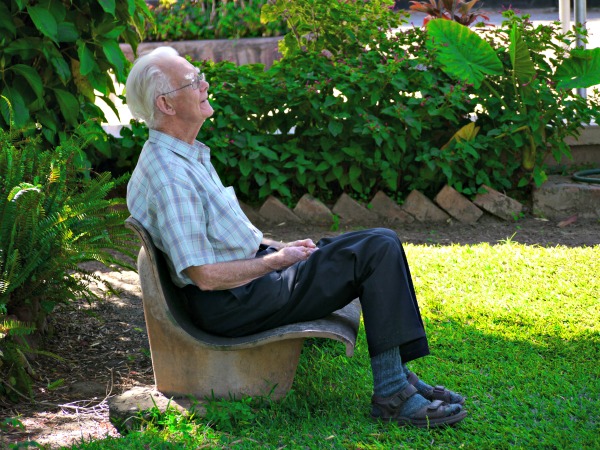 The funeral Mass of Fr John J. Moore SJ took place on Monday 24 September in Kasisi Parish, Lusaka. Fr Moore, who was 91 years old, died on 20 September. Charles Searson SJ was the principal celebrant and homilist at the vigil Mass. Speaking to a packed Church he recounted the key moments of his life and the remarkable contribution he made to the Jesuits and to wider society. (Read his homily notes here).
Fr John was a native of Mayo, born in Kilmovee on 22 April 1927, and his family moved to Dublin when he was ten. He was a student at Belvedere College SJ. He joined the Jesuits in 1945, was ordained a priest in 1958, and took his final vows in 1963.
For more than twenty years Fr John was Professor of Botany in UCD. He was an elected member of the Royal Irish Academy, and an Irish government appointee to the Wildlife Advisory Council. He was awarded the Europapreis für Landespflege prize in 1982 in recognition of his work on Irish vegetation and nature conservation. As Fr Charlie noted, ""Right through his academic career in Dublin John showed himself to be an outstanding academic and professor."
In the 70's Fr John was rector of the Monkstown community in Dublin and in 1980 he was appointed superior of the Espinal community in Gardiner St, in inner city Dublin. He also was a member of the Teams of Our Lady, a Catholic organisation which supported couples in their married life.
In 1983 Fr John took the surprising step of early retirement in order to join the Jesuit mission in Zambia. Fr Charles also noted that when he first turned up for work in the University of Zambia he showed considerable patience as he had a lengthy wait for an official appointment. But he put his computer skills (honed in 1960's Dublin) to good use. According to Fr Charles, ""there was great demand for his assistance from Ph.D students at the university, who were trying to assemble the fruits of their research."
Fr John settled well in Zambia but he did return to Ireland from time to time. During a visit in 2016 he gave a lengthy an insightful interview to the Irish Jesuit Mission office which you can read in full here.
He also spoke to Pat Coyle, Director of Irish Jesuit Communications in 2014. In the course of that interview, Fr John talked about his early Jesuit days as a student and friend of the renowned Jesuit photographer Fr Frank Browne SJ.
Recalling his days as Professor of Botany in University College Dublin he shared a letter he had just received that summer. It was from one of his former students and he had discovered a yellow poppy on a beach in Mayo. The yellow poppy was thought to have been lost to Irish shores, not having been seen for thirty years, but it was back.
Fr John also spoke about the rewards and challenges of becoming a missionary in his late 50's, and his work as a lecturer in various institutions in Zambia, first teaching biology and later theology.
He was 87 at the time of the interview but was still full of vitality. As the IJN photo shows he looked like a man in his sixties and there was a reason for that which became clear when he talked about what kept him young in body and soul.
The interview took place in August and Fr John returned to Zambia in September bitten by the missionary bug, and refreshed by his holiday back home. He gave four more years of fruitful service before his peaceful death on the 20th of September 2018. The readings at his vigil Mass, were from Isaiah 6;1-8 'Whom shall I send? Who shall be our messenger?' And Matthew 6:25-33: ' Look at the birds in the sky. They do not sow or reap or gather into barns. Yet your heavenly Father feeds them.' They were a fitting tribute to his life of service to others, and care for the earth.
Ar dheis Dé go raibh a anam dílis.