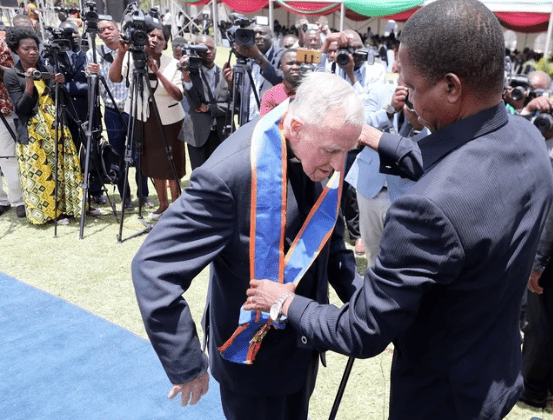 Irish Jesuit, Fr Michael Kelly SJ, was conferred with The Order of Distinguished Service by Zambian President Edgar Lungu, in State House, Lusaka on 24th October.
The honour was given to Fr Kelly in acknowledgment for his tireless commitment to ending HIV and AIDS in Zambia. He has worked for decades to educate people about the virus and to promote safe behaviour among youth and those most at risk in Zambia, sub-Saharan Africa, and abroad. He has been active in developing strategies for HIV prevention, and human rights, and has been a consultant to international organisations including UNESCO, UNICEF, the FAO, UNAIDS, Oxfam and Irish Aid.
Fr Kelly went to Zambia as a Jesuit missionary in 1955 and spent most of his working life there in education, as a teacher and administrator at secondary and  university level. He felt from the outset that it was home and that he was welcomed there. He became a Zambian citizen in the 1960s, a decision he says he never regretted. In later years, he was deeply saddened by the numbers of people who were dying because of the country's AIDS epidemic and vowed to address the problem, through the schools.
This is not the first honour that Fr Kelly has received due to his outstanding work. He was awarded an Honorary Degree by University College Dublin in 2006, and the Royal College of Surgeons in Ireland (RCSI) in 2012. Since 2006, Irish Aid has honoured Father Michael's achievements through the Annual Father Michael Kelly HIV/AIDS Event, timed to coincide with World AIDS Day (1st December)