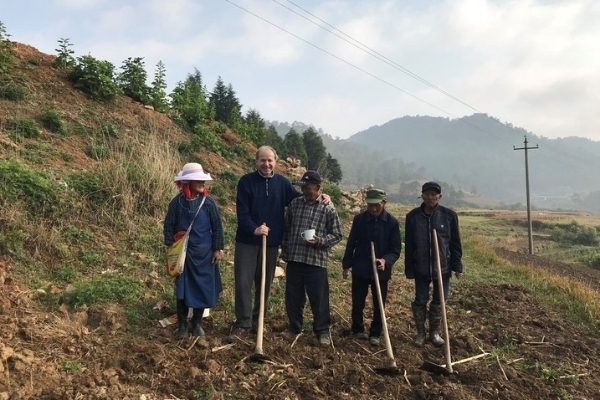 Fr Fernando Azpiroz SJ working the land together with friends in south Yunnan Province, China. (March 2018) 
Irish Jesuits have been present in China for more than 90 years. The Irish Province sent 106 missionaries to China over the years and four Irish men still remain there.
In this article, Argentinian Jesuit Fr Fernando Azpiroz SJ, the Director of Casa Ricci Social Services tells of how working with people who are poor, ill or in precarious living circumstances has affected him.
""The Chinese character that expresses the idea of ""humanity" is ""Ren". This character caught the attention of the first Jesuits who arrived in China, as it is at core of the Confucian way of understanding what makes us become human. The character is formed by two parts. At its left side, a human person; at its right side, the number two. Confucianism states that we learn how to become human not alone but in relationships. I believe that the bigger the gap or difference between these two people, the deeper the impact of the relationship on our identity.
In my 13 years in China I am blessed to accompany and be in close relationships with people who are very different to me. People who are affected by leprosy, children living with HIV/AIDS, the Chinese Sisters serving them, women at risk (e.g. sex workers), Chinese government officials, etc. There were deep and wide gaps between their situations and identities, and mine. Many of them were sick, while I regarded myself as "healthy"; discriminated against, while I regarded myself as ""accepted" by society; without faith or religion, while I regarded myself as a ""religious" person; illiterate, while I regarded myself as somebody "with letters"; persons belonging to different minorities, while I regarded myself as belonging to a "majority".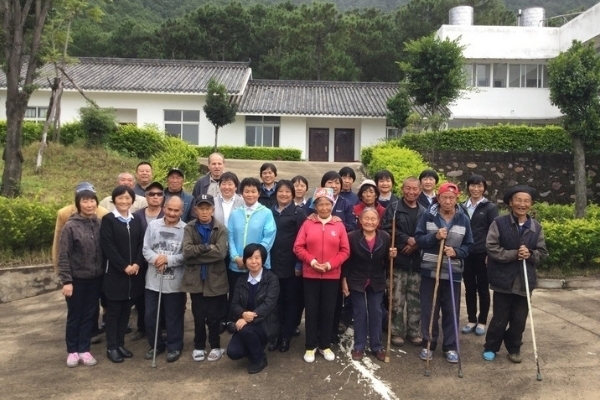 Fr Fernando with beneficiaries of Casa Ricci and Sisters after a training session in south Sichuan province (2018)
Political differences, cultural differences, language differences, social differences, racial differences, religious differences"¦ I believe I have tried my best to accompany them, help them and serve them in their needs. But what they have done and are doing for me greatly surpasses anything I have done for them. By inviting me to be part of their lives, my identity has been shaped and transformed by them and rediscovered through them. Many of these people became my friends. My life today would be difficult to understand without their presence. I accompany them, but they have also accompanied me.
In both the Spiritual Exercises and the Constitutions of the Society of Jesus, Saint Ignatius gave fundamental importance to the Spanish word identificarse, which means, to identify yourself with Christ – poor, humble and rejected. It means to build your identity in Christ, by making concrete life choices in order to deepen one's identity in Him. For Ignatius, this is the only real identity that really matters in our lives. Life is for him a continuous process to become more ""Him-centred" and less self-centred.
By opening their lives to me, they have certainly helped me to be closer to Christ, to learn His ways, to like His Ways. Each of them has done this in a different way. It would be unfair to choose one of their stories and leave aside the other ones. Because all of these people have taught me, in different ways, the meaning of humanity. How to be more human, how to be closer to Christ. I do hope I have done the same for them.
Author: Fr Fernando Azpiroz SJ is the Director of Casa Ricci Social Services in Macau, China. November 2018