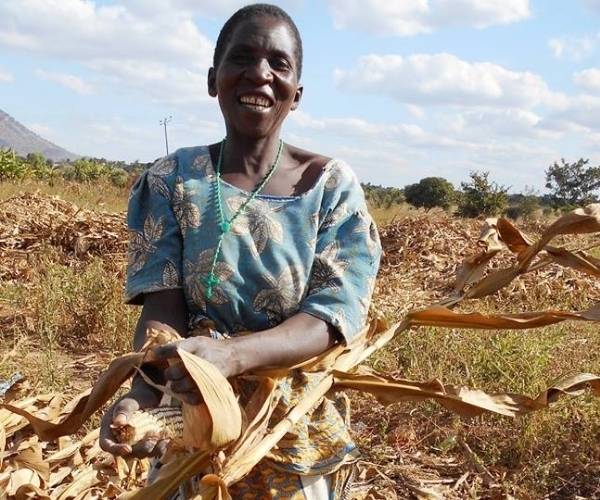 Female farmers in Kasungu learn techniques such as manure making, afforestation, soil cover, and maize variety selection through JCED's Farmers Field Schools.
Jesuit Adrian Makasa's work with the Jesuit Centre for Ecology and Development, which teaches women the methods and benefits of conservation farming gives him hope, in the midst of the struggle of people in rural Malawi who are disproportionately affected by the adverse impacts of climate change even though they have done very little to cause it.
Kasungu, a rural area in Malawi, about two hours away from the capital Lilongwe, has a population of more than 40,000 people and a rapid growth rate of 5.6 percent. The main occupation in Kasungu is farming.
Much of the agriculture is subsistence farming with staple foods, like maize, being the main crop. Other produce such as peanuts, soya, beans, sunflowers and vegetables are also grown. Since 2016, the Jesuit Centre for Ecology and Development (JCED) has been running a project in Kasungu district to protect the environment while promoting food security.
People living in rural areas of Malawi, like Kasungu, are heavily dependent on natural resources like firewood, water and the soil. But due to climate change and infertile soil the local communities face severe environmental problems and struggle in their efforts to achieve food security. Many of the households start to run out of food as early as October, while the harvest season starts in March. Their meals reduce from three a day, to two or even one a day for almost half the year. Families who struggle are forced to sell their limited livestock for low prices, take out food loans and look for piece work, working for food instead of money. Not surprisingly most of the health problems in the area are related to nutrition and sanitation, which are in turn strongly linked to food insecurity and poor resource management.
The aim of JCED's programme in Kasungu is to promote environmental friendly farming methods that do not compromise the agricultural yield. The project seeks to encourage sustainability so as to support communities in the long term. 91 percent of farmers in the area practice conventional agricultural methods, many of which have negative effects on the environment. Experience shows that such methods tend to undermine crop yield in future years and thus contribute to greater food insecurity.
Some of the areas that JCED teach and advocate in are soil cover, minimum tillage and the production and use of organic manure.
One of the positive stories of JCED's project in Kasungu is the story of Merina Banda, a widow who lives in Chiwira village. Merina grew maize on a half acre piece of land following the techniques of minimum soil tillage, soil cover (mulching), organic manure application, improved seed variety, and Natural Forest Regeneration Management technologies. She is highly motivated in these conservation agriculture skills that she has learnt from JCED's Farmer Field School. Her maize crop looked so healthy when I visited her and she had projected an increased harvest of 1000 kilograms – more than double what she in used to get from the same piece of land. In the words of Merina, "conservation farming is very beneficial in restoring the soil fertility; it is high yielding with lower cost and labour serving".
The JCED accompanies the poor smallholder farmers of Kasungu through Farmer Field Schools that it has set up in 30 different villages. The schools are basically demonstration plots where farmers come to learn about various agroecological practices from JCED staff and government agriculture extension officers. They learn how to make manure, prepare land, weed, do pest surveillance, harvest sustainably and reduce post harvest losses. Each school has at least ten members who are headed by a lead farmer. Most of the farmers in these clubs are women, as are many of the lead farmers. This is important to JCED because one of its main priorities is to empower women in the community. Women in Malawi are a particularly vulnerable section of society, having low literacy levels and reduced access to credit and to physical assets than men.
The priority of women is to ensure the health and welfare of their families. Suffice it to say, they are the lifeblood of Malawi as a whole.
Promoting women farmers has great benefits for the whole community as well as for the women themselves. Men, for example, tend to focus on cash crops – like tobacco – while female farmers are interested in growing more nutrition-rich foods such as peanuts, beans and soya. The priority of women is to ensure the health and welfare of their families. Suffice it to say, they are the lifeblood of Malawi as a whole.
Working for ecological integrity and the wellbeing of poor households of farmers in Kasungu has had a huge impact on me personally. The glaring levels of poverty among these poor farmers and the degraded landscapes of Kasungu, marked by forest degradation, soil degradation and biodiversity loss, constantly echo the cry of the earth and the cry of the poor that Pope Francis highlights in his seminal encyclical on ecology, Laudato Si'. My work in Kasungu is a true experience of insertion in the community of people living on the margins who are often disproportionately affected by the adverse impacts of climate change even though they have done very little to cause it.
I find a lot of encouragement in the hope of the poor farmers themselves, in the hardworking staff of JCED, our development partners and in my rootedness in the Ignatian spirituality, which urges us to find God in all things.
Pope Francis, who strongly believes that human beings have the capacity to offset the global ecological crisis also encourages me. What could be more encouraging than these powerful words – "Here I want to recognise, encourage and thank all those striving in countless ways to guarantee the protection of the home which we share. Particular appreciation is owed to those who tirelessly seek to resolve the tragic effects of environmental degradation on the lives of the world's poorest." (Laudato Si' 13).
Author: Fr Adrian Makasa SJ isDirector of the Jesuit Centre for Ecology and Development in Malawi. November 2018