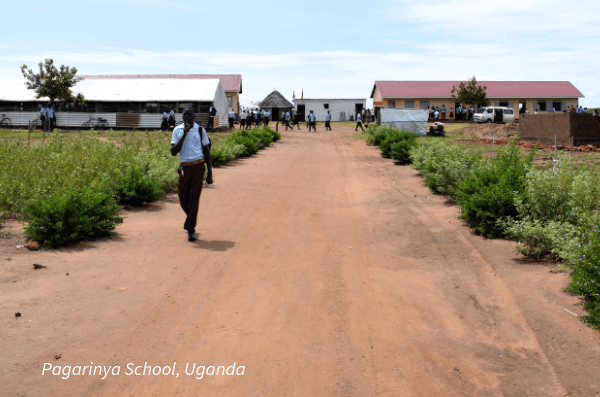 Kris Vekic, Education for Justice Coordinator, visited Uganda with a group of teachers from Irish Jesuit schools in November. It is the second year that he has brought a  group to the country, as part of the ongoing collaboration between the schools and with the Jesuit Refugee Service.
Teachers Visit Ocer Campion
Philippa Morris-Peeters (Gonzaga College SJ), Antoinette Ryan (Crescent Comprehensive College SJ), Aileen Ivory (Belvedere College SJ), Barbara O'Riordan (Colaiste Iognaid SJ) comprised the group, which first visited Ocer Campion School in Gulu, northern Uganda. The school was built to allow the children in the region, which had been badly affected by the civil war, to access a high-quality education.
There has been a lot of progress made in the school since last year's visit and it now boasts a new administration and library building. The teachers shared with the staff of Ocer Campion their experience of working in an established Jesuit school and the benefits and pitfalls inherent in that environment. In turn, the Ugandan teachers offered their perspective and their success and ongoing challenges in adapting to the Ignatian way of teaching.
Pagarinya Secondary School
The group also travelled north to visit the refugee settlement in Adjumani, northern Uganda. The settlement is close to the border with South Sudan, and contains more than 35,000 people who have fled the country to escape the chaos and danger caused by its civil war. While there they spent some time talking to the staff and pupils of Pagarinya Secondary School. The school was established by up by teachers who were refugees themselves, and has 850 refugee students. As the only secondary school in the settlement, it is overcrowded and under resourced. Class sizes can reach 90 to 100.
Jesuit Refugee Service has been working closely with the school to provide educational resources that it needs, including books and desks and Kris could see progress that has been made since he visited a year ago. An urgent need for the school at this stage is that it is without a science classroom, which limits what it can teach the children. For a population that is so vulnerable and dependent on education to offer them a lifeline out of their situation, the school is vital. The Irish teachers' group was moved by the experience of meeting its staff and pupils, working in such inclement conditions.
Ongoing Support and Collaboration
The Uganda visit offers Irish teachers the opportunity to see the work of the Jesuits in action in another environment – in schools and in refugee settlements. It provides a perspective on the world that can be taken back and shared with staff and students of Irish Jesuit schools, in the hope that this knowledge and awareness will instil in them a passion for global justice.