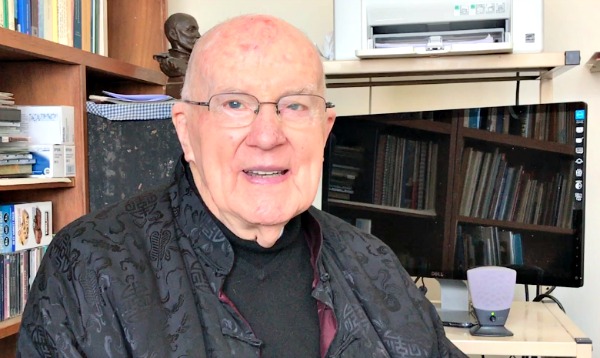 Fr Alfred (Freddie) Deignan SJ, of the Irish Jesuit community in Hong Kong died, aged 91, on December 11, 2018. As Principal of both Wah Yan Colleges and Chairman of the Jesuit Board of Education he was an influential figure in education whose presence will be greatly missed. RIP.
Fr Deignan was born in 1927 in the village of Mullagh, Co. Cavan. He was from a farming family, and was sixth of 12 children. He won a scholarship to become a boarder at the Jesuit-run Mungret College in Co. Limerick which influenced his decision to become a Jesuit priest. He entered the Society of Jesus in 1945 as a Novice and took his First Vows two years later. A BA degree in UCD in 1950, was followed by three years of philosophy study in Tullabeg College, Co. Offaly. He then set off for Cheung Chau, Hong Kong to study Cantonese for two years before taking up a teaching position in Wah Yan College.
He recalled, in interview, his first impressions of Hong Kong being the heat, the food that was strange to an Irish palate and the poverty that people were living in, after WWII. He said
"The people were very poor. Of those who could work, some were doing two jobs in order to support the family, and some were doing 'piecework'; the factory would give them the material to do the work at home. I remember out in Cheung Chau, one family I knew, when I visited, they were just sitting around a basket in the centre, they were making match boxes, each of them was rolling a matchbox. They would send them back to the factory and they would get about 5c for 100 boxes. I met a young fellow in the hospital and asked him if he was working, he said yes and I said how did they pay you? And he said no he wasn't paid anything, but it gives me a bed space and feeds me, and he seemed happy with that. People lived at the top of buildings and in little shacks on the hillsides, made out of wood or galvanised iron. They were very poor at that time, very poor."
Fr Deignan returned to Ireland in 1956, and was ordained as a priest in 1959. He studied theology in Milltown Park for three years and received a Bachelor of Divinity in 1960. On completion of his Tertianship in Rathfarnham, he returned to Hong Kong in 1961, taking his Final Vows a year later. He also returned to Wah Yan College, as Prefect of Studies in 1962, becoming Principal in 1968 to 1970. He spent 1970 to '78 involved in the running of Ricci Hall which accommodated Catholic students attending university in Hong Kong. Deignan was Principal of Wah Yan College in Kowloon from 1978 to 1992, and after this used his vast experience who held several key positions within the educational framework of the Society including Assistant Secretary for Jesuit Education in East Asia Oceania Region and Chairman of the Jesuit Board of Education. He was awarded honorary degrees for his life-long contribution to education in Hong Kong, including the Degree of Doctor of Education in 2008 and the Degree of Doctor of Social Science in 2012.
As part of the Society of Jesus community in Hong Kong, Fr Deignan shared his life there with fellow Irish missionaries Joseph Mallin SJ and Harold Naylor SJ, both of whom also died this year. The Irish Jesuit presence there is diminishing but their influence is still felt among the Jesuits from China and other international Provinces, laypeople they have worked alongside and students they have educated. "Hong Kong was blessed with and has been enriched by Father Deignan's love and visionary contributions, and will miss him dearly" said Alan Leong, Civic Party Chairman.
Fr Deignan's funeral mass will be held on 22nd December 2018. Ar dheis Dé go raibh a anam.
See the video below for Fr Deignan's account of his own life.