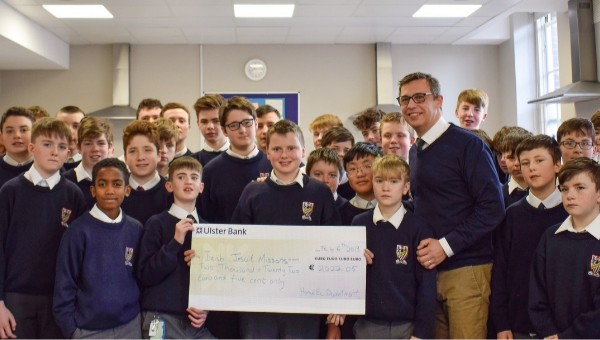 A first-year home economics class in Belvedere College, Dublin has donated more than €2,000 towards the building of a science classroom in the Adjumani refugee settlement of northern Uganda. Pagarinya School provides secondary education to children who live in the settlement, who have relocated there with their families to escape the conflict in neighbouring South Sudan.
Their teacher, Divinia Lyons was one of a group of teachers from Irish Jesuit schools who visited the region in November 2017, on a trip which was led by Education for Justice Coordinator, Krizan Vekic.
The Uganda visit offers Irish teachers the opportunity to see the work of the Jesuits in another environment – in schools and in refugee settlements. It provides a perspective on the world that can be taken back and shared with staff and students of Irish Jesuit schools, in the hope that this knowledge and awareness will instil in them a passion for global justice.
Lyons (pictured below at the school, in 2017) was moved by the situation of the children in Pagarinya School, many of whom were child soldiers in the South Sudan conflict, who are now striving to achieve an education and the opportunity for a stable future that this will offer them. The school was established by teachers who were refugees themselves, and has 850 refugee students. As the only secondary school in the settlement, it is overcrowded and under resourced. Class sizes can reach 90 to 100. She and her class organised a Christmas Craft Fair, where they sold food as well as arts and crafts, to raise money for them.
Donations for the science classroom are being sought from a variety of sources, including Irish Jesuit Missions. The income generated by the efforts of the Belvedere College students will make a significant contribution to the total and will help to offer a brighter future to the students of Pagarinya School.
Belvedere College Headmaster, Gerry Foley attended the cheque presentation and commended the boys on their hard work. He reminded them of the Ignatian ethos of the school and how they had acted in accordance with that by helping to improve the lives of children of their age who had been less fortunate in life, due to an accident of birth.
Krizan Vekic, who collected the cheque on behalf of Pagarinya School, spoke of his experiences there and how the the hunger of its students to have the opportunity to attend school and to learn made a lasting impression on him. He said that although the school has few real classrooms, or desks, and just a minuscule library, the staff and students take an admirable pride in what they are building. He thanked the Belvedere students and staff for their support.