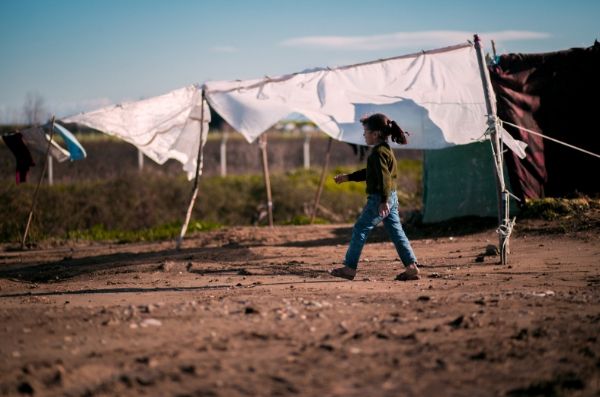 Syrian refugees in Lebanon are being required by law to dismantle all hard structures using materials other than timber and plastic sheeting they have constructed in informal camps by the end of June. The ordered demolitions will have a devastating impact on the lives of more than 25,594 people throughout Lebanon who live in self-build hard structures within informal settlements. In one example, the town of Arsal hosts more than 5,000 Syrian families and 15,000 children who are now facing homelessness.
A statement by the Jesuit Refugee Service (JRS) in Lebanon condemns these severe measures taken by the Government which target the overall Syrian population in the country. JRS has been implementing emergency response programmes in the country since 2012 to tackle the most urgent needs of both registered and unregistered Syrian refugees. The organisation has always emphasised the need for refugees to respect the customs of the host community and its laws. It concedes that some individual actions of refugees do not comply with the domestic law, but sees the legislation as harsh and affecting the whole population.
The Syrian conflict is in its ninth year and the humanitarian catastrophe continues. More than 5.6 million Syrians have fled neighboring countries as refugees and another 6.2 million are displaced within Syria. Half of the people affected are children. Lebanon remains the country hosting the largest number of refugees per capita. According to the United Nations High Commissioner for Refugees (UNHCR) records in 2019, more than 935,454 Syrian refugees are registered with the organisation, though the government estimate of the total Syrian displaced population remains at 1.5 million.
Rights groups say the Lebanese Government is pressuring Syrians to return home by making it more difficult for them to stay. In addition, aid organisations running projects for Syrian refugees are facing hostilities from the host community, where staff members have reported feeling unsafe when they are trying to implement activities.
JRS urges the Government in Lebanon to:
Understand that refugees do not only have duties but rights.
Provide refugees nationwide with an adequate prior notice in order to avoid any protection concern such as detention, involuntary return to Syria, and unprepared eviction.
Allow humanitarian exemptions for vulnerable households.
Measure the level of information refugee communities have and to what extent they will or have already compiled with the instructions provided.
Provide refugees with temporary relocation options and avoid confiscation or destruction of personal property, as refugees have very few belongings to survive with.
Remain cooperative with civil society organisations when implementing their projects since they are only providing humanitarian assistance to vulnerable individuals.
Provide Syrian and foreign workers with an extended notice period to rectify their work permit status.
It encourages the international community to:
Advocate that no confiscation and destruction of property takes place during dismantlement or demolition exercises.
Remind relevant stakeholders that shelter and basic water and sanitation infrastructure are integrally linked to protection and human dignity.
Mitigate the negative impact of implementation.
Remind relevant stakeholders that exams are scheduled for mid-June and that displacement, evictions and demolitions could cause severe disruption to refugee students to complete the official examination process.
Embark on a consolidated effort to eradicate hatred between the refugees and the host community.
Ensure that refugees have information about existing referral mechanisms and how to access services.
Publish studies and information gathered related to the Syrian refugees' situation in Lebanon (employment rate, the sectors they are employed in, funding acquired by the Lebanese government) to enhance transparency and accountability.
Nawras Sammour SJ
Regional Director, Middle East and North Africa
Jesuit Refugee Service
Beirut, Lebanon